August 10, 2012 (The Blue Mountains, ON) – If you haven't registered yet for Subaru Centurion Canada (The Blue Mountains), presented by Cervélo, you may want to get on it! The event that started a cycling movement throughout Ontario heads into its third year with more momentum than ever.  Registrations are ahead of pace from 2011 and with more than a month to go before event weekend, Centurion Cycling has announced its intent to cap registrations once they reach a pre-determined level.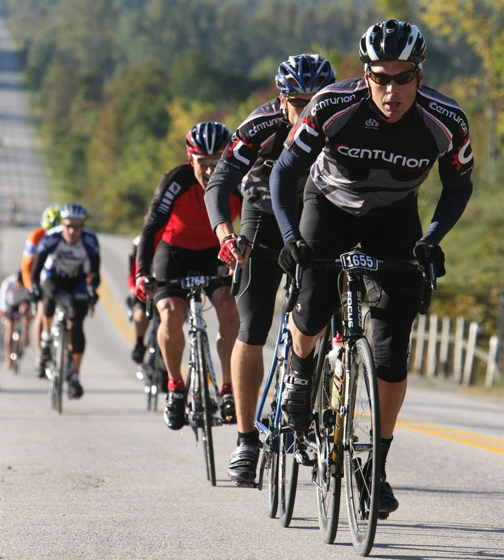 "To deliver the high quality experience that cyclists have come to expect from Centurion Cycling and also maintain a priority focus on rider safety, we've made the decision to institute registration caps this year," said Graham Fraser, Centurion Cycling Founder and CEO.
Centurion Cycling will limit registrations to 3,500 total riders for the Centurion 50-mile and 100-mile events on Sunday, September 16, and 1,000 riders for the Centurion 25-mile event on Saturday, September 15. There are no plans at this time to cap registration for the Kid's Ride or the Open Hill Climb, both of which are on Saturday.
Centurion Canada is the culminating event for the 2012 Centurion Cycling Series, which consisted of three other events leading up this mid-September event at the Blue Mountain Resort in Blue Mountain Village.
And while serving as the Championship event for those competing for point rankings, Centurion Canada has also gained a loyal following and garnered broad appeal throughout Ontario from cycling clubs, teams, charity groups and individuals of all cycling abilities who consider it to be a crown jewel among cycling events.
"The breadth of events means that you get to pick the distance and pace you're comfortable with," said Dallyce Macas, who brought a team of more than 75 cyclists to the event in 2011. "There is no pressure if you just want to enjoy the 25-mile ride while making it a personal best.  And, the "pro's" and weekend warriors riding the longer distances experience a world class set-up with flawless execution.  For everyone who participates, it lets the riding or racing experience shine through."
For those who haven't experienced Subaru Centurion Canada, presented by Cervélo, here is what they can count on:
– World-class venue at the Blue Mountain Resort in Blue Mountain Village
– Scenic and challenging courses that begin at the base of the legendary Niagara Escarpment along the shore of the Georgian Bay
– Traffic control throughout giving cyclists the right-of-way
– Coordinated start with pace corrals so racers can race and riders can ride
– Chip timing from start to finish
– Full technical and medical support on the course and at the venue
– Finish line festival including post-race food
– Full expo introducing riders to the latest in bikes and cycling gear
– Camaraderie, and competition for age group awards and the club challenge.
For more information and to register, visit HERE.