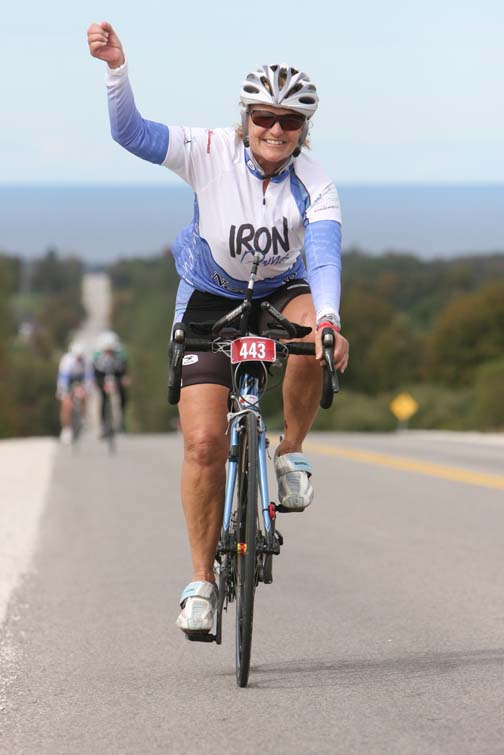 July 26, 2011 (Town of the Blue Mountains, ON) – Centurion Cycling is pleased to announce the addition of the Timex Vertical Challenge to the Subaru Centurion Canada event for 2011. Subaru Centurion Canada will take place for the second time in the Town of the Blue Mountains on September 16- 18, 2011.
Designed to challenge even the fittest riders, the Timex Vertical Challenge will take athletes 4.5 km up the Niagara Escarpment on the Scenic Caves Road. These elite riders will race in an elimination format on Saturday afternoon. There will also be an Open Category hill climb on the same course Friday evening. The top Open Category finishers will be invited to join the elites on Saturday afternoon to battle for the championships and prize money.
In the Elite division of the Timex Vertical Challenge athletes will launch themselves up the climb in small designated groups, with only the top cyclists moving to the next round. This will continue until only one group remains to vie for the podium. Athletes will compete for a $6,000 prize purse and the title of Centurion Timex Vertical Challenge Champion.
The event will form an important part of the overall coverage of Subaru Centurion Canada and will be aired on TSN, nationally, in the fall of 2011. Once broadcast details are confirmed, details will be available at www.centurioncycling.com. Video broadcast will be available post event, also on the Centurion website.
In addition to the Timex Vertical Challenge, Subaru Centurion Canada (The Blue Mountains) is a full weekend of cycling events which  includes a Saturday Kid's Ride, a 40km ride, a free concert in the Village featuring The Sam Roberts Band, and the 80km and 160km rides on Sunday. The newest addition to the Centurion Cycling Event Series is Centurion Niagara (St. Catharines) which will debut with a preview ride this fall, and a full weekend of events July 6-8, 2012. The series also includes two events in the U.S. – Centurion Wisconsin and Centurion New York.
Centurion Cycling is a fully inclusive event welcoming serious riders, recreational cyclists, charity and cycling club teams and families.
For more information about Centurion Cycling, visit HERE and follow us on Twitter and Facebook. Media and sponsorship inquiries may be directed to Helen Manning by email at Helenmanning@rogers.com or 905-415-8484 or 416-806-5273 mobile.
About Timex Group
Timex Group designs, manufactures and markets innovative timepieces and jewellery globally. Founded in 1854, Timex is part of Timex Group, a privately-held company with numerous brands and over 5,000 employees worldwide. It is one of the largest watch makers in the world.