July 19 (Bend, OR) – World Track Champion Tara Whitten of Team TIBCO/To the Top won her second consecutive opening prologue, this time powering to the win to open the Cascade Classic in Bend.
Riding her Reynolds-equipped Specialized Shiv, Whitten motored through the two-mile course in 3:52, besting her countrywoman and Canadian Time Trial Champion Clara Hughes by 0:03, with former World Time Trial Champion Kristin Armstrong in third on the same time.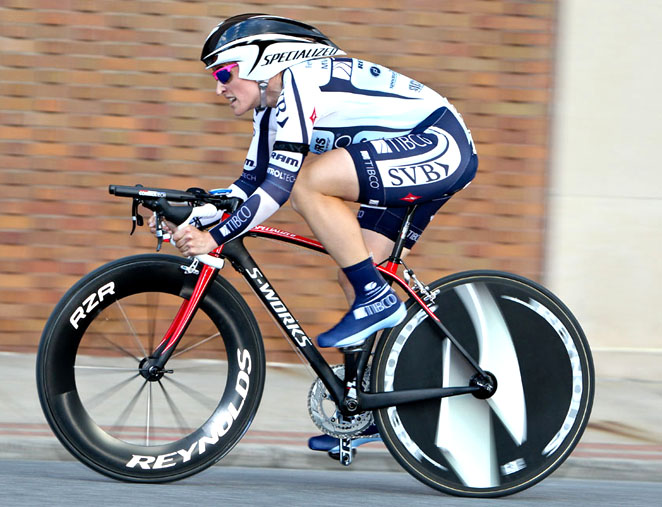 "We knew after Toona that Tara was on excellent form," Team Directeur Sportif Lisa Hunt said. "She got second here last year, and this type of distance is her strength. I knew her biggest rivals would be Clara and probably Kristin. Pascale Schnider is the current Swiss TT and Road Champion, so I knew she would have a good ride, too." Schneider finished in 3:58.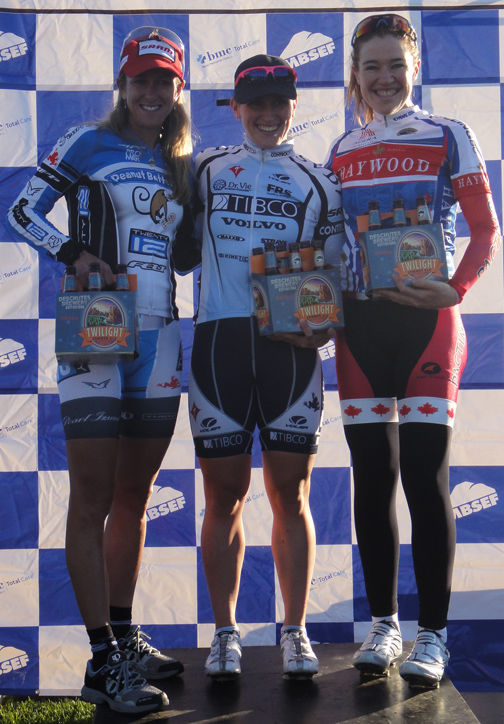 "They changed the course a little bit this year," Hunt added. "It started in a totally different spot. I wouldn't say it was much more technical. It had a few more turns."
With such a short course, the time gaps were small as expected, with the top 10 all within a handful of seconds of each another.
"We came to this race to win, and we're off to a great start," Hunt said. "We have strong climbers here in Erinne (Willock) and Carmen (Small). Megan (Guarnier) is going well, too. It should be a good race."
The Classic continues Wednesday with the 73.5-mile McKenzie Pass Road Race.
Cycling BC Report
The Cycling BC Elite Women's team finished up at the final event of BC Superweek, the Tour de Whiterock,  and started the journey down to to the 32nd running of the Cascade Cycling Classic. This is a 6-day stage race based out of Bend, OR. The team for the event consists of regulars Steph Roorda, Laura Brown and Jasmin Glaesser. Joining the team as a guest rider is multi-time winter and summer Olympic medalist Clara Hughes.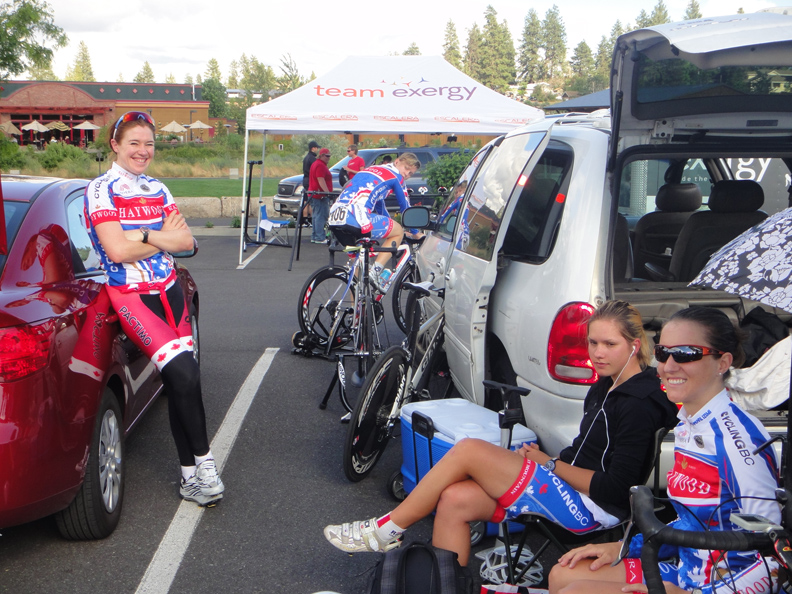 The July 19 Prologue was the opening race of the event, a technical 3km slightly rolling course, held close to the town centre. The Prologue stage started off well for the ladies clad in the red, white, blue and gold of Cycling BC with Hughes capturing second on the opening night with a time of 3:55.
Winning the event was compatriot, Tara Whitten in 3:51 with reigning Olympic TT champ Kristin Armstrong (USA) in third. Laura Brown's 4:06 placed her in the top 30 with Jasmin Glaesser coming in at 4:11 currently just five seconds out of the best young rider jersey.
Wednesday the race will test riders on the 125km Mackenzie Pass road race featuring a 30km climb mid-race and a 20km mountain-top finish on Mt Bachelor.
Results
Elite Women
1. Tara Whitten (Team TIBCO/To the Top)  03:52.8  
2. Clara Hughes (Cycling BC)  02.9  
3. Kristin Armstrong (Peanut Butter & Co.Twenty12)  02.9
4. Pascale Schneinder (VanderKitten Focus)  05.6
5. Jade Wilcoxson (NOW and Novartis For MS)  06.3
6. Alison Shanks (BikeNZ)  06.5
7. Kaytee Boyd (BikeNZ)  07.6
8. Jaime Nielsen (BikeNZ)  08.5
9. Alison Starnes (Peanut Butter & Co.Twenty12)  09.0
10. Lauren Hall (Colavita/Forno d'Asolo)  00:10.9
11. Carmen Small (Team TIBCO/To the Top)  00:11.6
12. Heather Logan-Sprenger (Colavita/Forno d'Asolo)  00:11.7
13. Joanne Kiesanowski (Team TIBCO/To the Top)  00:11.9
14. Megan Guarnier (Team TIBCO/To the Top)  00:11.9
15. Cari Higgins (Peanut Butter & Co.Twenty12)  00:12.2
16. Janel Holcomb (Colavita/Forno d'Asolo)  00:12.3
17. Erinne Willock (Team TIBCO/To the Top)  00:12.3
18. Leah Kirchmann (Colavita/Forno d'Asolo)  00:12.7
19. Meredith Miller (Team TIBCO/To the Top)  00:12.9
20. Laura Brown (Cycling BC)  00:13.6
21. Rushlee Buchanan (Colavita/Forno d'Asolo)  00:13.6
22. Kristin Mcgrath (Peanut Butter & Co.Twenty12)  00:14.0
23. Joelle Numainville (Team TIBCO/To the Top)  00:15.8
24. Robin Farina (NOW and Novartis For MS)  00:16.9
25. Lauren Ellis (BikeNZ)  00:16.9
26. Anne Samplonius (NOW and Novartis For MS)  00:17.2
27. Tayler Wiles (Peanut Butter & Co.Twenty12)  00:17.3
28. Anna Barensfeld (Missing Link Coaching/Speciali)  00:17.5
29. Jasmin Glaesser (Cycling BC)  00:18.5
30. Susan Butler (BMC Total Care)  00:19.1
31. Gemma Dudley (BikeNZ)  00:19.2
32. Olivia Dillon (Peanut Butter & Co.Twenty12)  00:19.6
33. Emma Mackie (Team TIBCO/To the Top)  00:20.1
34. Steph Roorda (Cycling BC)  00:20.4
35. Julie Emmerman (Primal-Treads)  00:20.6
36. Joanne Hogan (Herbalife Lagrange)  00:21.4
37. Emily Collins (VanderKitten Focus)  00:21.4
38. Rebecca Werner (Webcor/Alto Velo)  00:21.7
39. Alisha Welsh (Peanut Butter & Co.Twenty12)  00:21.9
40. Brenna Lopez-Otero (BMC Total Care)  00:21.9
41. Kristin Sanders (Colavita/Forno d'Asolo)  00:22.2
42. Devon Gorry (NOW and Novartis For MS)  00:22.2
43. Ashley Koch (BMC Total Care)  00:22.9
44. Jenna Rinehart (Missing Link Coaching/Speciali)  00:23.8
45. Megan M Hottman (Primal/MapMyRide)  00:23.9
46. Kelly Benjamin (Colavita/Forno d'Asolo)  00:24.1
47. Jane Robertson (Metromint Cycling)  00:24.6
48. Anna Mcloon (Missing Link Coaching/Speciali)  00:24.8
49. Kristen T Lasasso (Primal/MapMyRide)  00:24.9
50. Hilary Billington (NOW and Novartis For MS)  00:26.0
51. Whitney Schultz (Team Kenda p/b Geargrinder)  00:26.4
52. Andrea Dvorak (Colavita/Forno d'Asolo)  00:27.1
53. Jennifer Weinbrecht (VanderKitten Focus)  00:27.2
54. Rebecca Blatt (Team Kenda p/b Geargrinder)  00:27.2
55. Crystal Anthony (Ladiesfirst Racing)  00:27.3
56. Melinda Weiner (Herbalife Lagrange)  00:27.6
57. Louise Smyth (Team LaS'port)  00:28.0
58. Melissa Ross (Team Kenda p/b Geargrinder)  00:29.2
59. Rachel Warner (Missing Link Coaching/Speciali)  00:29.3
60. Allison Beall (Team Rep)  00:29.5
61. Kasey Clark (Primal/MapMyRide)  00:29.7
62. Elizabeth Newell (BMC Total Care)  00:29.8
63. Lucia Mokres (Metromint Cycling)  00:30.1
64. Amy Campbell (BMC Total Care)  00:30.5
65. Anne Donley (Primal-Treads)  00:31.5
66. Jasmin Hurikino (VanderKitten Focus)  00:31.6
67. Kristina Seley (Missing Link Coaching/Speciali)  00:31.6
68. Amy L Mcguire (Wheelworks Racing)  00:31.6
69. Beatrice Rodriquez (SC Velo – Empower Coaching)  00:31.6
70. Priscilla Calderon (SC Velo – Empower Coaching)  00:31.9
71. Jenny Lehmann (Cycling BC)  00:32.2
72. Katheryn Mattis (Webcor/Alto Velo)  00:32.3
73. Kristine Brynjolfson (Trek Red Truck Pb Mosaic Hom)  00:32.5
74. Judy Jenkins (Missing Link Coaching/Speciali)  00:32.6
75. Lauren Roberston (Webcor/Alto Velo)  00:32.6
76. Nik Vogler  00:32.7
77. Monika Sattler (Battley H-D/ XO Communication)  00:32.8
78. Melanie Colavito (Missing Link Coaching/Speciali)  00:32.9
79. Addyson 'Addy' Albershardt (NOW and Novartis For MS)  00:32.9
80. Erika Graves (NOW and Novartis For MS)  00:33.0
81. Gwen Inglis (Primal/MapMyRide)  00:33.1
82. Rikke K Preisler (Metromint Cycling)  00:33.5
83. Catherine Dickson (Jobing.Com Women'S Racing)  00:34.0
84. Anne Usher (BMC Total Care)  00:34.5
85. Lisa Campbell (SC Velo – Empower Coaching)  00:34.7
86. Melina Bernecker (Herbalife Lagrange)  00:34.8
87. Amity Elliot (Team Kenda p/b Geargrinder)  00:35.7
88. Jennifer Burtner (Olympia Orthopaedic Associate)  00:36.6
89. Emily Foxman (Webcor/Alto Velo)  00:37.5
90. Anna Sanders (Team Kenda p/b Geargrinder)  00:37.5
91. Kelly Crowley (Metromint Cycling)  00:37.7
92. Liza A Rachetto (Primal/MapMyRide)  00:37.8
93. Ellen Sherrill (Metromint Cycling)  00:38.6
94. Pam Schuster (SC Velo – Empower Coaching)  00:39.7
95. Kathryn Donovan (SC Velo – Empower Coaching)  00:40.0
96. Sarah Maguire (Team Kenda p/b Geargrinder)  00:41.2
97. Josephine E Morgan (Michael David Winery Cycling T)  00:41.6
98. Joy L Duerksen (Team Redlands)  00:41.8
99. Lindsay Fox (BMC Total Care)  00:42.0
100. Lauren Liscinski (SC Velo – Empower Coaching)  00:42.2
101. Carly Rivezzo  00:42.4
102. Lauren Tamayo (Peanut Butter & Co.Twenty12)  00:42.5
103. Anona Whitley (BMC Total Care)  00:44.8
104. Kimberly Fong (Michael David Winery Cycling T)  00:48.7
105. Kimberley Turner (SC Velo – Empower Coaching)  00:48.9
Elite Men
1. Fernando Antogna (Jamis Sutter Home)  03:35.6
2. Roman Van Uden (Pureblack Racing)  00.4
3. Timothy Gudsell (Pureblack Racing)  02.2
4. Frank Pipp (Bissell Pro Cycling)  03.2
5. Tom Zirbel (Jamis Sutter Home)  03.3
6. Francisco Mancebo (Realcyclist.Com Pro Cycling)  03.5
7. Josh Berry (Realcyclist.Com Pro Cycling)  03.6
8. Carlos Alzate (Team Exergy)  03.7
9. Chad Haga (Team Rio Grande)  04.3
10. Luis Romero Amaran (Jamis Sutter Home)  05.2
11. Scott Tietzel (Team Rio Grande)  05.5
12. Robert Sweeting (Kenda/5hr Energy p/b Geargrin)  05.8
13. Jacob Rathe (Chipotle Development Team)  06.0
14. Zac Davies  06.1
15. Jason Donald (Kelly Benefit Strategies-OptumH)  06.3
16. Daniel Harm (Team Juwi Solar / First Solar)  06.3
17. Sam Johnson (Team Exergy)  06.6
18. Gregory L Craddock (Trek-Livestrong)  07.3
19. Robert Britton (Bissell Pro Cycling)  07.4  
20. Oscar Clark (Realcyclist.Com Pro Cycling)  07.5
21. Freddie Rodriguez (Team Exergy)  07.5
22. Robert Bush (Chipotle Development Team)  07.7
23. Joseph Schmalz (Elbowz Racing)  07.7
24. Timothy Rugg (XO Communications/Battley)  07.8
25. Aaron Kemps (V Australia Pro Cycling Team)  07.9
26. Devan Dunn (Cashcall Mortgage)  07.9
27. Cesar Grajales (Realcyclist.Com Pro Cycling)  07.9
28. Andy Jacques-Maynes (Bissell Pro Cycling)  08.0
29. David Santos (Cashcall Mortgage)  08.1
30. Roman Kilun (Kenda/5hr Energy p/b Geargrin)  08.3
31. Alex Howes (Chipotle Development Team)  08.4
32. Lachlan Morton (Chipotle Development Team)  08.5
33. Evan Hyde (Realcyclist.Com Pro Cycling)  08.6
34. Alex Candelario (Kelly Benefit Strategies-OptumH)  08.8
35. Glen Chadwick (Pureblack Racing)  09.1
36. Nathan Brown (Trek-Livestrong)  09.1
37. Jeremy Vennell (Bissell Pro Cycling)  09.4
38. Danny Summerhill (Chipotle Development Team)  09.5
39. Michael Olheiser (Team Juwi Solar / First Solar)  09.5
40. Ian Burnett (Realcyclist.Com Pro Cycling)  09.6
41. Michael Northey (Pureblack Racing)  09.7
42. Jonathan Cantwell (V Australia Pro Cycling Team)  09.9
43. Ben Jacques-Maynes (Bissell Pro Cycling)  00:10.1
44. Christian Helmig (Elbowz Racing)  00:10.2
45. Gavin Mannion (Trek-Livestrong)  00:10.2
46. Lee Muse (Cashcall Mortgage)  00:10.3
47. Kevin Gottlieb (Kelly Benefit Strategies/LSV)  00:10.6
48. Chase Pinkham (Bissell Pro Cycling)  00:10.8
49. Logan Loader (Rideclean P/B Patentit.Com)  00:11.6
50. Sean Sullivan (V Australia Pro Cycling Team)  00:11.6
51. Heath Blackgrove (Elbowz Racing)  00:11.8
52. Stephen Leece (NOW-MS Society)  00:12.0
53. Shem Rodger (Pureblack Racing)  00:12.3
54. Daniel Barry (Pureblack Racing)  00:12.4
55. Michael Freiberg (V Australia Pro Cycling Team)  00:12.4
56. Matthew Cooke (Team Exergy)  00:12.6
57. Alejandro Borrajo (Jamis Sutter Home)  00:12.6
58. Alister Ratcliff (Bikereg.Com / Cannondale)  00:12.6
59. Demis Aleman (Jamis Sutter Home)  00:12.7
60. Christopher Stastny (California Giant Strawberries)  00:12.7
61. Shawn Milne (Kenda/5hr Energy p/b Geargrin)  00:12.8
62. Richard Handley (Team Raleigh)  00:12.9
63. Jay Thomson (Bissell Pro Cycling)  00:12.9
64. Maxwell Durtschi (Chipotle Development Team)  00:13.0
65. Rob Squire (Chipotle Development Team)  00:13.1
66. Dale J Parker (Trek-Livestrong)  00:13.4
67. Matt Cronshaw (Team Raleigh)  00:13.5
68. Andrew Boone (Team Oregon/Laurelwood Brewi)  00:13.5
69. Jesse Anthony (Kelly Benefit Strategies-OptumH)  00:13.5
70. Mike Tettleton (Full Circle Cycling)  00:13.7
71. Stephen Reaney (California Giant Strawberries)  00:13.7
72. Hayden Brooks (V Australia Pro Cycling Team)  00:13.7
73. Taylor Shelden (V Australia Pro Cycling Team)  00:13.8
74. Drew Christopher (Team Rio Grande)  00:13.9
75. Reid Mumford (Kelly Benefit Strategies-OptumH)  00:14.0
76. Johnnie Walker (V Australia Pro Cycling Team)  00:14.1
77. Bernard Sulzberger (V Australia Pro Cycling Team)  00:14.2
78. Dan Bowman (Kelly Benefit Strategies-OptumH)  00:14.3
79. Greg Krause (Team Juwi Solar / First Solar)  00:14.4
80. Scott Lyttle (Pureblack Racing)  00:14.6
81. Isaac Howe (Kenda/5hr Energy p/b Geargrin)  00:14.6
82. Andres Diaz (Team Exergy)  00:14.6
83. Jesse Goodrich (Team Juwi Solar / First Solar)  00:14.7
84. Michael Creed (Kelly Benefit Strategies-OptumH)  00:14.8
85. Ricky Escuela (Full Circle Cycling)  00:14.9
86. Joseph Lewis (Trek-Livestrong)  00:14.9
87. Shane Braley (Chemstar P/B United Healthcar)  00:15.3
88. Chris Baldwin (Bissell Pro Cycling)  00:15.3
89. Shawn Gravois (Globalbike)  00:15.4
90. Mark Langlands (Pureblack Racing)  00:15.5
91. Eric Wohlberg (Form Fitness)  00:15.6
92. Thomas Rabou (Realcyclist.Com Pro Cycling)  00:15.7
93. Gabe Varela (Yahoo! Cycling Team)  00:15.7
94. Colt Peterson (NOW-MS Society)  00:15.7
95. Josh L Yeaton (Horizon Organic/Panache)  00:15.8
96. Ian Boswell (Trek-Livestrong)  00:15.9
97. Shane Buysee (Yahoo! Cycling Team)  00:16.0
98. Andrew Bajadali (Kelly Benefit Strategies-OptumH)  00:16.0
99. James Stemper (Kenda/5hr Energy p/b Geargrin)  00:16.1
100. George Bennett (Trek-Livestrong)  00:16.1
101. Jonathan Toftoy (Team Juwi Solar / First Solar)  00:16.1
102. Daniel Ramsey (Full Circle Cycling)  00:16.1
103. Kennett Peterson (Hagens Berman Cycling Team)  00:16.3
104. Logan Owen (Hagens Berman Cycling Team)  00:16.6
105. Stephen Mull (Team Oregon/Laurelwood Brewi)  00:16.7
106. Max Korus (Bikereg.Com / Cannondale)  00:16.9
107. Nathan Wilson (California Giant Strawberries)  00:17.2
108. Sam Bassetti (FirefightersRacing p/b Advocare)  00:17.2
109. Ryan Trebon (Lts/Felt)  00:17.4
110. Jonathan O Teeter (Wonderful Pistachios Pro)  00:17.4
111. Justin Kerr (Team H&R Block)  00:17.4
112. Philip Mooney (Team Raleigh)  00:17.4
113. Spencer Smitheman (Hagens Berman Cycling Team)  00:17.5
114. Ian Crane (Hagens Berman Cycling Team)  00:17.5
115. Evan Huffman (California Giant Strawberries)  00:17.6
116. Andy Goessling (FirefightersRacing p/b Advocare)  00:17.6
117. Marsh Cooper (Kelly Benefit Strategies-OptumH)  00:17.8
118. Trevor Connor (Team Rio Grande)  00:18.4
119. Chris Wingfield (Hagens Berman Cycling Team)  00:18.4
120. Clay Murfet (Rideclean P/B Patentit.Com)  00:18.6
121. Ben Day (Kenda/5hr Energy p/b Geargrin)  00:18.8
122. Carter Jones (Trek-Livestrong)  00:18.8
123. Phil Gaimon (Kenda/5hr Energy p/b Geargrin)  00:18.9
124. Anthony Canevari (Cashcall Mortgage)  00:18.9
125. Eric Sammuli (A Road Bike 4U Elite Team)  00:18.9
126. Nate English (Yahoo! Cycling Team)  00:19.0
127. Steve Fisher (Hagens Berman Cycling Team)  00:19.1
128. Anders Newbury (Chipotle Development Team)  00:19.5
129. Jared Barrilleaux (California Giant Strawberries)  00:19.5
130. Dan Fleeman (Team Raleigh)  00:20.3
131. Stefano Barberi (Yahoo! Cycling Team)  00:20.4
132. David Robertson (SoCalCycling.Com)  00:20.6
133. David Glick (Rideclean P/B Patentit.Com)  00:20.6
134. Cody Campbell (Hagens Berman Cycling Team)  00:21.0
135. Scott Gray (Team Oregon/Laurelwood)  00:21.1
136. Mike Midlarksy (Realcyclist.Com Pro Cycling)  00:21.1
137. Mike Mathis (Rideclean P/B Patentit.Com)  00:21.1
138. Cory Greenberg (NOW-MS Society)  00:21.1
139. Winston David (Globalbike)  00:21.2
140. Brian Mcculloch (Cashcall Mortgage)  00:21.3
141. Ian Holt (Team Rio Grande)  00:21.5
142. Garrett Mcleod (Team H&R Block)  00:22.0
143. Tim Johnson (TJ's Summer Job CDale/CXWor)  00:22.0
144. Owen Harrison (Team H&R Block)  00:22.0
145. Stefan Rothe (Team Rio Grande)  00:22.0
146. James Mattis (California Giant Strawberries)  00:22.1
147. Tyler Brandt (California Giant Strawberries)  00:22.1
148. Andrew Mccullough (Metlife Cycling Team)  00:22.3
149. Mat Stephens (Elbowz Racing)  00:22.5
150. Dave Vukets (Trek Red Truck)  00:22.9
151. Weston Luzadder (Jamis Sutter Home)  00:23.0
152. Charles Bryer  00:23.0
153. Patrick D Caro (Full Circle Cycling)  00:23.2
154. Kai Applequist (Team Exergy)  00:23.3
155. Spencer Gaddy (Kenda/5hr Energy p/b Geargrin)  00:23.4
156. Dustin Macburnie (Team H&R Block)  00:23.7
157. Eric Bennett (Wonderful Pistachios Pro)  00:23.9
158. Gael Le Bellec (Team Raleigh)  00:24.0
159. Liam Holohan (Team Raleigh)  00:24.1
160. Jared Gilyard (Rideclean P/B Patentit.Com)  00:24.1
161. Chris Hillier (Team Rio Grande)  00:24.3
162. Austin Allison (Horizon Organic / Panache Elite)  00:24.4
163. Ian Moir (Yahoo! Cycling Team)  00:24.5
164. Coulton J Hartrich (Chemstar P/B United Healthcar)  00:24.5
165. John Bennett (California Giant Strawberries)  00:25.1
166. Elijah Romer (Team Oregon/Laurelwood Brewi)  00:25.2
167. Carson G Miller (Jelly Belly P/B Kenda)  00:25.3
168. Sebastian Salas (Team H&R Block)  00:25.6
169. Cory J Bruno (SoCalCycling.Com)  00:26.0
170. Erik Slack (Team Exergy)  00:26.4
171. Austin Stewart (Elbowz Racing)  00:26.4
172. Michael Larsen (Full Circle Cycling)  00:26.5
173. Nick Friesen (Team H&R Block)  00:26.6
174. Daniel Katz (NOW-MS Society)  00:26.8
175. Blair Berbert (Kelly Benefit Strategies/LSV)  00:27.2
176. Jerome Townsend (Bikereg.Com / Cannondale)  00:27.4
177. Norm Bryner  00:27.6
178. John Phillips (Team Rio Grande)  00:27.7
179. Zach R Earnest (FirefightersRacing p/b Advocare)  00:27.7
180. James F Schurman (Chemstar P/B United Healthcar)  00:27.8
181. Lang Reynolds (Hagens Berman Cycling Team)  00:27.9
182. Eric Riggs (Yahoo! Cycling Team)  00:28.2
183. Julio Mollinedo (Full Circle Cycling)  00:28.5
184. Aaron Schneider (Full Circle Cycling)  00:28.7
185. Russell W Brown (Kelly Benefit Strategies/LSV)  00:28.7
186. Jon Hornbeck  00:29.5
187. Timothy L Farnham (Wonderful Pistachios Pro)  00:31.2
188. Armando Pagaza (FirefightersRacing p/b Advocare)  00:31.3
189. Brad Winn (Team S&M)  00:31.3
190. Brian T Laird (Form Fitness)  00:32.2
191. Christopher Hong (Team Exergy)  00:33.1
192. Nick B Bennette (Metlife Cycling Team)  00:33.2
193. Justin Laue (Sport Systems Mountaintop)  00:34.7
194. Dustin Andrews (Team H&R Block)  00:34.9
195. Adam Carr (Form Fitness)  00:35.3
196. Adam M Thuss (Trek Red Truck)  00:43.0
197. Samuel Espinosa (FirefightersRacing p/b Advocare)  00:44.2
198. Eric Barlevav (Full Circle Cycling)  00:48.7
199. Taylor Bertrand-Barrett (Wonderful Pistachios Pro)  01:04.4
200. Armando Aguilar (FirefightersRacing p/b Advocare)  01:43.0
201. James Sparling (Team Raleigh)  01:43.0
GC after Prologue
Elite Women
1. Tara Whitten (Team TIBCO/To the Top)  03:52.8  
2. Clara Hughes (Cycling BC)  02.9  
3. Kristin Armstrong (Peanut Butter & Co.Twenty12)  02.9
4. Pascale Schneinder (VanderKitten Focus)  05.6
5. Jade Wilcoxson (NOW and Novartis For MS)  06.3
6. Alison Shanks (BikeNZ)  06.5
7. Kaytee Boyd (BikeNZ)  07.6
8. Jaime Nielsen (BikeNZ)  08.5
9. Alison Starnes (Peanut Butter & Co.Twenty12)  09.0
10. Lauren Hall (Colavita/Forno d'Asolo)  00:10.9
11. Carmen Small (Team TIBCO/To the Top)  00:11.6
12. Heather Logan-Sprenger (Colavita/Forno d'Asolo)  00:11.7
13. Joanne Kiesanowski (Team TIBCO/To the Top)  00:11.9
14. Megan Guarnier (Team TIBCO/To the Top)  00:11.9
15. Cari Higgins (Peanut Butter & Co.Twenty12)  00:12.2
16. Janel Holcomb (Colavita/Forno d'Asolo)  00:12.3
17. Erinne Willock (Team TIBCO/To the Top)  00:12.3
18. Leah Kirchmann (Colavita/Forno d'Asolo)  00:12.7
19. Meredith Miller (Team TIBCO/To the Top)  00:12.9
20. Laura Brown (Cycling BC)  00:13.6
21. Rushlee Buchanan (Colavita/Forno d'Asolo)  00:13.6
22. Kristin Mcgrath (Peanut Butter & Co.Twenty12)  00:14.0
23. Joelle Numainville (Team TIBCO/To the Top)  00:15.8
24. Robin Farina (NOW and Novartis For MS)  00:16.9
25. Lauren Ellis (BikeNZ)  00:16.9
26. Anne Samplonius (NOW and Novartis For MS)  00:17.2
27. Tayler Wiles (Peanut Butter & Co.Twenty12)  00:17.3
28. Anna Barensfeld (Missing Link Coaching/Speciali)  00:17.5
29. Jasmin Glaesser (Cycling BC)  00:18.5
30. Susan Butler (BMC Total Care)  00:19.1
31. Gemma Dudley (BikeNZ)  00:19.2
32. Olivia Dillon (Peanut Butter & Co.Twenty12)  00:19.6
33. Emma Mackie (Team TIBCO/To the Top)  00:20.1
34. Steph Roorda (Cycling BC)  00:20.4
35. Julie Emmerman (Primal-Treads)  00:20.6
36. Joanne Hogan (Herbalife Lagrange)  00:21.4
37. Emily Collins (VanderKitten Focus)  00:21.4
38. Rebecca Werner (Webcor/Alto Velo)  00:21.7
39. Alisha Welsh (Peanut Butter & Co.Twenty12)  00:21.9
40. Brenna Lopez-Otero (BMC Total Care)  00:21.9
41. Kristin Sanders (Colavita/Forno d'Asolo)  00:22.2
42. Devon Gorry (NOW and Novartis For MS)  00:22.2
43. Ashley Koch (BMC Total Care)  00:22.9
44. Jenna Rinehart (Missing Link Coaching/Speciali)  00:23.8
45. Megan M Hottman (Primal/MapMyRide)  00:23.9
46. Kelly Benjamin (Colavita/Forno d'Asolo)  00:24.1
47. Jane Robertson (Metromint Cycling)  00:24.6
48. Anna Mcloon (Missing Link Coaching/Speciali)  00:24.8
49. Kristen T Lasasso (Primal/MapMyRide)  00:24.9
50. Hilary Billington (NOW and Novartis For MS)  00:26.0
51. Whitney Schultz (Team Kenda p/b Geargrinder)  00:26.4
52. Andrea Dvorak (Colavita/Forno d'Asolo)  00:27.1
53. Jennifer Weinbrecht (VanderKitten Focus)  00:27.2
54. Rebecca Blatt (Team Kenda p/b Geargrinder)  00:27.2
55. Crystal Anthony (Ladiesfirst Racing)  00:27.3
56. Melinda Weiner (Herbalife Lagrange)  00:27.6
57. Louise Smyth (Team LaS'port)  00:28.0
58. Melissa Ross (Team Kenda p/b Geargrinder)  00:29.2
59. Rachel Warner (Missing Link Coaching/Speciali)  00:29.3
60. Allison Beall (Team Rep)  00:29.5
61. Kasey Clark (Primal/MapMyRide)  00:29.7
62. Elizabeth Newell (BMC Total Care)  00:29.8
63. Lucia Mokres (Metromint Cycling)  00:30.1
64. Amy Campbell (BMC Total Care)  00:30.5
65. Anne Donley (Primal-Treads)  00:31.5
66. Jasmin Hurikino (VanderKitten Focus)  00:31.6
67. Kristina Seley (Missing Link Coaching/Speciali)  00:31.6
68. Amy L Mcguire (Wheelworks Racing)  00:31.6
69. Beatrice Rodriquez (SC Velo – Empower Coaching)  00:31.6
70. Priscilla Calderon (SC Velo – Empower Coaching)  00:31.9
71. Jenny Lehmann (Cycling BC)  00:32.2
72. Katheryn Mattis (Webcor/Alto Velo)  00:32.3
73. Kristine Brynjolfson (Trek Red Truck Pb Mosaic Hom)  00:32.5
74. Judy Jenkins (Missing Link Coaching/Speciali)  00:32.6
75. Lauren Roberston (Webcor/Alto Velo)  00:32.6
76. Nik Vogler  00:32.7
77. Monika Sattler (Battley H-D/ XO Communication)  00:32.8
78. Melanie Colavito (Missing Link Coaching/Speciali)  00:32.9
79. Addyson 'Addy' Albershardt (NOW and Novartis For MS)  00:32.9
80. Erika Graves (NOW and Novartis For MS)  00:33.0
81. Gwen Inglis (Primal/MapMyRide)  00:33.1
82. Rikke K Preisler (Metromint Cycling)  00:33.5
83. Catherine Dickson (Jobing.Com Women'S Racing)  00:34.0
84. Anne Usher (BMC Total Care)  00:34.5
85. Lisa Campbell (SC Velo – Empower Coaching)  00:34.7
86. Melina Bernecker (Herbalife Lagrange)  00:34.8
87. Amity Elliot (Team Kenda p/b Geargrinder)  00:35.7
88. Jennifer Burtner (Olympia Orthopaedic Associate)  00:36.6
89. Emily Foxman (Webcor/Alto Velo)  00:37.5
90. Anna Sanders (Team Kenda p/b Geargrinder)  00:37.5
91. Kelly Crowley (Metromint Cycling)  00:37.7
92. Liza A Rachetto (Primal/MapMyRide)  00:37.8
93. Ellen Sherrill (Metromint Cycling)  00:38.6
94. Pam Schuster (SC Velo – Empower Coaching)  00:39.7
95. Kathryn Donovan (SC Velo – Empower Coaching)  00:40.0
96. Sarah Maguire (Team Kenda p/b Geargrinder)  00:41.2
97. Josephine E Morgan (Michael David Winery Cycling T)  00:41.6
98. Joy L Duerksen (Team Redlands)  00:41.8
99. Lindsay Fox (BMC Total Care)  00:42.0
100. Lauren Liscinski (SC Velo – Empower Coaching)  00:42.2
101. Carly Rivezzo  00:42.4
102. Lauren Tamayo (Peanut Butter & Co.Twenty12)  00:42.5
103. Anona Whitley (BMC Total Care)  00:44.8
104. Kimberly Fong (Michael David Winery Cycling T)  00:48.7
105. Kimberley Turner (SC Velo – Empower Coaching)  00:48.9
Elite Men
1. Fernando Antogna (Jamis Sutter Home)  03:35.6
2. Roman Van Uden (Pureblack Racing)  00.4
3. Timothy Gudsell (Pureblack Racing)  02.2
4. Frank Pipp (Bissell Pro Cycling)  03.2
5. Tom Zirbel (Jamis Sutter Home)  03.3
6. Francisco Mancebo (Realcyclist.Com Pro Cycling)  03.5
7. Josh Berry (Realcyclist.Com Pro Cycling)  03.6
8. Carlos Alzate (Team Exergy)  03.7
9. Chad Haga (Team Rio Grande)  04.3
10. Luis Romero Amaran (Jamis Sutter Home)  05.2
11. Scott Tietzel (Team Rio Grande)  05.5
12. Robert Sweeting (Kenda/5hr Energy p/b Geargrin)  05.8
13. Jacob Rathe (Chipotle Development Team)  06.0
14. Zac Davies  06.1
15. Jason Donald (Kelly Benefit Strategies-OptumH)  06.3
16. Daniel Harm (Team Juwi Solar / First Solar)  06.3
17. Sam Johnson (Team Exergy)  06.6
18. Gregory L Craddock (Trek-Livestrong)  07.3
19. Robert Britton (Bissell Pro Cycling)  07.4  
20. Oscar Clark (Realcyclist.Com Pro Cycling)  07.5
21. Freddie Rodriguez (Team Exergy)  07.5
22. Robert Bush (Chipotle Development Team)  07.7
23. Joseph Schmalz (Elbowz Racing)  07.7
24. Timothy Rugg (XO Communications/Battley)  07.8
25. Aaron Kemps (V Australia Pro Cycling Team)  07.9
26. Devan Dunn (Cashcall Mortgage)  07.9
27. Cesar Grajales (Realcyclist.Com Pro Cycling)  07.9
28. Andy Jacques-Maynes (Bissell Pro Cycling)  08.0
29. David Santos (Cashcall Mortgage)  08.1
30. Roman Kilun (Kenda/5hr Energy p/b Geargrin)  08.3
31. Alex Howes (Chipotle Development Team)  08.4
32. Lachlan Morton (Chipotle Development Team)  08.5
33. Evan Hyde (Realcyclist.Com Pro Cycling)  08.6
34. Alex Candelario (Kelly Benefit Strategies-OptumH)  08.8
35. Glen Chadwick (Pureblack Racing)  09.1
36. Nathan Brown (Trek-Livestrong)  09.1
37. Jeremy Vennell (Bissell Pro Cycling)  09.4
38. Danny Summerhill (Chipotle Development Team)  09.5
39. Michael Olheiser (Team Juwi Solar / First Solar)  09.5
40. Ian Burnett (Realcyclist.Com Pro Cycling)  09.6
41. Michael Northey (Pureblack Racing)  09.7
42. Jonathan Cantwell (V Australia Pro Cycling Team)  09.9
43. Ben Jacques-Maynes (Bissell Pro Cycling)  00:10.1
44. Christian Helmig (Elbowz Racing)  00:10.2
45. Gavin Mannion (Trek-Livestrong)  00:10.2
46. Lee Muse (Cashcall Mortgage)  00:10.3
47. Kevin Gottlieb (Kelly Benefit Strategies/LSV)  00:10.6
48. Chase Pinkham (Bissell Pro Cycling)  00:10.8
49. Logan Loader (Rideclean P/B Patentit.Com)  00:11.6
50. Sean Sullivan (V Australia Pro Cycling Team)  00:11.6
51. Heath Blackgrove (Elbowz Racing)  00:11.8
52. Stephen Leece (NOW-MS Society)  00:12.0
53. Shem Rodger (Pureblack Racing)  00:12.3
54. Daniel Barry (Pureblack Racing)  00:12.4
55. Michael Freiberg (V Australia Pro Cycling Team)  00:12.4
56. Matthew Cooke (Team Exergy)  00:12.6
57. Alejandro Borrajo (Jamis Sutter Home)  00:12.6
58. Alister Ratcliff (Bikereg.Com / Cannondale)  00:12.6
59. Demis Aleman (Jamis Sutter Home)  00:12.7
60. Christopher Stastny (California Giant Strawberries)  00:12.7
61. Shawn Milne (Kenda/5hr Energy p/b Geargrin)  00:12.8
62. Richard Handley (Team Raleigh)  00:12.9
63. Jay Thomson (Bissell Pro Cycling)  00:12.9
64. Maxwell Durtschi (Chipotle Development Team)  00:13.0
65. Rob Squire (Chipotle Development Team)  00:13.1
66. Dale J Parker (Trek-Livestrong)  00:13.4
67. Matt Cronshaw (Team Raleigh)  00:13.5
68. Andrew Boone (Team Oregon/Laurelwood Brewi)  00:13.5
69. Jesse Anthony (Kelly Benefit Strategies-OptumH)  00:13.5
70. Mike Tettleton (Full Circle Cycling)  00:13.7
71. Stephen Reaney (California Giant Strawberries)  00:13.7
72. Hayden Brooks (V Australia Pro Cycling Team)  00:13.7
73. Taylor Shelden (V Australia Pro Cycling Team)  00:13.8
74. Drew Christopher (Team Rio Grande)  00:13.9
75. Reid Mumford (Kelly Benefit Strategies-OptumH)  00:14.0
76. Johnnie Walker (V Australia Pro Cycling Team)  00:14.1
77. Bernard Sulzberger (V Australia Pro Cycling Team)  00:14.2
78. Dan Bowman (Kelly Benefit Strategies-OptumH)  00:14.3
79. Greg Krause (Team Juwi Solar / First Solar)  00:14.4
80. Scott Lyttle (Pureblack Racing)  00:14.6
81. Isaac Howe (Kenda/5hr Energy p/b Geargrin)  00:14.6
82. Andres Diaz (Team Exergy)  00:14.6
83. Jesse Goodrich (Team Juwi Solar / First Solar)  00:14.7
84. Michael Creed (Kelly Benefit Strategies-OptumH)  00:14.8
85. Ricky Escuela (Full Circle Cycling)  00:14.9
86. Joseph Lewis (Trek-Livestrong)  00:14.9
87. Shane Braley (Chemstar P/B United Healthcar)  00:15.3
88. Chris Baldwin (Bissell Pro Cycling)  00:15.3
89. Shawn Gravois (Globalbike)  00:15.4
90. Mark Langlands (Pureblack Racing)  00:15.5
91. Eric Wohlberg (Form Fitness)  00:15.6
92. Thomas Rabou (Realcyclist.Com Pro Cycling)  00:15.7
93. Gabe Varela (Yahoo! Cycling Team)  00:15.7
94. Colt Peterson (NOW-MS Society)  00:15.7
95. Josh L Yeaton (Horizon Organic/Panache)  00:15.8
96. Ian Boswell (Trek-Livestrong)  00:15.9
97. Shane Buysee (Yahoo! Cycling Team)  00:16.0
98. Andrew Bajadali (Kelly Benefit Strategies-OptumH)  00:16.0
99. James Stemper (Kenda/5hr Energy p/b Geargrin)  00:16.1
100. George Bennett (Trek-Livestrong)  00:16.1
101. Jonathan Toftoy (Team Juwi Solar / First Solar)  00:16.1
102. Daniel Ramsey (Full Circle Cycling)  00:16.1
103. Kennett Peterson (Hagens Berman Cycling Team)  00:16.3
104. Logan Owen (Hagens Berman Cycling Team)  00:16.6
105. Stephen Mull (Team Oregon/Laurelwood Brewi)  00:16.7
106. Max Korus (Bikereg.Com / Cannondale)  00:16.9
107. Nathan Wilson (California Giant Strawberries)  00:17.2
108. Sam Bassetti (FirefightersRacing p/b Advocare)  00:17.2
109. Ryan Trebon (Lts/Felt)  00:17.4
110. Jonathan O Teeter (Wonderful Pistachios Pro)  00:17.4
111. Justin Kerr (Team H&R Block)  00:17.4
112. Philip Mooney (Team Raleigh)  00:17.4
113. Spencer Smitheman (Hagens Berman Cycling Team)  00:17.5
114. Ian Crane (Hagens Berman Cycling Team)  00:17.5
115. Evan Huffman (California Giant Strawberries)  00:17.6
116. Andy Goessling (FirefightersRacing p/b Advocare)  00:17.6
117. Marsh Cooper (Kelly Benefit Strategies-OptumH)  00:17.8
118. Trevor Connor (Team Rio Grande)  00:18.4
119. Chris Wingfield (Hagens Berman Cycling Team)  00:18.4
120. Clay Murfet (Rideclean P/B Patentit.Com)  00:18.6
121. Ben Day (Kenda/5hr Energy p/b Geargrin)  00:18.8
122. Carter Jones (Trek-Livestrong)  00:18.8
123. Phil Gaimon (Kenda/5hr Energy p/b Geargrin)  00:18.9
124. Anthony Canevari (Cashcall Mortgage)  00:18.9
125. Eric Sammuli (A Road Bike 4U Elite Team)  00:18.9
126. Nate English (Yahoo! Cycling Team)  00:19.0
127. Steve Fisher (Hagens Berman Cycling Team)  00:19.1
128. Anders Newbury (Chipotle Development Team)  00:19.5
129. Jared Barrilleaux (California Giant Strawberries)  00:19.5
130. Dan Fleeman (Team Raleigh)  00:20.3
131. Stefano Barberi (Yahoo! Cycling Team)  00:20.4
132. David Robertson (SoCalCycling.Com)  00:20.6
133. David Glick (Rideclean P/B Patentit.Com)  00:20.6
134. Cody Campbell (Hagens Berman Cycling Team)  00:21.0
135. Scott Gray (Team Oregon/Laurelwood)  00:21.1
136. Mike Midlarksy (Realcyclist.Com Pro Cycling)  00:21.1
137. Mike Mathis (Rideclean P/B Patentit.Com)  00:21.1
138. Cory Greenberg (NOW-MS Society)  00:21.1
139. Winston David (Globalbike)  00:21.2
140. Brian Mcculloch (Cashcall Mortgage)  00:21.3
141. Ian Holt (Team Rio Grande)  00:21.5
142. Garrett Mcleod (Team H&R Block)  00:22.0
143. Tim Johnson (TJ's Summer Job CDale/CXWor)  00:22.0
144. Owen Harrison (Team H&R Block)  00:22.0
145. Stefan Rothe (Team Rio Grande)  00:22.0
146. James Mattis (California Giant Strawberries)  00:22.1
147. Tyler Brandt (California Giant Strawberries)  00:22.1
148. Andrew Mccullough (Metlife Cycling Team)  00:22.3
149. Mat Stephens (Elbowz Racing)  00:22.5
150. Dave Vukets (Trek Red Truck)  00:22.9
151. Weston Luzadder (Jamis Sutter Home)  00:23.0
152. Charles Bryer  00:23.0
153. Patrick D Caro (Full Circle Cycling)  00:23.2
154. Kai Applequist (Team Exergy)  00:23.3
155. Spencer Gaddy (Kenda/5hr Energy p/b Geargrin)  00:23.4
156. Dustin Macburnie (Team H&R Block)  00:23.7
157. Eric Bennett (Wonderful Pistachios Pro)  00:23.9
158. Gael Le Bellec (Team Raleigh)  00:24.0
159. Liam Holohan (Team Raleigh)  00:24.1
160. Jared Gilyard (Rideclean P/B Patentit.Com)  00:24.1
161. Chris Hillier (Team Rio Grande)  00:24.3
162. Austin Allison (Horizon Organic / Panache Elite)  00:24.4
163. Ian Moir (Yahoo! Cycling Team)  00:24.5
164. Coulton J Hartrich (Chemstar P/B United Healthcar)  00:24.5
165. John Bennett (California Giant Strawberries)  00:25.1
166. Elijah Romer (Team Oregon/Laurelwood Brewi)  00:25.2
167. Carson G Miller (Jelly Belly P/B Kenda)  00:25.3
168. Sebastian Salas (Team H&R Block)  00:25.6
169. Cory J Bruno (SoCalCycling.Com)  00:26.0
170. Erik Slack (Team Exergy)  00:26.4
171. Austin Stewart (Elbowz Racing)  00:26.4
172. Michael Larsen (Full Circle Cycling)  00:26.5
173. Nick Friesen (Team H&R Block)  00:26.6
174. Daniel Katz (NOW-MS Society)  00:26.8
175. Blair Berbert (Kelly Benefit Strategies/LSV)  00:27.2
176. Jerome Townsend (Bikereg.Com / Cannondale)  00:27.4
177. Norm Bryner  00:27.6
178. John Phillips (Team Rio Grande)  00:27.7
179. Zach R Earnest (FirefightersRacing p/b Advocare)  00:27.7
180. James F Schurman (Chemstar P/B United Healthcar)  00:27.8
181. Lang Reynolds (Hagens Berman Cycling Team)  00:27.9
182. Eric Riggs (Yahoo! Cycling Team)  00:28.2
183. Julio Mollinedo (Full Circle Cycling)  00:28.5
184. Aaron Schneider (Full Circle Cycling)  00:28.7
185. Russell W Brown (Kelly Benefit Strategies/LSV)  00:28.7
186. Jon Hornbeck  00:29.5
187. Timothy L Farnham (Wonderful Pistachios Pro)  00:31.2
188. Armando Pagaza (FirefightersRacing p/b Advocare)  00:31.3
189. Brad Winn (Team S&M)  00:31.3
190. Brian T Laird (Form Fitness)  00:32.2
191. Christopher Hong (Team Exergy)  00:33.1
192. Nick B Bennette (Metlife Cycling Team)  00:33.2
193. Justin Laue (Sport Systems Mountaintop)  00:34.7
194. Dustin Andrews (Team H&R Block)  00:34.9
195. Adam Carr (Form Fitness)  00:35.3
196. Adam M Thuss (Trek Red Truck)  00:43.0
197. Samuel Espinosa (FirefightersRacing p/b Advocare)  00:44.2
198. Eric Barlevav (Full Circle Cycling)  00:48.7
199. Taylor Bertrand-Barrett (Wonderful Pistachios Pro)  01:04.4
200. Armando Aguilar (FirefightersRacing p/b Advocare)  01:43.0
201. James Sparling (Team Raleigh)  01:43.0