September 28, 2011 (Toronto, ON) – Duke's Cycle in Toronto was the site of Cannondale's 2012 evening product launch last week hosting 70+ guests including customers, VIPS, LapDogs Club & Team Members, media and friends. With catering by Daniel et Daniel and a mini bar attendees shared a glass while taking in all that's new from Cannondale along with the swanky new look of Duke's rebuilt store following the devastating fire in 2008.
The festivities took place primarily on the second floor amidst the vibrant green of the pro-cycling Liquigas team that Cannondale sponsors. Everyone who attended walked away with a gift bag sporting a touch of that well-known lime green and some memorabilia goodies from an evening that was full of cheer as guests kicked tires and drooled over some of the new Cannondale rides on display.
The family-owned shop is the third oldest bike shop in Canada, in business since 1914, but it burned to the ground three years ago in a devastating 6-alarm fire that stunned the owners and many others on historic Queen St. West in Toronto.
Owner Gary Duke was quick to react and soon had a temporary site on Richmond St. West as the shop regrouped and began planning its future. Maintaining the visual language of the neighbourhood streetscape and respecting the distinguished history of Duke's Cycle, while maximizing the newest concepts in merchandising designs and materials, was a rebuilding challenge for Duke and general manager Michael Cranwell.
Three years later the gorgeous new store is 5,000 square feet, occupying three floors, rebuilt on the same original location. With hardwood floors and exposed brick the new store blends old and new in warmth and style with numerous photographs of the original location as well as the original street number painted on a window… it's worth a visit just to look around at the history on display.
Interview with Owner Gary Duke

"Family is so important," said Gary Duke. "It was important for us to maintain the rich history that my Dad began years ago. We can't thank our staff, customers and friends enough, and company's like Cannondale, who really supported us through our tough times and helped us rebuild."
"We were very excited to team up with Cannondale for their 2012 launch. They're a great partner and their product is superb so this evening was a no brainer."
Duke's is already gearing up to celebrate it's 100th anniversary in 2014 so this was another big drive for Gary and the store. "The new store is not just a refresh of what we were. It's steeped in tradition yet doing wonderful things with contemporary and high-tech materials," commented General Manager Michael Cranwell.
"A couple vendors really stepped up. Cannondale offered the services of its design firm from New York, and we brought in Rick Froner of Versatech, a Toronto interior-design firm, to work collaboratively. Froner raced for Duke's road team; he and Gary go back a long way," added Cranwell.

Interview with GM Michael Cranwell

Joining the crowd were some of Cannondale's top brass. Owned by Montreal-based Dorel Industries Inc., Cannondale falls under the umbrella of the company's Cycling Sports Group along with some other venerable names in cycling such as GT, Schwinn and Mongoose.
On hand for the soiree were Jeff McGuane (President, Cycling Sports Group), Adam Ingrao (General Manager, Cycling Sports Group Canada), Rob Boyce (Account Manager, Ontario, Cycling Sports Group Canada), Michael de Leon (Senior PR & Advocacy Manager, Cycling Sports Group) and Jeffrey Schwartz (Executive Vice-President and Chief Financial Officer, Dorel Industries Inc.)
Following drinks and conversation Rob Boyce held court and introduced some of Cannondale's hottest new rides for 2012 and held his own exchanging quips and jokes with several "hecklers" in crowd.
While there were lots of impressive machines that were closely examined during the evening it was the 10.5-pound SuperSIX Evo Ultimate that stole the show. The no-holds-barred road bike uses a combination of standard, hi-mod and ultra high-mod carbon fibre. This baby is touted as a the lightest frame in the world and many guests tried the one-finger lift test that brought smiles.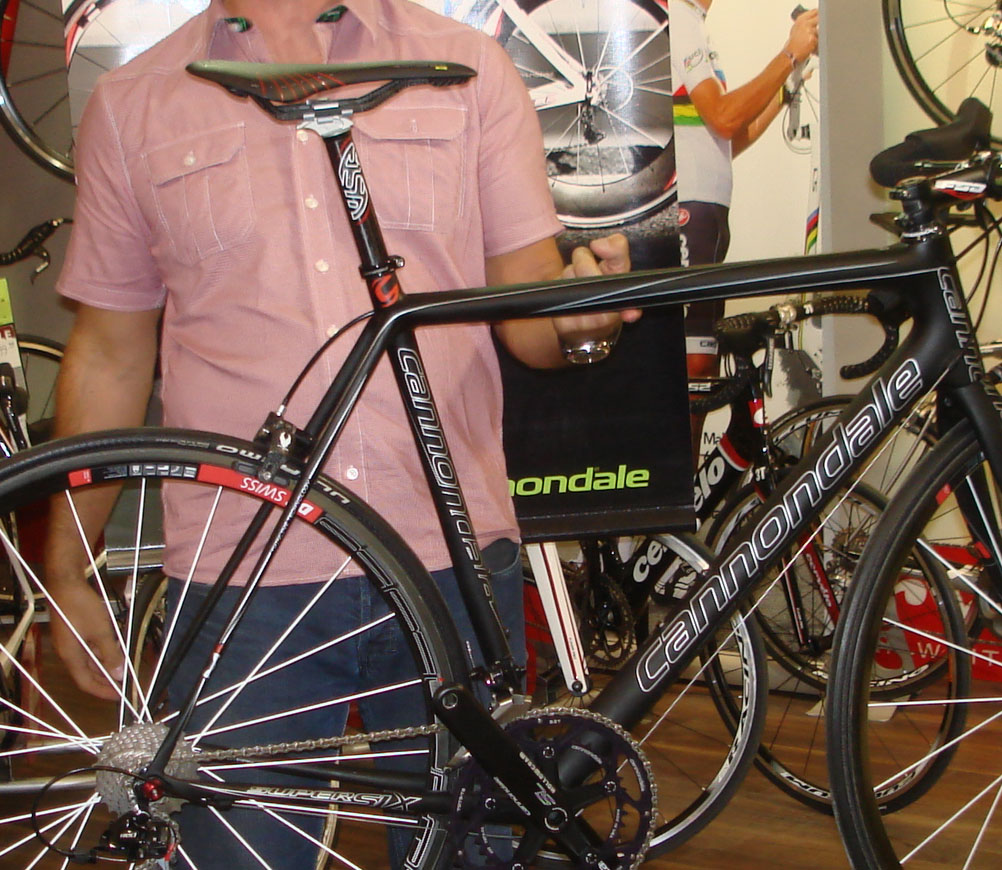 Here's a snapshot of Cannondale's 2012 lineup on display on Duke's showroom floor… for the MTB crowd the all-new Scalpel 29er dual suspension bike features BallisTec carbon construction and uses elements of Cannondale's Flash 29er, Scalpel, and RZ models, all at a svelte 1,850 grams.
The 2012 Jekyll is a ride anywhere or anything MTB bike featuring 90-150mm of travel via the Fox DYAD RT2 shock and either Ballistic carbon or SmartFormed alloy depending on the four models in the line – expand your boundaries says Boyce.
The SuperX3 (standard MOD) cross bike builds on the success of Cannondale's SuperX, which was launched last year, by offering another price point. Featuring a Ballistic carbon frame and Shimano Ultegra 6700 get ready to up your game.
The women's Synapse 1 has been Cannondale's top-selling women's road bike for the last three years, and for 2012 they've added their new Save Plus Comfort system, which features redesigned rear stays, a new offset dropout fork, and an interchangeable dual flex seatpost. This special seatpost adds vertical compliance and comfort, while maintaining torsional rigidity and light weight.
The Quick Carbon 1 is a fast and nimble flat bar bike with performance as snappy as its looks and handling as suave as its tube shapes.
Talk of the new women's 2012 Slice tri bike was hushed but the cat is out of the bag so to speak so look for a cool new Cannondale ride next season for women coming soon…
Check out some of the great photos and video interviews with Gary Duke and General Manager Michael Cranwell as they talk about the new Cannondale gear and the resurrection of Duke's Cycle after the devastating fire.
We look forward to 2014 and Duke's 100th birthday celebrations which should be something very special because the stunning new store is even more remarkable as Gary Duke finally has a basement.
For more on Cannondale click HERE.
For more on Duke's Cycle click HERE.