March 10, 2017 (Los Angeles, California) – Team Canada continues to show its talent and depth on the track following the Para Track World Championships recently held in Los Angeles, California from March 2-5. Canadian riders took home four golds and three silvers for a total of seven medals. The team also finished with strong top-10 finishes in many disciplines.
"This is by far our best track world championship," said Head Coach Sebastien Travers. "We will build on these results for the coming season.
Day 1 of competition saw Tristen Chernove of Cranbrook, BC successfully defended his Men's C2 1000 metre Time Trial with a time of 1:15.005 seconds while Ross Wilson, of Sherwood Park, Alberta had a winning time of 1:18.925 seconds, over three seconds faster than silver medalist Darcy Thompson of Australia.
"Tristen rode very well also to win his second title at the Kilo. Coming back from a viral infection, he really managed to pull it off, with the help of his personal coach Guillaume Plourde," said Travers.
Chernove and Wilson each won their second world titles on Day 2 of the competition, while Marie-Claude Molnar of St-Hubert, Quebec, won silver as well.
"Marie-Claude's 500m was very well executed," shared Travers, "With a personal best on her opening lap."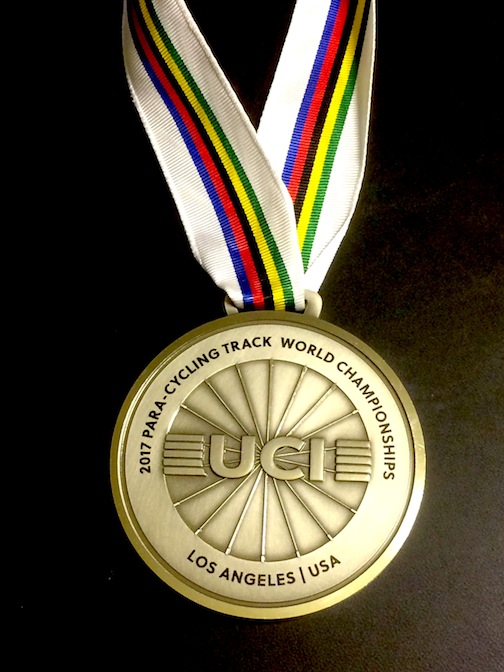 The final day of the Championships saw Molnar double up with two more silvers, bringing her total for the World Championships in LA to three.
According to Travers, the team is now in Temecula, California, where they are holding a 16-day training camp to prepare for the upcoming Track World Cups in Maniago, Italy and Oostend, Belgium in May.
Canadian Medals at 2017 Para Track World Championship Medals
Day 1
Tristen Chernove – C2 Men's 1000 metre Time Trial – GOLD
Ross Wilson – C1 Men's 1000 metre Time Trial – GOLD
Day 2
Ross Wilson – C1 Men's 3000 metre Individual Pursuit – GOLD
Tristen Chernove – C2 Men's 3000 metre Individual Pursuit – GOLD
Marie-Claude Molnar – C4 Women's 500 metre Time Trial – SILVER
Day 3
Marie-Claude Molnar – C4 Women's 3000 metre Individual Pursuit – SILVER
Marie-Claude Molnar – C4 Women's Scratch Race – SILVER