August 07, 2016 (Mont-Sainte-Anne, Que.) – Legendary Mont-Sainte-Anne is the only North American stop on the UCI DH World Cup this year and fans were treated to two Canadian podiums courtesy of Finnley Iles (Specialized Gravity) second in the Junior men's race with Miranda Miller (Specialized SRAM) claiming 5th in the Elite Women's competition.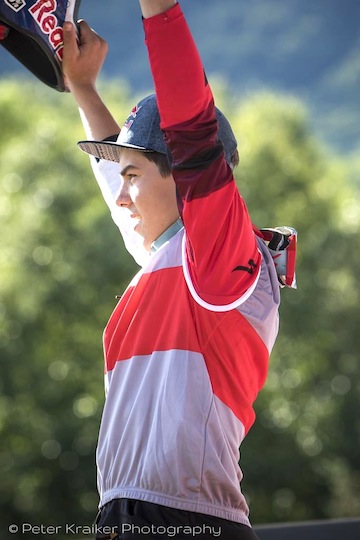 Dusty and loose conditions were the story of the week in Quebec on the beast that is the downhill track here, 30 minutes outside of Quebec City. Dropping 600m over 2.9km, a new high speed section would see riders surpassing 75km/hr while struggling to reign the speed in to set up for a 180 degree downhill right corner.
As the week went on and the track got broken in, the dusty conditions caused the main line to slowly come apart, exposing rocks and causing massive holes. Flats were a big part of the story, with almost half the juniors puncturing and eventual Elite Men's winner Danny Hart (Gbr) MS Mondraker Team flatting multiple times in day one practice. Violent East Coast thunderstorms that passed through Friday night did not affect things as by race time everything had baked in the sun and was back to dust.
B.C.'s Iles is the Junior Men's series leader and delivered the top qualifying time but settled for second by a mere 0.031 seconds behind his main challenger Gaetan Vige (Commencal / Vallnord). Fellow Canuck Magnus Manson (Team Canada) grabbed his best World Cup result finishing just off the podium in 4th behind Elliott Heap (Gbr) Chain Reaction Cycles / Paypal.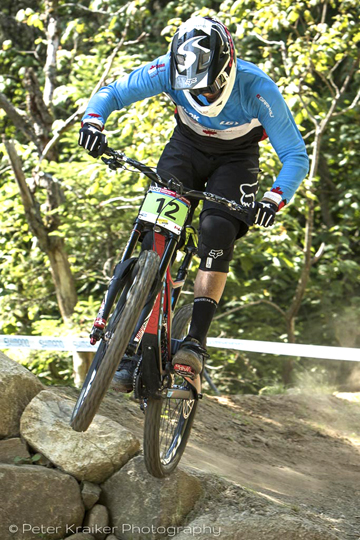 "It was a good run today but I held back a bit in the middle section which was likely the difference. I was hoping to win at home and wrap up the series but that's the way it goes. But I'm happy still with how it turned out."
When asked about being compared to Steve Smith he said, "I'm honoured to be talked about in the company of Steve Smith…he was a true legend of the sport." Iles has a 35-point margin in the overall series with 260 points to Vige's 225.
In the Elite Women's race it was Miller's second straight podium finish this season as series leader, Rachel Atherton (Gbr) Trek Factory Racing DH, raced to her 12th consecutive World Cup win to clinch the title. Tracey Hannah (Aus) Polygon UR was second a distant 11.116s back with Tahnee Seagrave (Gbr) Transition Factory Racing / FMD in third another second behind.
Atherton who won the qualifier as well was stoked with yet another series victory as well. "This track is one of the toughest and I'm so happy to have had such a solid run. I knew that if I rode it like I did in qualifying I could win it," she said post race.
For Miller, the reigning Canadian DH champ, it was affirmation of her stellar form and ability to deliver on race day as she enjoys best finishes on both the World Cup DH and Enduro World Series. "I guess today went pretty good, I can't complain about 5th place. I'm pretty pumped." Miller now sits 11th overall moving up from 16th.
The Elite Men's race was a squeaker as Aaron Gwin (USA) The YT Mob threw down the guantlet winning the qualifier. But challenger Hart is riding a wave of confidence and bumped Loic Bruni (Fra) Specialized Gravity powered by SRAM, the reigning DH champ, off the hot seat's top step with an under 4-min run putting the pressure on Gwin, the rider on the course.
Hart's time held for his second consecutive World Cup win, as Gwin came up short by 0.669 seconds forcing a showdown at the final stop in Andorra for the series title. Mark Wallace (Devinci Global Racing) was the top Canuck on the day in 25th.
"I can't say I was expecting this. I unclipped at the start so had to recover quick. After that I had a near perfect run and wasn't expecting this over the line…I was just thinking I hadn't gone fast enough. I didn't get loose or make any mistakes. I know what it takes now to get the win, and this feels just as good as the first one. Aaron was faster yesterday but today's the one that counts.
"I was thinking about the weather last night when the window blew off at my apartment but It was bone dry by the time we came down to race," said Hart. Gwin has 1,186 points to Hart's 1,008 with Troy Brosnan (Specialized Racing) third at 920 points. Wallace sits in 24th.
Full results here.