December 21, 2012 (Ottawa, ON) – Cycling Canada has announced its selections for the 2013 UCI Cyclo-cross World championships, to be held in Louisville, Kentucky, this upcoming February 2-3.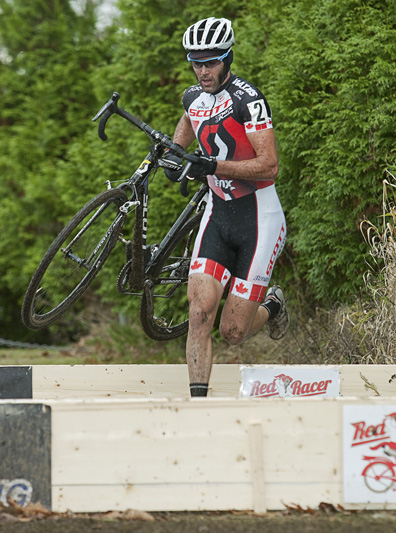 Among the list of 18 athletes heading south for the event, Olympians Geoff Kabush of Courtenay, BC (SCOTT-3RoxRacing) and Emily Batty of Brooklin, ON (Trek-Subaru), who both represented Canada at the 2012 Olympic Games in London, GBR this past July, will be wearing the Canadian uniform.
Kabush has been a prominent player this cyclo-cross season, posting regular Top 5 results at various races on the USGP of Cyclo-cross. Kabush will be joined notably by Chris Sheppard of Bend, Oregon, a multiple Canadian Champion and former Mountain Bike Canadian Champion who finished second at the 2012 Canadian Cyclo-cross Championships.
"Worlds in Louisville is a unique opportunity and I'm really excited to be racing the Cyclo-cross Championships for the first time," said Kabush. "It's always been difficult to fit into my Mountain bike schedule but the chance to race the Europeans on our own turf is one I couldn't pass up. Cyclo-cross is a discipline and culture I have always really loved and I hope many Canadians make it down to Louisville to enjoy the event and cheer the Canadians on. We have some great talent on the squad this year and I think it will be exciting to see what we can accomplish."
Mical Dyck of Victoria, BC (Stan's No Tube), the reigning Canadian Champion, will be a rider to watch for at this prestigious UCI World Championships on North American soil. Wendy Simms of Nanaimo, BC, a long-time cyclo-cross rider and multiple Canadian Champion, will also be suiting up for Canada. Simms finished second at the 2012 Canadian championships. Pepper Harlton of Edmonton, AB (Juventus Cycling Club), another strong rider with good results this season, has also accepted her invitation to race for Canada.
Three-time Canadian U23 Champion Evan McNeely of Ottawa, ON (Specialized Canada) will be hoping for a good result at the World Championships. "I've never done any big international cyclo-cross race outside of North America, however, I am confident based on some of my successes on this continent, combined with some of the cross-specific training I have been doing this December, that I'll be as prepared as I ever could be for Louisville come February. I think Canada will have some surprises up its sleeve this year."
McNeely, a mountain bike specialist, will be joined by Andrew l'Espérance of Halifax, NS (Norco Factory Team) and Micael van den Ham of Edmonton, AB as the top contenders.
The junior field will be headlined by the reigning Canadian Champion Peter Disera of Barrie, ON and Trevor Pearson of Delta, BC.
The 2013 UCI Cyclo-cross World Championships will be held February 2nd and 3rd in Louisville, Kentucky. The Junior Men and U23 Men will race on Saturday, while the Elite Men and Women will take to the course on Sunday.
For more information on the event, please visit: <http://guynf.us4.list-manage.com/track/click?u=43d085908a13ee5897bf30ce4&id=d11d0983e4&e=d29a4f46c5>http://www.louisville2013.com .
Canadian Delegation – 2013 UCI Cyclo-cross World Championships – Louisville, KEN
Elite Women
Mical Dyck (Victoria, BC/Stan's No Tube)
Wendy Simms (Nanaimo, BC)
Emily Batty (Brooklin, ON/Team Subaru-Trek)
Pepper Harlton (Edmonton, AB/Juventus Cycling Club)
Julia Lafrenière (Oxford Station, QC/Xprezo-Borsao)
Elite Men
Geoff Kabush (Courtenay, BC/SCOTT-3Rox Racing)
Chris Sheppard (Bend, OR/Rocky Mountain Bicycles)
Craig Richey (Victoria, BC/SponsorConnected.com-Ridley Bikes)
Aaron Schooler (Edmonton, AB/ Norco Bicycles-SRI Importing)
Mike Garrigan (St-Clements, BC)
U23 Men
Evan McNeely (Ottawa, ON/Specialized Canada)
Andrew l'Espérance (Halifax, NS/Norco Factory Team)
Michael van de Ham (Edmonton, AB)
Connor O'Brien (Ottawa, ON/ Stevens p/b The Cyclery)
Junior Men
Peter Disera (Barrie, ON/ Cycle Solutions-Angry Johnny's Cycling Club)
Trevor Pearson (Delta, BC/DEVO)
Isaac Niles (Tuner Valley, AB/Team Alberta)
Neil Symington (Sussex, NB/Outdoor Elements-Atlantic Cycling Centre)