June 29, 2014 (Lac Mégantic, QC) – Rémi Pelletier-Roy (QC) Garneau-Québécor is the new men's Canadian Criterium Champion, taking top honours in the Elite men's 33-lap race held on a gorgeous Sunday, as the 2014 Global Relay Canadian Road Cycling Championships came to a close in Lac Mégantic.
At the finish line Pelletier-Roy edged out Ryan MacDonald (Team H&R Block) in second and Dustin Andrews (Trek Red truck Racing) in third.
"At the beginning of the year, Louis [Garneau] named me captain of the team, and he told me he wanted a criterium team. This is what we built," commented the winner. "It would have been disappointing for us not to win the Canadian championships title, as Pierrick [Naud] won last year. That was the goal this year, so mission accomplished."
Full interview with Pelletier-Roy by Pasquale Stalteri

The three podium finishers broke away early in the race and were joined by Jean-Michel Lachance (QC) Team Silber Pro Cycling. The group managed to keep the chasing peloton at bay, maintaining their 30-second gap throughout the race. In the last few laps, the large pack accelerated and slowly gained time on the break, but it was not enough to close the gap as Pelletier-Roy out-sprinted his rivals for the victory.
"Pierrick and I are very good friends off the bike. Whether it was him or me, we would have been happy. The goal was for me to take part in the breakaway and make other teams work. Pierrick would have a good chance of winning in a bunch sprint as well," continued Pelletier-Roy.
The top two finishers of the fast-paced race, Pelletier-Roy and MacDonald, also earned their ticket to the 2014 Challenge Sprint Pro, which will take place during the UCI WorldTour Grand Prix cycliste de Québec, on Thursday September 11.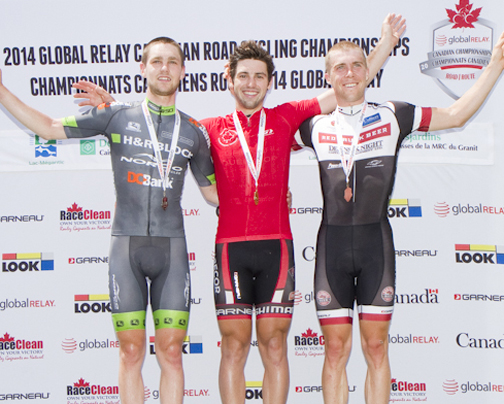 "The Challenge Sprint Pro runs at the same time as the UCI Track Pan-American Championships so we'll have to look at potential schedule conflicts. It is certain that I would love to make it to Quebec… it's a very sentimental race for me, as I live in Quebec City," added the new Crit champ.
Full results here.