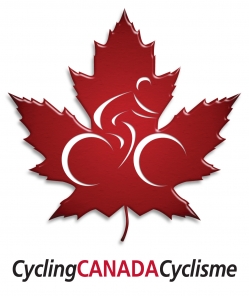 June 30, 2012 (Lac Mégantic, QC) – The best para-cyclists of this country converged in Lac Mégantic for the road races at the 2012 COLD-FX Canadian Road Championships presented by Canadian Tire.
In the tricycle race, Marie-Ève Croteau, the reigning T2 World Champion and current World Cup leader, took the victory on a difficult race. Louis-Albert Corriveau-Jolin, who will be competing in his first World Cup next week in Baie-Comeau, took the second place just a few second behind Croteau. Shelly Gautier, who's also a multiple World Champion in the T1 category, took third place.
In the men hand cycle, Mark Ledo took an impressive victory over his competitor. Ledo sprinted away from the group at the start of the race, and rode solo the entire 45-km course. Ledo, of Maple, Ontario, crossed the finish line with a time of 1:16.10. Mark Beggs finished second, 8:30 behind Ledo's time, while Rico Morneau was third. In the H1 race, Robert Labbé won the race while Myriam Adam came in second.
In the tandem race, only three groups were on the start line, two women and one man. Robbi Weldon and pilot Lyne Bessette rode away with the victory in the women's race, while Daniel Chalifour and pilot Alexandre Cloutier finished the race, solo on the course.
In the C category, Arnold Boldt took the victory in the final sprint at the finish line. Boldt, an inductee into the Canadian Sports Hall of Fame and Canadian Paralympic Hall of Fame, won his third Canadian championships. Since making his beginning in cycling, Boldt won all three Canadian championships in which he took part.
"This was definitely the hardest road race at Canadian Championships I've been at. Jaye Milley very, very strong rider. We were on the edge to then end. It was the best, the hardest that I have done in a long time. I am very appreciative of it. It's a beautiful jersey!" said Boldt.
In second came Jaye Milley, a few seconds behind Boldt. The two of them stayed together for the most part of the race, and Boldt sprinted to the victory in the last 25 meters. Marie-Claude Molnar, the current World Cup leader, took the third place.
The Canadian Para-Cycling team will be racing next week at the third and last UCI World Cup of the 2012 season, the last international competition before the 2012 Paralympic Games.
Results
Para-cycling – H1
1. LABBÉ, Robert (QC) Équipe du Québec 1:10:10
2. ADAM, Myriam (QC) Équipe du Québec +1:06
Para-cycling – H2-4
1. LEDO, Mark (ON) Team Ontario/Pedal Performance 1:16:10
2. BEGGS, Mark (QC) Equipe du Québec +8:30
3. MORNEAU, Rico (QC) Équipe du Québec +8:56
Para-cycling – T
1. CROTEAU, Marie-Eve (QC) Équipe du Québec 1:00:52
2. CORRIVEAU JOLIN, Louis-Albert (QC) Indépendant +0:25
3. MAINGUY, Dominique (QC) Equipe du Québec +14:12
Para-cycling – Tandem Men
1. CHALIFOUR, Daniel /  CLOUTIER, Alexandre (QC) Équipe du Québec 2:13:32
Para-cycling – Tandem Women
1. WELDON, Robbi (ON) / BESSETTE, Lyne  (QC) Indépendante 1:55:22
2. BOISVERT, Mélissa / BILODEAU, Véronique (QC) Indépendante +21:57
Para-cycling – C
1. BOLDT, Arnold (SK) TeamSask 1:47:08
2. MILLEY, Jaye (AB) Bicisport +0:07
3. MOLNAR, Marie-Claude (QC) Equipe du Québec +0:54