June 05, 2015 (Ottawa, ON) – Canada earned five medals in the time trial events at the opening UCI Para-Cycling Road World Cup of 2015, with Marie-Claude Molnar, Marie-Ève Croteau, Shelley Gautier, Mike Sametz and Charles Moreau all climbing onto the podium in Maniago, Italy.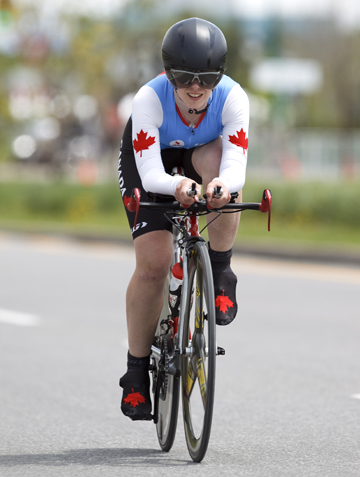 Molnar (WC4) and Gautier (WT1) both earned the silver medal in their respective categories, while Marie-Eve Croteau (WT2), Mike Sametz (MC3) and Charles Moreau (MH3) took the bronze medal to start the season.
Gautier, second on the day, suffered today her first loss since beginning competitive cycling in 2010. Gautier was defeated by just 14 seconds to Russia's Yulia Sibagatova. She remained undefeated until today in all World Cup and World Championships races.
Nicole Clermont (WC5) narrowly missed the podium, just four seconds off the bronze medalist's time.
The World Cup in Maniago continues tomorrow and Sunday with the presentation of the road races.
Results – Time Trial – UCI Para-cycling World Cup – Maniago, ITA
WOMEN C4
1. MORELLI, Shawn WC4 USA 20:09.15
2. MOLNAR, Marie-Claude WC4 CANADA +1:15
3. NARCISI, Jenny WC4 INDEPENDANT +2:27
WOMEN T1
1. SIBAGATOVA, Yulia WT1 RUSSIA 32:12.48
2. GAUTIER, Shelley WT1 CANADA +0:14
3. PEROVA, Svetlana WT1 RUSSIA +6:00
WOMEN T2
1. MAJUNKE, Jana WT2 INDEPENDANT 27:06.96
2. DINES, Hannah WT2 GREAT BRITAIN +0:58
3. CROTEAU, Marie-Eve WT2 CANADA +1:01
MEN C3
1. BATUKOV, Sergey MC3 RUSSIA 38:22.81
2. SCHELFHOUT, Diedrick MC3 BELGIUM +0:03.26
3. SAMETZ, Michael MC3 CANADA  +0:06.27
MEN H3
1. PODESTA, Vittorio MH3 ITALY 20:35.14
2. FREI, Heinz MH3 SWITZERLAND  +0:02
3. MOREAU, Charles MH3 CANADA  +0:39
WOMEN C5
1. HARKOWSKA, Anna WC5 POLAND 19:06.62
2. NEIMANAS, Greta WC5 USA  +0:51
3. BRACHTENDORF, Kerstin WC5 INDEPENDANT  +1:11
=====
4. CLERMONT, Nicole WC5 CANADA +1:15
MEN C1
1. TEUBER, Michael MC1 INDEPENDANT 19:18.77
2. WINKLER, Erich MC1 INDEPENDANT  +0:44
3. MASINI, Giancarlo MC1 ITALY +0:54
=====
9. MILLEY, Jaye MC1 CANADA +3:05
MEN H2
1. SHERIDAN, Brian MH2 USA 25:41.56
2. LION, Yaakov Kobi MH2 ISRAEL  +0:50
3. MAZZONE, Luca MH2 ITALY +0:55
=====
8. LABBE, Robert MH2 CANADA  +4:03
MEN H4
1. FRUEHWIRTH, Thomas MH4 AUSTRIA 19:41.21
2. WILK, Rafal MH4 POLAND  +0:10
3. MERKLEIN, Vico MH4 INDEPENDANT +0:52
=====
11. LEDO, Mark MH4 CANADA  +1:57
MEN T2
1. CALCAGNI, Carlo MT2 INDEPENDANT 21:12.82
2. DURST, Hans-Peter MT2 INDEPENDANT  +0:41
3. BOYLE, Ryan MT2 USA +1:32
=====
7. CORRIVEAU JOLIN, Louis-Albert MT2 CANADA  +3:01
MEN B
1. TER SCHURE, Vincent / FRANSEN, Timo MB INDEPENDANT 33:09.90
2. POLAK, Marcin / LADOSZ, Michal MB POLAND  +0:32.36
3. BATE, Stephen / DUGGLEBY, Adam MB GREAT BRITAIN +0:46.33
=====
6. CHALIFOUR, Daniel / CLOUTIER, Alexandre MB CANADA +1:16.66
11. CARRIER, Alexandre / LAFLAMME, Aroussen MB CANADA +2:03.82
WOMEN B
1. PODKOSCIELNA, Iwona / WNUCZEK, Aleksandra WB POLAND 37:53.22
2. VAN DEUDEKOM, Odette / VAN DIJK, Kim WB INDEPENDANT +28.76
3. DUNLEVY, Katie-George WB IRELAND +0:47.54
=====
7. WELDON, Robbi / CARON, Joanie WB CANADA  +2:42.54
8. RYAN, Shawna / LEMIEUX, Audrey WB CANADA  +2:45.04