July 15, 2011 (Canmore, AB) – The Canadian MTB XC Championships will take place on Saturday, July 16 at the Canmore Nordic Centre – the XC skiing venue built for the 1988 Calgary Olympics – for a second consecutive year, but in 2011 it is Cyclemeisters/Bow Cycle organizing the event. They have altered the course from 2010 to include more singletrack and a slightly shorter main climb minus the infamous "Oven." The route is a touch over 6km and will be a true test of the country's best mountain bikers, but it also emphasizes the fun factor of mountain biking, ensuring grimaces will alternate with smiles along the loop.
Defending elite women's and men's champions Catharine Pendrel (BC, Luna Pro Team) and Geoff Kabush (BC, Maxxis-Rocky Mountain) are favourites again, but the battles for the red-and-white jerseys will definitely be heated. In the women's event, multiple National Champion Marie-Hélène Prémont (QC, Maxxis-Rocky Mountain) is on good form to reclaim the title Pendrel snatched away in 2009. If Prémont wins she'll tie Alison Sydor's record of seven Elite XC titles. Plus, the 'Batty Factor' has been introduced since undefeated U23 women's National Champion Emily Batty (ON, Subaru-Trek) is now racing among the elites.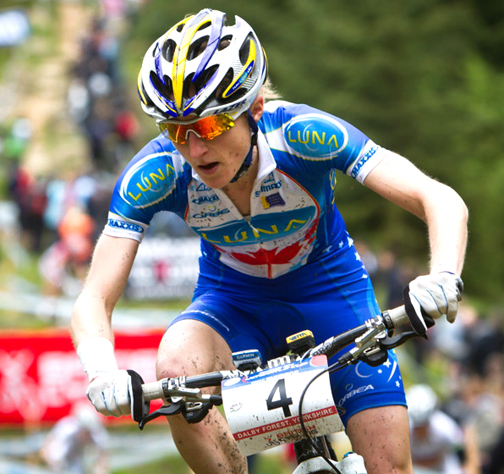 For the men, Kabush will go for a record eighth elite national XC title, but it will not be an easy task. Max Plaxton (BC, Sho-Air/Specialized) has defeated Kabush in every U.S. Cup race so far this season, and Derek Zandstra (ON, 3 Rox Racing) has also shown some very impressive form at the European World Cups. However, fans and spectators can count on Kabush to play a very calculated and strategic game – something at which he excels.
"I always look forward to racing Canadian Championships and I expect there to be a good battle on the great trails in Canmore this weekend.  My form has been good the last couple World Cup weekends and I won't be letting the Maple Leaf jersey go easily. Max Plaxton, who surprisingly skipped the World Cups, has been riding well this year I know he is very motivated for this race.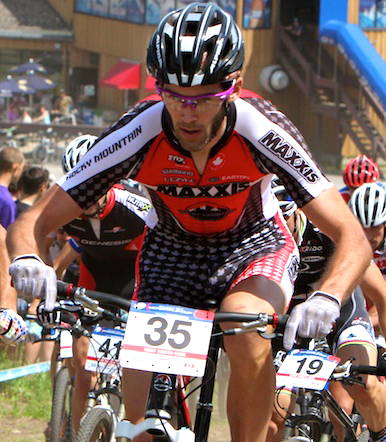 "Derek Zandstra, as well as all the younger Canadians, has also been stepping it up every year.  The prize of a Canadian Champions jersey definitely increases everyone's intensity and it should be a great race to watch," said Kabush, seven-time Canadian Champion in the Elite category, one-time U23 champion, and three-time Cyclo-cross champion.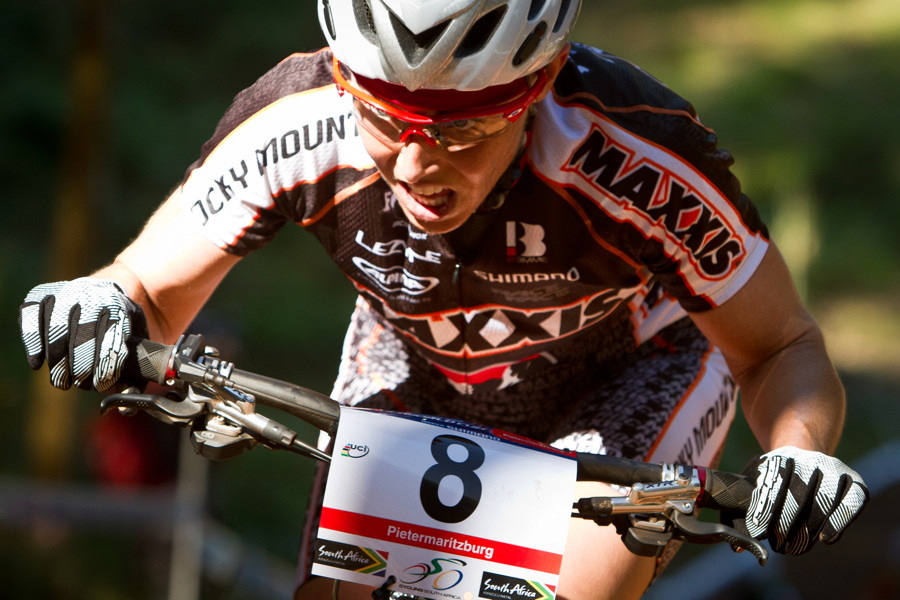 In the U23 women's ranks, Mikaela Kofman (ON, 3 Rox Racing) has been the top-ranked Canadian all season, making her the heavy favourite. However, Andreanne Pichette (QC, Opus) has performed very well in the 2011 Canada Cups to date, while Rebecca Beaumont (QC, Cyclone d'Alma) recently placed a solid ninth at the MSA World Cup.
On the U23 men's side, Jared Stafford (ON, Norco Factory Team) is in the hot seat as defending champ. The espoir field is quite deep, with several riders having shown winning potential this season, including heavy favourite Leandre Bouchard (QC, Cyclone d'Alma). It will definitely be an exciting race to watch, as Jeremy Martin (QC, Rocky Mountain Factory), Evan Guthrie (BC, Rocky Mountain Factory), and Antoine Caron (QC) will all be gunning for it. Caron is a bit of a dark horse, as Nationals will be his first race back after he broke his collarbone during training for the Offenburg World Cup in May.
The junior races will be interesting too, as the "old guard" has moved up an age category to allow the next wave of champions to shine. DH World Champion Lauren Rosser (BC, Commencal/Young Guns) is the strong favourite in the junior women's category, with her most recent wins at the Hardwood Hills Canada Cup in June, and the MSA World Cup event. Canada Cup leader Frederique Trudel (QC, Specialized Quebec) is another major contender, while Andreanne Lanthier-Nadeau (QC, Rocky Mountain Factory) is going well with a second place finish in MSA.
The junior men's race is hard to call, but currently Alexandre Vialle (QC, CVM Val-David) is the forerunner. He leads the Canada Cup series and placed third in MSA – the top Canadian finisher. Marc-Antoine Nadon (ON, 3 Rox Racing), Bretton Matthews (ON, Total Sports), and Vincent Belhumeur (QC, Specialized Quebec) are also expected to be in the running.
On Sunday, the Masters categories will compete, plus fans will be treated to a new event – a Team Relay competition – 19 teams have entered and this event should prove to be a crowd pleaser. Sunday, July 17, also features other events, including the Iron Lung Grand Nationals for those not competing in Nationals along with a Fast and Female mountain bike camp for women aged nine to 19.
All July 16 Start Lists HERE.