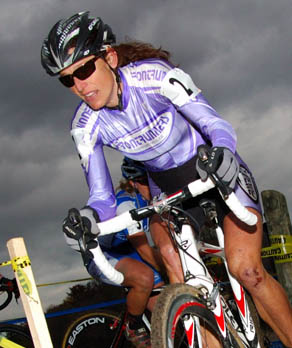 November 04, 2011 (Toronto, ON) – The Canadian Cyclocross Nationals presented by ZM Cycle and Fitness is taking place this weekend in Toronto on Nov 5. Pine Point Park is the race venue which is located very close to the Toronto Airport.
The National championships race takes place on Saturday while a second race, the Nationals Revenge, will be run at the same venue on the Sunday.  The Nov. 6th race is for those that didn't win on Saturday, but still have the legs to take home some prize money and prestige.
Currently 200+ riders are registered and the organizer expects there to be over  250 competitors on race day. Elite Men's defending champ Chris Sheppard (BC) will be on hand but Wendy Simms (BC), who was on the early registration list,   is NOT on the final start list which also doesn't include Alberta's Katy Curtis, second last year, or reigning MTB Worlds Champ, Catharine Pendrel (BC) Luna Pro Team, who was third on the podium in 2010. Expect to see U23 racer Evan McNeely (ON) defend his title while Benjamin Perry (Team CHCH), the Junior Men's reigning champ will be fending off all challengers as well.
Start Lists HERE.
There's a Manager's Meeting on Friday at 6pm at the venue and riders can pick up their numbers between 4 -7 pm as well. The race course is said to be dry in most areas but according to organizer Ziggy Martuzalski, "There will be mud no matter what, in the section along the river."
There will be an expo area with Norco, Rocky Mountain, Devinci, Opus and others out showing the latest in cycling gear. Visit www.ontariocycling.org to register or for more info and the Technical Guide Click Here.