November 05, 2011 (Toronto, ON) – It's a beautiful day in Toronto for the 2011 Canadian Cyclocross Championships now underway at Pine Point Park near the Toronto Airport. It's cool with a light wind and lots of sunshine – perfect CX conditions. The U23 Men's 50-min (6-lap) race is about to begin and Evan McNeely (ON) EMD Serono Specialized the reigning champ will try to defend his title against 23 competitors on the start line.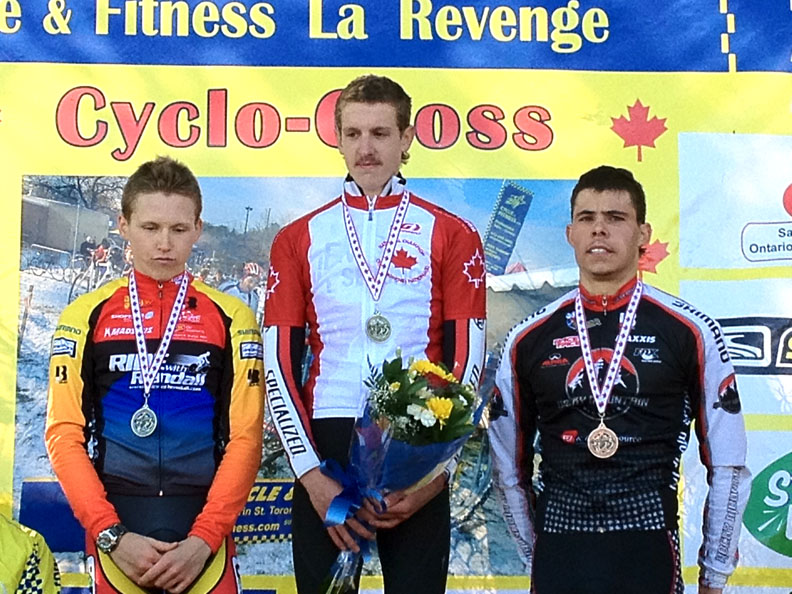 Start Loop + Lap 1
Jeremy Martin (QC) Rocky Mountain took the holeshot followed closely by Jared Stafford (ON) Ride with Rendall with the pack on their heels. The riders completed a 1km Start Loop and then began their first lap…
Lap 2
McNeely took control thru the first lap and is on his own out front by 10s over Stafford in second with Andrew L'Esperance (NS) Norco in third… trailing behind him in 4th is Martin and then Evan Guthrie (BC) Rocky Mountain is in 5th.
Guthrie is now out of the race due to a mechanical – we're not sure what happened. Meanwhile McNeely has 15s over Stafford and the two have distanced themselves from the small chase group of 3 consisting of Martin, L'Esperance and Mitchell Bailey (ON) Trek Canada.
Lap 3
McNeely and Stafford continue to lead with the defending champ still in control maintaining his 15s lead… behind the 3 chasers will soon be joined by Felix Bouvette (QC)  Prud'Homme…
Lap 4
Over the halfway point in the U23 Men's race it's a 2-horse race with McNeely and Stafford alone at the front as McNeely leads… the four chasers are not gaining any time.
Lap 5
Starting lap 5, the penultimate lap, it's McNeely still leading but Stafford is making a bid for the top step on the podium and has clawed back 5s now only 10s behind the defending champ… can he catch McNeely? Behind L'Esperance and Martin have dropped Bailey and Bouvette so the race for the bronze is also down to two riders…
Lap 6 FINAL
McNeely is charging ahead – he wants the crown and championship jersey again and has 15s on Stafford who is not giving up. Over a minute behind is Martin in 3rd as L'Esperance suffered an unfortunate mechanical and has been passed by both Bailey and Bouvette…
Results
U23 Men – 6 laps – 21km
1. Evan McNeely (ON) EMD Serono/Specialized 0:53:31
2. Jared Stafford (ON) Ride with Rendall 0:16
3. Jeremy Martin (QC) Rocky Mountain Factory Team 2:17
4. Felix Bouvette (QC) Prud'homme/IGA 2:59
5. Mitchell Bailey (ON) Trek Canada MTB Team 3:16
6. Andrew L'Esperance (NS) Norco Factory Team 4:05
7. Michael Van Den Ham (MB) Team Manitoba 4:17
8. Conor O`Brien (ON) EMD Serono Specialized 5:56
9. Stephen Cooley (SK) Team Sask 6:05
10. Andrew De Cal (ON) Liberty! Bicycles 6:23
11. Matthew Farquharson (ON) lapierre Canada 6:35
12. Joel Desgreniers (QC) Unattached 6:46
13. Zachary Hughes (ON) Independent 7:15
14. Preston Wagler (ON) 3Rox Racing 7:31
15. Bretton Matthews (ON) Total Sports The Bike Shop 7:39
16. Alexander Gibson (ON) Esteemtraining.com -1 lap
17. Tyson Wagler (ON) 3Rox Racing -1 lap
18. Kiernan Orange (QC) Ride with Rendall -1 lap
19. Alex Schmidt (ON) Liberty! Bicycles -2 laps
20. Corey Brioschi (ON) Revolt Racing -2 laps
21. Stephen Andrichuk (AB) Cyclemeisters -3 laps
DNF Evan Guthrie (ON) Rocky Mountain Bicycles Factory Team
DNF Connor Wilson (AB) Team Alberta