November 05, 2011 (Toronto, ON) – The Elite Women and Junior Men's race will soon be underway with 21 women and 18 men in the mix for the championship jerseys and national title. The women's title is wide open as defending champ Wendy Simms is not starting and neither are Katy Curtis (AB) and Catharine Pendrel (NB) who were 2nd and third last year. In the Junior Men's race Ontario's Benjamin Perry (Team CHCH) is the defending champ – the race is 40 minutes (Start Loop + 4 laps)…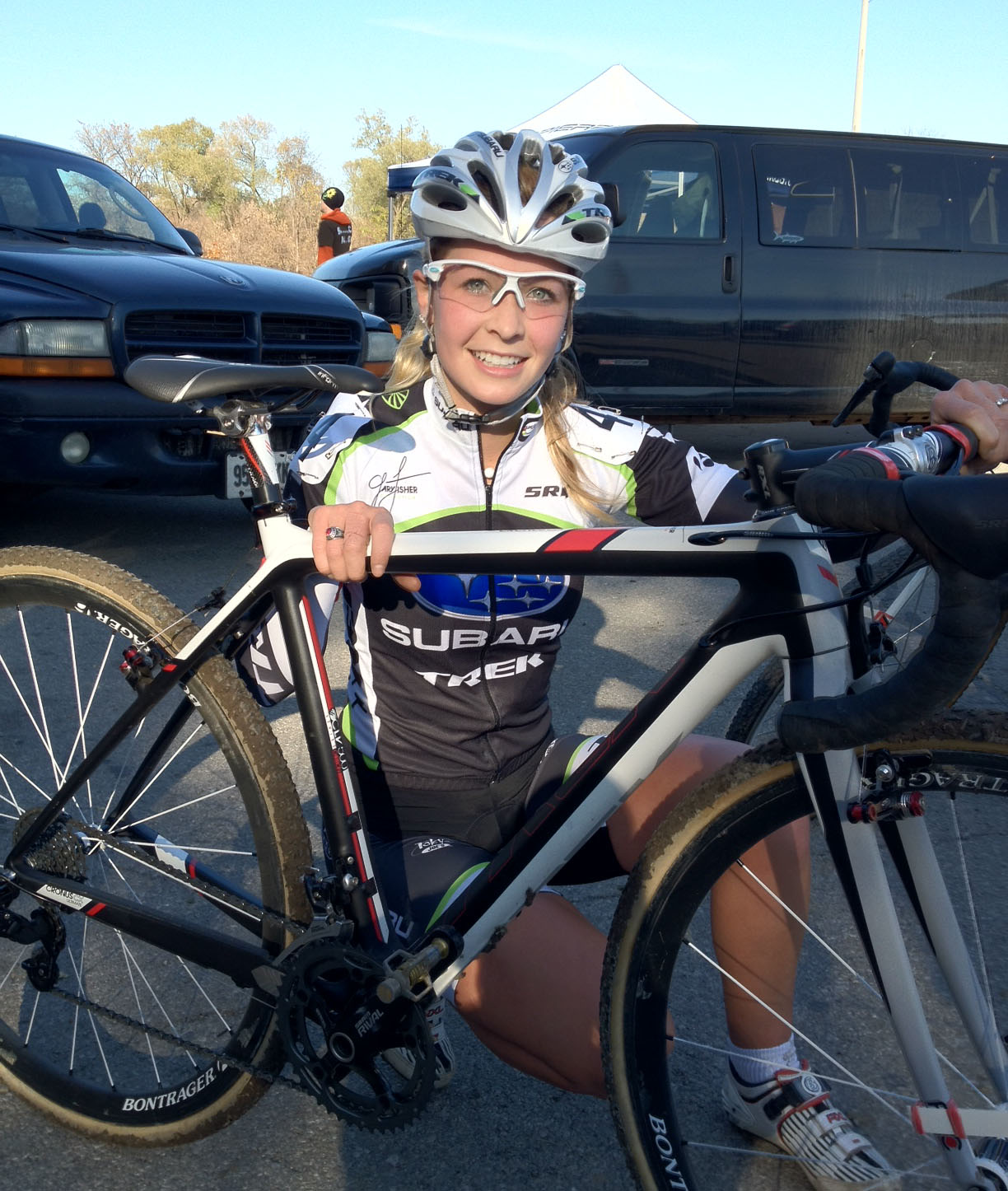 Start Loop + Lap 1
Johan Patry (QC) Ride with Randell took the holeshot in the Junior Men's race as they're now on the first of 5 laps.
In the Elite Women's competition it's Mical Dyck (BC) Pro City Racing taking the lead followed closely by Emily Batty (ON) Subaru-Trek in second with Alberta's Pepper Harlton (Juventus) in third…
Lap 2
Patry has a good lead over Tommy Beaulieu (AB) Team Alberta in second with Sam Beaudoin (AB) Team Alberta in third…
Harlton has taken over the lead in the Elite Women's race with Dyck in second at 5s followed by Batty in third… in 4th a little further behind is Evelyne Blouin (QC) Independant
Harlton and Batty have dropped Dyck now at 15s – she's in 3rd at 45s ahead of Blouin.
Lap 3
Patry is demolishing the field as Perry struggles behind in 6th…
Batty has taken over the lead – she'd love to earn another national title and today could be her day. But Harlton is only a few seconds behind and would like the same bragging rights. Dyck has made up some ground and is fighting back now at 20s… then it's a big gap to Blouin in 4th.
Patry has 30s on Beaulieu in second with Beaudoin and Neil Symington (NB) Atlantic Cycling Centre in 3rd and 4th both at 10s – then it's defending champ Perry in 5th…
Lap 4 FINAL
Patry comes thru looking strong with Beaulieu in second – but now the race for third is heating up as Perry is charging from behind.
Batty is pulling out all the stops and is alone out front with 20s on Harlton who has the silver wrapped up barring any mishaps… Dyck is alone in 3rd and Blouin remains further back.
Results
Junior Men – 4 laps – 14km     
1. Yohan Patry (QC) Ride with Rendall 0:38:17
2. Tommy Beaulieu (AB) Team Alberta 0:26
3. Benjamin Perry (ON) Team CHCH 0:31
4. Samuel Beaudoin (AB) Team Alberta 0:32
5. Neil Symington (NB) Atlantic Cycling Centre 0:45
6. Christopher Prendergast (MB) Team Manitoba/Woodcock 0:52
7. Edouard Tougas (QC) Prud'homme-IGA 1:58
8. Alexandre Vialle (QC) Cvm Val David 2:43
9. Tyler Lee (ON) St. Catharines Cycling Club 2:56
10. Adam Jamieson (ON) Team Hardwood Cycling and Ski Club 3:04
11. Max Toeldte (ID) Byrds 3:22
12. William Elliott (ON) Black Tooth Grin 3:33
13. Sean Mackinnon (ON) Racer Sportif/Mattamy Homes CC 3:48
14. Stefan Milosevic (ON) Chain Reaction/Molson 67 4:00
15. Connor Nevin (ON) Independent 5:41
16. William Etherington (ON) J&J Cycle 7:02
17. Conner Rapus (ON) Independent 7:53
18. Morgan Macphee (ON) Soigneur Race Services Race Team 9:26
19. Donovan Martin (ON) Reactivated Racing -2 laps
Elite Women – 4 laps – 14km    
1. Emily Batty (ON) Subaru-Trek 0:40:59
2. Pepper Harlton (AB) Juventus 0:33
3. Mical Dyck (BC) Pro City Racing 1:15
4. Evelyne Blouin (QC) Unattached 1:58
5. Jean Ann Berkenpas (BC) Xprezo-Borsao 2:18
6. Amanda Sin (ON) 3 Rox Racing 2:30
7. Veronique Fortin (QC) Rocky Mountain Valeur Mobiliere 3:20
8. Julie Lafreniere (QC) Stevens Racing Canada p/b The Cyclery 3:23
9. Melissa Bunn (ON) Independent 3:25
10. Leigh Hobson (ON) The Hub Race Team 3:34
11. Andreanne Pichette (QC) Opus/OGC 3:43
12. Sarah Stewart (BC) Independent 3:52
13. Shantel Koenig (AB) Team Alberta 4:43
14. Laura Bietola (ON) 3Rox Racing 5:07
15. Mandy Dreyer (ON) lapierre Canada 5:16
16. Vicki Thomas (ON) Ottawa.Cx 5:35
17. Emily Flynn * (ON) EMD Serono-Specialized Cycling Club 5:52
18. Briana Illingworth (ON) TRUE North Cycles 7:29
19. Anna Schappert (MB) Bikes and Beyond 7:44
20. Katlyn Dundas * (ON) Team Hardwood Cycling and Ski Club 7:46
21. Amanda Wakeling (BC) Trail Bicycles Eatmore Sprouts 10:45