November 05, 2011 (Toronto, ON) – The bright sunshine continues as Elite Men's defending CX champ Chris Sheppard (BC) Rocky Mountain is the man to beat this afternoon as 32 riders are on the start line ready to unseat him in the bid for the title and the red and white jersey.  The Elite Men will complete 60 minutes of racing (Start Loop + 7 laps)…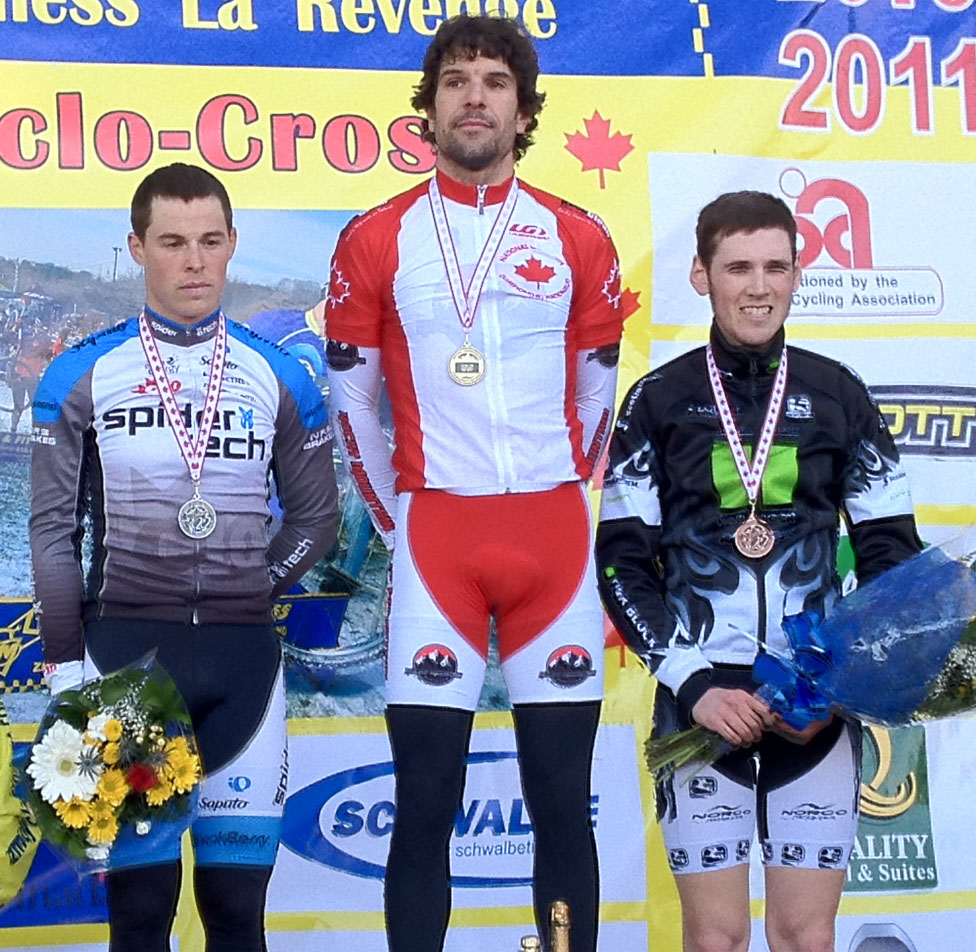 Start Loop + Lap 1
Mark Batty (ON) SpiderTech is leading the charge as the Elite Men complete the Start Loop and head out on the first lap. Alberta's Aaron Schooler (H&R Block) is in second and would love to take home the title as would Tyler Trace (BC) Red Truck in third with Ontario's Mike Garrigan (Lapierre), a former champ, in fourth and Sheppard just behind in 5th.
Lap 2
A group of 8 riders have formed at the front with a lead on the chasers… Batty, Schooler, Trace, Garrigan, Sheppard are together with Kevin Noiles (BC) Sportique, Andrew Watson (ON) Norco and Adam Morka (ON) Trek.
Lap 3
At the start of the third lap there are now 7 riders at the front as Schooler has taken over the lead followed by Sheppard in 2nd with Batty in third. Then it's Garrigan, Craig Richey (BC) Renner Custom CX, Watson and Morka as Noiles has been dropped while Derrick St. John (ON) Stevens p/b The Cyclery is behind trying to bridge to the leaders…
Lap 4
More changes at the front of the race as Sheppard is now leading with Schooler in second, Batty in 3rd, Garrigan in 4th and Noiles in 5th as he regrouped from behind.
Another 10s back it's Morka, St. John and Watson… then it's Richey on his own as he needed a bike change.
Sheppard has attacked and established a 10-second lead over Schooler, Garrigan, Noiles and Batty… the second group of chasers are still at 10s.
Lap 5
With three laps to go it's Sheppard thru first asserting himself as he holds on to his 10s lead over Batty now in second as Schooler settles into 3rd – then it's Garrigan in 4th as Noiles drops back a bit still in 5th. Behind them it's St. John and Morka trying to catch on and move up…
Lap 6
On the penultimate lap the defending champ has put the hammer down and is now sitting with a comfortable 18s lead over Batty in second with Schooler in third and Garrigan in 4th as these three are in a battle for the silver and bronze.
In 5th it's St. John with Morka in 6th and Watson in 7th… Noiles has dropped out.
Sheppard has extended his lead to 25 seconds – behind Schooler and Batty have dropped Garrigan… is this the final podium with about 1.5 laps to go…?
Lap 7 FINAL
Sheppard is in control as he starts his final lap with Schooler in second and Batty in third. Garrigan is in danger of being caught by St. John…
Schooler and Batty are duking it out for second – St. John has caught and dropped Garrigan but is too far behind to catch Schooler and Batty. Now Watson catches and drops Garrigan who is running out of steam… Sheppard is alone out front.
Batty attacks as Schooler digs deep…
Sheppard wins…
Results
1. Chris Sheppard (BC) Rocky Mountain Bicycles/Shimano 1:01:52
2. Mark Batty (ON) SpiderTech powered by C10 0:21
3. Aaron Schooler (AB) Team H&R Block – SRI Importing 0:22
4. Derrick St. John (ON) Stevens p/b The Cyclery 0:42
5. Andrew Watson (ON) Norco 0:55
6. Mike Garrigan (ON) Lapierre Canada 1:16
7. Adam Morka (ON) Trek Canada 1:21
8. Craig Richey (BC) Renner Custom CX Team – Raleigh 2:08
9. Mark McConnell (AB) Team Alberta 2:37
10. Kevin Calhoun (BC) Rocky Mountain Factory Team 3:05
11. Peter Glassford (ON) Trek Canada 3:19
12. Aroussen Laflamme (QC) Xprezo-Borsao 3:59
13. Nathan Chown (ON) Team CF 4:22
14. Shaun Adamson (AB) Cycle-Smart 4:30
15. Tyler Trace (BC) Trek Red Truck 4:52
16. Peter Morse (ON) Jet Fuel Coffee/La Bicicletta 5:06
17. Matthew Krahn (AB) Redbike 5:21
18. Nathan Underwood (QC) Ride with Rendall 5:25
19. Marc-Andre Daigle (QC) Garneau-Club Chaussures-Norton Rose 5:52
20. Thierry Laliberte (QC) Xprezo-Borsao 6:44
21. Douglas van den Ham (ON) Nine2fivepro.com Cycling Team 6:54
22. Erik Box (ON) Nativo/Devinci 7:19
23. Peter Mancini (ON) Esteemtraining.com 7:57
24. William Goodfellow (QC) Lotto-Bodysol Pole Continental Wallon -2 laps
25. Colin Busby (ON) Chain Reaction/ Molson 67 -2 laps
26. Stephen Keeping (ON) Stevens p/b The Cyclery -3 laps
27. Jeff Moote (ON) Cyclocrossracing.com -3 Laps
28. Matt Zdriluk (ON) Reactivated Racing/Primary/SRAM/Trek -3 laps
29. Adam Poll (ON) Waterloo Cycling Club -4 laps
DNF Kevin Noiles (BC) Sportique
DNF Drew Mackenzie (BC) The Condo Group/Shimano/Marin
DNF Marco Li (ON) Garneau-Club Chaussures-Norton Rose
DNF Matt Thomas (ON) Soigneur Race Services Race Team