July 02, 2014 – For the first time ever, there will be a red Maple Leaf jersey at the Tour de France as Orica-GreenEdge recently announced their TdF roster which includes Canada's Svein Tuft. The accomplished rider just won his ninth Elite Men's Individual Time Trial championship at the 2014 Canadian Road Nationals along with his second Road Race title after a 120 km solo breakaway.
Tuft is the eighth male Canuck to take multiple road titles, and has been the dominant force in the ITT for the past decade. He was a DNS at the 2013 ITT championships and was beaten by Ryder Hesjedal in 2007 – the only occasions that he has not taken the title since 2004.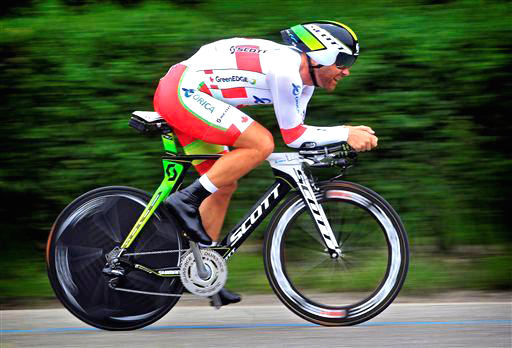 Tuft will enter the record books as not only the first to wear the Canadian road champ's road jersey at the Le Tour, but he will also be the first to wear the ITT champ's jersey at cycling biggest race as well. Both Tuft and Hesjedal have had the honour of wearing the maple leaf at the Giro (Hesjedal in 2008 and Tuft in 2012 and 2013).
During the 2012 Giro Tuft was decked out in a red and white Orica-GreenEdge kit for both road and TT stages having won both at the 2011 championships, which he did again this year.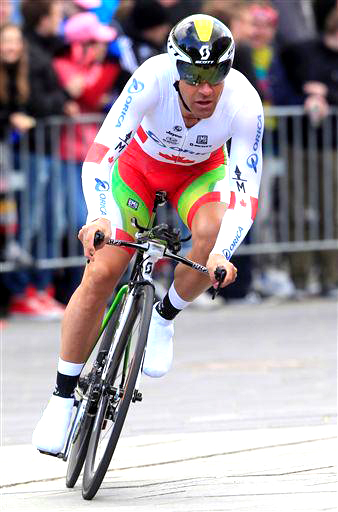 As Tuft also raced the 2009 Vuelta while being the ITT champion, it also means he will bear the honour of being the only Canadian to have raced at all three Grand Tours decked out as Canada's national champion. A very impressive accomplishment by the humble hardman of cycling from Langley, B.C.
He will be stripped of one record though. Last year Tuft was the oldest rookie in the modern Tour but this year, his 36-year-old teammate Mathew Hayman will take over that record.