March 25, 2015 (Taiwan) – The plan for the penultimate stage of the Tour de Taiwan was to move Rob Britton up on the general classification and into the top ten and that is exactly what Team SmartStop did. The Nantou 103km road race, from Sun Moon Lake  to  Tataka, started with some sharp risers leading up to the 70km climb elevating 2000m. "Racing was aggressive from the get go today," said Britton.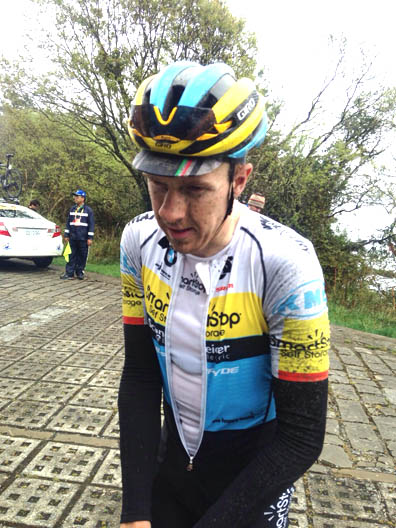 In the first 10km Julian Kyer had his go at escaping from the peloton with two other riders but it was short lived. Flurries of attacks followed until a six man breakaway group got away and extended their lead quickly to over two minutes.
With no climbers or threats to the general classification, the peloton was happy to let the breakaway establish on their way to the base of the climb.
Once the climbs hit, riders were getting spat out the back of the peloton as the race took shape and those looking to make their moves on the climb made their presence felt. Conditions up the climb were not easy, with increased cloud cover the higher the riders got and at some point visibility decreasing to just 20m.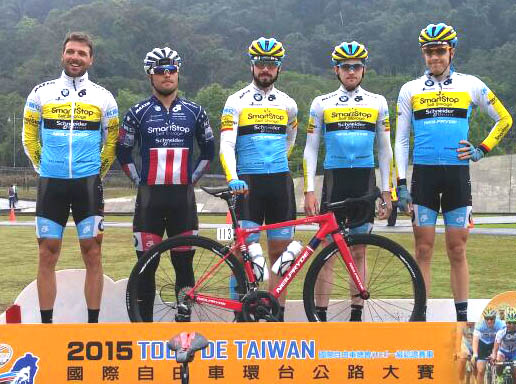 "You could tell right away that the teams from Iran [Tabriz Petro Chemical Team and Pishgaman Giant Team] were the strongest teams here and when we hit the climb on the steepest pitches they would attack in pairs," said Rob.
"The rest of the field was left to chase at a stash pace until roughly 15km to go when the grade again really kicked up and from then it was about 15 guys going for it."
Rob was in that group of 15 riders who were chasing the four leading riders up until the finish of the climb. Riders continued to attack on the final stretches of the climb but most were short lived and no one was able to put a dent in the lead of the four riders from Iran.
Rob finished 9th overall, just 1m57 down from stage winner Mirsamad Poureyedigolakhour (Tabriz PetroChemical Team) moving him from 13th to 10th in the overall general classification.
"I am happy to be back at the pointier end of the race again and looking forward to building on these efforts as we get closer to some of our bigger goals," said Rob.
Today is the final stage of the Tour de Taiwan, the stage takes the riders 180km from Tainan to Pingtung.
Results coming
1. Mirsamad Poureyedigolakhour (IRI) Tabriz PetroChemical Team 3:12:42
2. Rahim Emami (IRI) Pishgaman – Giant Team  0:02
3. Ghader Mizbani Iranagh (IRI) Tabriz Petrochemical Team    0:16
9. Rob Britton (Can) Team SmartStop 1:57
36. Zach Bell (Can) Team SmartStop 9:39
GC after Stage 4
1. Mirsamad Poureyedigolakhour (IRI) Tabriz PetroChemical Team 10:09:47
2. Hossein Askari (IRI) Pishgaman – Giant Team 0:30
3. Rahim Emami (IRI) Pishgaman – Giant Team  0:46
10. Rob Britton (Can) Team SmartStop 2:51
50. Zach Bell (Can) Team SmartStop 22:22