August 17, 2012 (Lissone, ITA) – The 66th edition of the Coppa Agostoni-Giro dell Brianze on Friday took in some of the most storied routes in cycling, and the racing matched the setting.
With the race taking in the 8-km Madonna del Ghisallo climb and two ascensions of the Colle Brianza, Team SpiderTech powered by C10 went into the race with a plan to place at least two riders in an early move while protecting team leader Francois Parisien in the main field.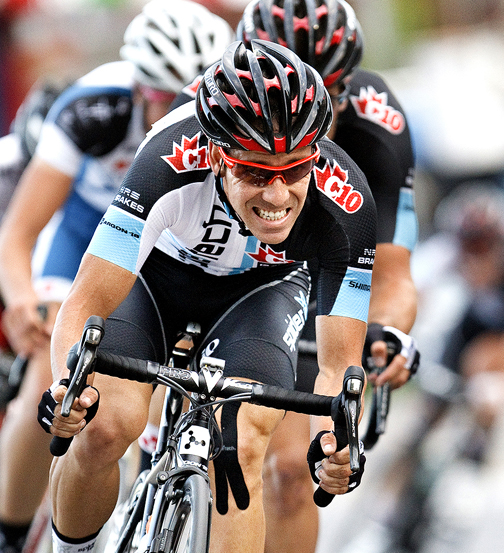 "Well, it seemed like everyone had the same plan today," said team director Kevin Field. "They change up the parcours in this race each year and this year was really hard, so every team wanted men up the road – and it made the opening extremely aggressive. Fans of cycling need to come see races like this, because it really doesn't get much more exciting."
Under constant attack, the peloton covered 48 km in the first hour of racing until a group of 26 riders formed off the front. SpiderTech was well represented with Antoine Duchesne, Martin Gilbert, Guillaume Boivin and Parisien.
"It was a great situation for us," said Gilbert. "The plan wasn't to have Frank out there so early, but we adapted on the road. It made sense because the group was so big and Antoine, GB and I could ride while Frank took it a bit easier."
With many other teams well represented in the breakaway, things looked good and the boys drilled it to the Ghisallo, 93 km into the 196.5-km race, but the gap was just two minutes when they hit the climb.
As the break split on the climb, only Parisien was left in contention in a group of eight, just behind the lead breakaway of Emanuelle Sella (Androni Giocattoli) and Fortunato Baliani (Team Nippo).
As Sella raced ahead for the win, another reshuffle on the Brianza with 50 km to go spelled the end for Parisien's group. Though the results weren't what the team hoped for, the riders are happy to have been in the mix in an aggressive race on a very tough course.
Team SpiderTech is back in action Saturday in the final event of the Trittico Lombardo, the Tre Valle Varesini.
Results (brief)
1. Emanuele Sella (Ita) Androni Giocattoli     4:25:39
2. Fortunato Baliani (Ita) Team Nippo
3. Danilo Di Luca (Ita) Acqua & Sapone     2:50
4. Davide Mucelli (Ita) Utensilnord Named
5. Riccardo Chiarini (Ita) Androni Giocattoli
6. Fabio Taborre (Ita) Acqua & Sapone     3:08
7. Giovanni Visconti (Ita) Movistar Team
8. Gabriele Bosisio (Ita) Utensilnord Named
9. Angelo Pagani (Ita) Colnago – CSF Inox
10. Francesco Failli (Ita) Farnese Vini – Selle Italia