October 08, 2016 (Manchester, UK) – Canada's Krzysztof Kurzawinski won gold in the Men's 50-54 Points Race at the 2016 UCI World Masters Track Championships in England on Oct. 6 at the Manchester Velodrome. Kurzawinski outpaced Daniel Casper (USA) who finished second in the 15km (60-lap) final with Peter Ettles (Gbr) winning the bronze. Fellow Canuck, Peter Toth, was 6th.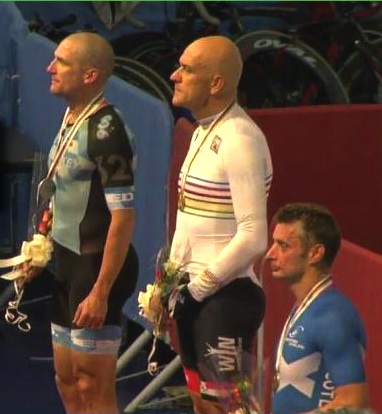 "Today I could not be happier for a man who has taken me under his wings and guides me daily to be the best I can be," posted Christian Schneider of Markham, ON on Facebook. "Coach Krzystof Kurzawinski won the World Championship points race. His year-long road to make this happen is an inspiration to all the WIN team and myself. Knowing that I get my ass handed to me on our "ride to win" rides makes it easier to take. So proud of you coach."
Kurzawinski responded: "Thanks Christian.. [You're] next if you start training right."
Originally from Lódz, Poland, Kurzawinski now lives in Toronto, ON where he operates the Kurzawinskicoach.com Win Cycling Centre. He is also a coach at the Mattamy National Cycling Centre in Milton, ON and also does bike fittings and sales at The Bike Zone.
The UCI World Masters Track Championships ran from Oct. 1-8 and concluded today in Manchester. Drop us a line if you know another Canadian who did well at the Master Track Worlds – info@pedalmag.com
Results (brief)
Men's 50-54 Points Race
1. Krystof Kurzawinski (CAN) 23 points
2. Daniel Casper (USA) 17
3. Peter Ettles (Gbr) 5
4. Roberto Dardi (Ita) 5
5. David Klipper (USA) 5
6. Peter Toth (Can) 5