March 13, 2016 (Dwingelderdijk, Netherlands) – Leah Kirchmann grasped her opportunity to get a result today at Drentse Acht van Westerveld getting in the winning breakaway and she sprinted to an amazing victory. The one-day race Drentse Acht van Westerveld covered a distance of 140.5km and it proved to be a good opportunity for Team Liv-Plantur to show themselves again. The race was always going to be susceptible to crosswinds and so echelons were to be expected.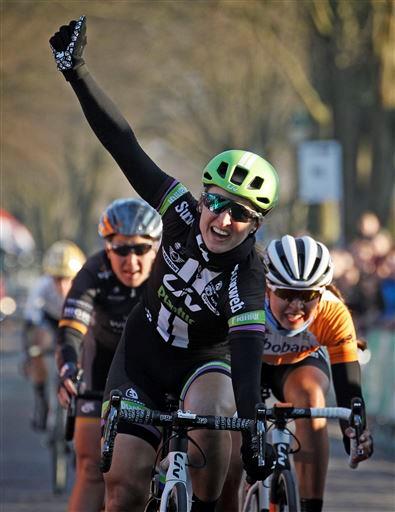 With around 65km to go, the bunch split and Leah Kirchmann managed to be in the front group with 12 riders for company. It was a very strong 1st group and their advantage continued to increase over the bunch trying to bridge the gap. With 35km remaining the gap was at 1'35"  and Leah helped to drive the pace to stay away from the peloton.
With 7km to go, the riders entered the three local laps and the breakaway was ending towards to the finish line. The result was decided in a sprint and it was Leah who was the strongest and won her first race of the season. A delighted Leah Kirchmann said after the race: "I am very happy to get my first victory of the season. It is my first ever win in Europe, so that makes it extra special for me.
"A breakaway group of 13 riders got away the second time we raced up the Vamberg. We knew that this would be the key moment in the race, and the team did a good job ensuring I was in a good position.
"It was a very strong breakaway with all of the big teams represented and some teams even had 2 or 3 riders there. Almost everyone was turning to begin with and we gained a decent gap. I tried to conserve some energy heading into the finishing circuits and I started my sprint very early coming down the final straightaway. I was so happy to hang on for the win."
Coach Hans Timmermans said: "I am very happy with this result. It was a good race today and the team showed itself well at the front.
"Leah did a great job in being in the breakaway. Her positioning was very good and she was able to grasp that opportunity. We also had three girls in the second group. There were some teams with 2 or 3 riders so Leah was able to conserve her energy in the front group and to focus on the eventual sprint. In the bunch, we kept the gap on a minute to keep the pressure from behind.
"In the final kilometers, there weren't a lot of attacks in the breakaway and Leah did an impressive sprint to take the victory. Leah was by far the fastest in today's sprint and she managed to beat some of the best sprinters in the world.
"She's a big talent and is really professional about how she prepares for races and then gets the job done. This win will be great for her confidence."
Results (brief)
1. Leah Kirchmann (Can) Team Liv-Plantur    3:32:45
2. Christine Majerus (Lux) Boels – Dolmans Cycling Team
3. Anouska Koster (Ned) Rabobank-Liv Woman Cycling Team