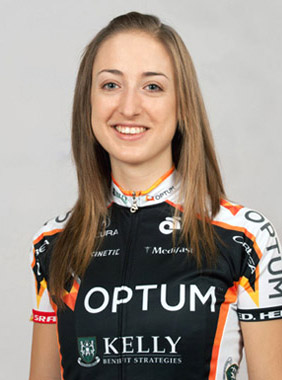 June 11, 2012 (Arlington, VA) – Continuing to bolster it's reputation as one of America's top teams, the Optum p/b KBS women put on an impressive display at the two-day Air Force Classic. Optum p/b KBS neo-pro Emma Grant claimed her first victory on US soil after an impressive solo win at Saturday's Clarendon Cup, a 100km road race that saw the British rider spend thirty laps off the front with one other rider before jumping away with five laps remaining. Grant was uncatchable and topped her first American podium as a result of her aggressive riding.
Grant, who will head back to the UK for the British Road Race Championships later this week, came into the Air Force event fresh off of a block of training in her adopted hometown of Asheville, NC, and was able to convert the extra miles in the saddle into success.
"My team came to this race pretty tired from Philly and Exergy Tour, but I was feeling pretty fresh so I just wanted to be as aggressive as possible, and set Leah (Kirchmann) up for the win." said Grant. "I ended up getting in the move, so I just kept pressing on and was able to sneak away for the win."
Kirchmann, who finished third on the stage and was the overall champion at Air Force Classic in 2011, was on the attack at Sunday's Crystal City Classic, finishing third and taking home the GC crown for the second consecutive year.
Performance Director Rachel Heal was impressed with the relatively young roster's tenacity in Arlington.
"It was fantastic to see Emma on the podium for the first time in her career, and Leah become returning champ here," said Heal. "All of our riders have worked so hard all year, and that is really going to start paying off down the stretch," said Heal.
The Optum p/b KBS women head next to Minnesota's Nature Valley Grand Prix, a critical milestone in the team's quest for NRC dominance. The Nature Valley event is the women's ranked stage race in 2012.
"We have a solid lead in the NRC team standings and we will look to defend that all year, but moving riders like Jade (Wilcoxson) and Carmen (Small) further up the NRC standings will be a very real possibility if we can ride well in Minnesota," said Heal. "Plus, it is always fun to race in front of an enthusiastic hometown crowd for Optum and several of our other sponsors in Minnesota.
Results
Elite Women
1. Sarah Fader (Pepper Palace/Spin-Tech Trainin)
2. Joanne Marie Kiesanowski (Team TIBCO / To The Top)
 3. Leah Kirchmann (Optum)  
4. Samantha Schneider (Team TIBCO / To The Top)
 5. Lex Albrecht (Optum)  
6. Jennifer Purcell (Team TIBCO / To The Top)
7. Kacey Manderfield (Pure Energy Cycling-ProAirHFA)
8. Kendall Ryan (Team TIBCO / To The Top)
9. Colleen Gulick (Pure Energy Cycling-ProAirHFA)
10. Emma Swatman (Team Kenda)
11. Jessica Chong (Morgan Stanley Cycling Team)
12. Cinthia Lehner (Pepper Palace)
13. Erin Silliman (MVP Health Care Cycling)
14. Kate Veronnean (Pure Energy)
15. Emma Grant (Optum Pro Cycling)
16. Anne Racioppi (Team EPS/CSS)
17. Kristin Lotito (Pure Energy Cycling-ProAirHFA)
18. Arley Kemmerer (MVP Health Care Cycling)
19. Kristine Church (Peanut Butter & Co Human Zoom)
20. Victoria Hanks (Peanut Butter & Co. Human Zoom)
21. Jennifer Wheeler (Team TIBCO / To The Top)
22. Julie Kuliecza (Evlow)
23. Sue McQuiston (Annapolis Bicycle Racing Team)
24. Amy Cutler (Riptide Cycling)
25. Sonja Evers (Team Sticky Fingers)
26. Beth Bonilla (Peanut Butter & Co Human Zoom)
27. Erica Chard (Pepper Palace/Spin-Tech Trainin)
28. Kathryn Clark (Team Kenda)
29. Jennifer Maxwell (Team Kenda)
30. Nicole Raspa (CAWES/iFractal p/b Specialized)
31. Colleen paine (Team Kenda)
32. Marni Harker (Team Kenda)
33. Bergen Watterson (Pepper Palace/Spin-Tech Trainin)
34. Meredith Miller (Team TIBCO / To The Top)
35. Rebecca Werner (SportVelo Racing)
36. Anna Barensfeld (Team Optum)
37. Young Anna (Pure Energy Cycling-ProAirHFA)
DNF Rebecca Chan (CAWES/iFractal p/b Specialized)
DNF Kelley Bethoney (Syn-Fit Race Team)
Elite men
1. Jake Keough (United HealthCare p/b Maxxis)
2. Hilton Clarke (United HealthCare p/b Maxxis)
3. Carlos Alzate (Team Exergy)
4. Demis Aleman (Jamis – Sutter Home)
5. Karl Menzies (United HealthCare p/b Maxxis)
6. Anuar Manan (Champion Systems Pro Cycling)
7. Luke Keough (Mountain Khakis)
8. David Lozano (Team Type I Development)
9. Bobby Lea (Pure Energy Cycling/ProAir-HFA)
10. Neil Bezdek (Mountain Khakis)
11. Eric Workowski
12. Keck Baker (X/O Communications Battley)
14. Issac Howe (Kendal/5-Hour)
13. Logan Loader (Team Exergy)
15. Jackie Driscoll (Jamis – Sutter Home)
 15. Gavriel Epstein (Champion System)  
16. Curtis Winsor (Kendal)
17. Tim Rugg (Champion System)
18. John Bergmann (Team Clif Bar Cycling)
19. Nima Ebrahimnejad (Kelly Benefit Strategies/Latera)
20. S. Charles Zamastil (160Over90 CCN Sports)
21. Boy Van Poppel (United HealthCare p/b Maxxis)
22. Ryan McKinney (Clean Currents p/b Beyer Kia/DC)
23. Paul Mica (NCVC/UnitedHealthcare)
24. Erik Broo (Happy Tooth Racing)
25. Jackie Simes (Jamis – Sutter Home)
26. Ryan DeWald (X/O Communications Battley)
27. Nick Rogers (160Over90 CCN Sports)
28. Zac Felpel (Kelly Benefit Strategies/Latera)
29. Jesper Hansen (Denmark National Team)
30. Jesse Keough (Champion System)
31. Donald Brew (Clean Currents p/b Beyer Kia/DC)
32. David Bozak (Clean Currents p/b Beyer Kia/DC)
33. Alexey Shmidt (Team Type I Development)
34. Anders Ddamgaard (Denmark National Team)
35. Peter Van Diijk (Jamis – Sutter Home)
36. Sean Barrie (X/O Communications Battley)
37. Igor Volshteyn (Champion System)
38. Gabe Lloyd (X/O Communications Battley)
39. Paolo Cravanzola (Team Type I Development)
40. Andres Diaz (Team Exergy)
41. Andy Baker (Bissell)
42. Tony Hall (Champion System)
43. Jared Nieters (X/O Communications Battle)
44. Brett Kielick (160Over90 CCN Sports)
45. Phil Mooney (Jamis – Sutter Home)
46. Mark Warno (Antietam Velo Club)
47. Jon Hamblen (Mountain Khakis)
48. Aaron Kemps (Champion Systems Pro Cycling)
49. Pat Raines (Mountain Khakis)
50. John Grant (Texas Roadhouse Cycling Team)
51. Ariel Mendez-Penate (Champion System)
52. Jake Tremblay (Kelly Benefit Strategies/Latera)
53. Adam Myerson (Mountain Khakis)
54. Jaan Kirsipuu (Champion Systems Pro Cycling)
55. Anders Lawaetz (Denmark National Team)
56. Nicholas Keough (Champion System)
57. Barry Miller (Pure Energy Cycling/ProAir-HFA)
58. Mart Ojavee (Champion Systems Pro Cycling)
59. Ben Chaddock (Team Exergy)
60. Robert Forster (United HealthCare p/b Maxxis)
61. Russ Langley (X/O Communications Battley)
62. Justin Morris (Team Type I Development)
63. Peter Warner (Bayside Velo/Bike Doctor)
64. Adrian Hegyvary (United HealthCare p/b Maxxis)
65. Matthew Furlow (160Over90 CCN Sports)
DNF Gregory Abbott (NCVC/UnitedHealthcare)
DNF Colin Jaskiewicz (Champion System)
DNF Faustino Alzate (Team Exergy)
DNF Neil Bezdek (Mountain Khakis)
DNF Blair Berbert (Kelly Benefit Strategies/Latera)
DNF Joshua Frick (Clean Currents p/b Beyer Kia/DC)