October 27, 2015 (Cali, Colombia) – Rising Canadian track star, Hugo Barrette, suffered an unfortunate bad crash while training at the Alcides Nieto Patiño Velodrome in Cali, Colombia for the upcoming UCI Track World Cup being held there from Oct. 30-Nov. 1. Apparently Barrette had some sort of mechanical failure and broke the guard rail as crashed into it and flew into the stands reports the Colombian daily, El Tiempo. Initial assessment of his injuries indicate head trauma, and problems with his lower lip and face, but luckily Barrette is out of danger.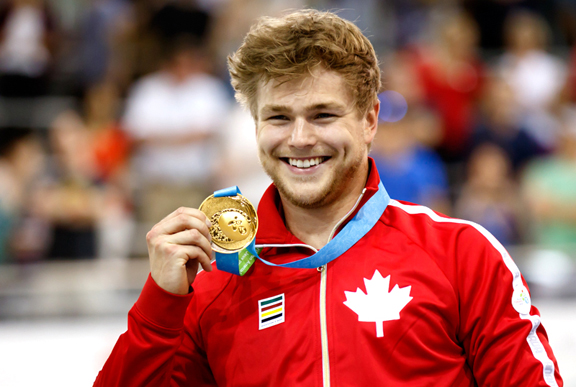 "The best thing was that he was breathing, indicating that he had no respiratory problem. Also, when I attended, he was screaming in pain and that's a good sign," Dr. César Arias told El Tiempo. "There were cracks to some lumbar vertebrae, but he was without any neurological complications. He is being evaluated in the hospital and we are awaiting the medical report. He's conscious, and talking and that's the best for a good prognosis," added Arias.
Barrette will remain under observation for 48 hours and will not compete at this weekend's Track World Cup. "I saw him a few times in the last few days – even got to say good luck to him as he left the velodrome in Milton with his bike packed," commented Pedal's Dave Jack (thecyclistsedge.com).
"He had some very fast 50m timed efforts. All was looking good for him. A set back like this is terrible, but he's in a good place physically and mentally. He will be back soon (Cycling Canada protocol will probably keep him out of competition for a week, if not more). Joel Archambault will probably replace him – if there is enough time for him to get down there – as I don't believe that they brought an alternate with them." Pedal joins the cycling community in wishing Barrette a speedy recovery.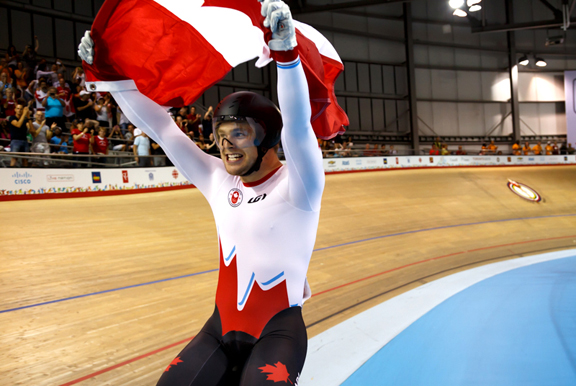 Barrette, 24, recently distinguished himself winning gold medals in the Team Sprint (with Evan Carey and Joseph Veloce) and the individual Sprint, along with bronze in the Keirin at the 2015 Pan American Games in Toronto. With his sprint victory, he became the first Canadian man to accomplish this feat at the Pan-American Games since Gordon Singleton back in 1979.
Read the El Tiempo report (Spanish) here.