October 19, 2017 (Wuxi, China) – Canada's Guillaume Boivin (Israel Cycling Academy) made a valiant effort on the final Stage 7 to end up 2nd overall at the Tour of Taihu Lake in China. He won the opening Prologue to take the race lead and was in contention with his strong team for the overall win settling for the silver as Jakub Mareczko (Ita) Wilier Triestina – Selle Italia topped the final GC.
"A heroic and gutsy performance by our squad in China ended just short. An almost desperate onslaughtby the team in the 3 hills has succeeded in dropping our top rivals. But over the last hill towards the finish of this last stage of Tour of Taihu Lake, the leader , Italian Jakub Mareczko , was able to get back and secure his GC win.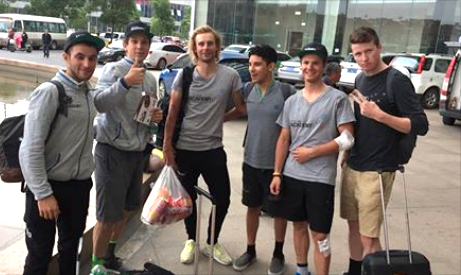 "Our Canadian Guillaume Boivin finished 2nd in the stage and in the overall. Although we desired to win it all, It was definitely an impressive taem effort here in the last 8 days to end our first Pro Continental season. We are now heading to our new Dawn Grand Tour 2018," reported the Israel Cycling Academy on FB.
Results
Stage 3 – Oct. 13 – Huzhou-Changxing – 134.3km
1. Jakub Mareczko (Ita) Wilier Triestina – Selle Italia 2:52:51
2. Nicolas Marini (Ita) Nippo – Vini Fantini
3. Benjamin Giraud (Fra) Delko Marseille Provence KTM
4. Ryan Macanally (Aus) H&R Block Pro Cycling
5. Jon Aberasturi (Esp) Team UKYO
6. Andriy Kulyk (Ukr) Kolss Cycling Team
7. Guillaume Boivin (Can) Israel Cycling Academy
8. Tino Thömel (Ger) Bike Aid
9. Quentin Pacher (Fra) Delko Marseille Provence KTM
10. Luis Carlos Chia Bermudez (Col) Manzana Postobon
17. Travis Samuel (Can) H&R Block Pro Cycling
25. Marc-Antoine Nadon (Can) H&R Block Pro Cycling
100. Chris Prendergast (Can) H&R Block Pro Cycling
112. Alexis Cartier (Can) H&R Block Pro Cycling
Stage 4 – Oct. 14 – Wujiang-Wujiang – 117.4km
1. Jakub Mareczko (Ita) Wilier Triestina – Selle Italia 2:40:49
2. Nicolas Marini (Ita) Nippo – Vini Fantini
3. Andriy Kulyk (Ukr) Kolss Cycling Team
4. Martin Laas (Est) Delko Marseille Provence KTM
5. Carlos Eduardo Alzate (Col) UnitedHealthcare Pro Cycling Team
6. Jon Aberasturi (Esp) Team UKYO
7. Ryan Macanally (Aus) H&R Block Pro Cycling
8. Benjamin Giraud (Fra) Delko Marseille Provence KTM
9. Andriy Vasylyuk (Ukr) Kolss Cycling Team
10. Anton Muzychkin (Blr) Minsk Cycling Club
40. Guillaume Boivin (Can) Israel Cycling Academy
51. Travis Samuel (Can) H&R Block Pro Cycling
52. Marc-Antoine Nadon (Can) H&R Block Pro Cycling
56. Chris Prendergast (Can) H&R Block Pro Cycling
96. Alexis Cartier (Can) H&R Block Pro Cycling
Stage 5 – Oct. 15 – Nantong-Haimen – 148km
1. Jon Aberasturi (Esp) Team UKYO 3:19:28
2. Jakub Mareczko (Ita) Wilier Triestina – Selle Italia
3. Anton Muzychkin (Blr) Minsk Cycling Club
4. Nicolas Marini (Ita) Nippo – Vini Fantini
5. Benjamin Giraud (Fra) Delko Marseille Provence KTM
6. Guillaume Boivin (Can) Israel Cycling Academy
7. Andriy Kulyk (Ukr) Kolss Cycling Team
8. Zhiwen Chen (Chn) Giant Cycling Team
9. Jure Rupnik (Slo) H&R Block Pro Cycling
10. Marc-Antoine Nadon (Can) H&R Block Pro Cycling
18. Travis Samuel (Can) H&R Block Pro Cycling
56. Chris Prendergast (Can) H&R Block Pro Cycling
107. Alexis Cartier (Can) H&R Block Pro Cycling
Stage 6 – Oct 16 – Jiangyan-Jiangyan – 106.4km
1. Jakub Mareczko (Ita) Wilier Triestina – Selle Italia 2:07:53
2. Mihkel Raim (Est) Israel Cycling Academy
3. Anton Muzychkin (Blr) Minsk Cycling Club4. Jon Aberasturi Izaga (Esp) Team Ukyo
5. Zhiwen Chen (Chn) Giant Cycling Team
6. Andriy Kulyk (Ukr) Kolss Cycling Team
7. Carlos Eduardo Alzate (Col) UnitedHealthcare Professional Cycling Team
8. Nicolas Marini (Ita) Nippo – Vini Fantini
9. Tino Thömel (Ger) Bike Aid
10. Marc-Antoine Nadon (Can) H&R Block Pro Cycling Team
16. Guillaume Boivin (Can) Israel Cycling Academy
25. Travis Samuel (Can) H&R Block Pro Cycling
38. Chris Prendergast (Can) H&R Block Pro Cycling
132. Alexis Cartier (Can) H&R Block Pro Cycling 4:50
Stage 7 – Oct. 17 – Jurong Chishanhu-Maoshan – 130.6km
1. Jakub Mareczko (Ita) Wilier Triestina – Selle Italia 2:58:58
2. Guillaume Boivin (Can) Israel Cycling Academy
3. Benjamin Girau (Fra) Delko Marseille Provence
4. Vitaliy Buts (Ukr) Kolss Cycling Team
5. Jonathan Couanon (Fra) Delko Marseille Provence KTM
6. Andriy Vasylyuk (Ukr) Kolss Cycling Team
7. Stanislau Bazhkou (Blr) Minsk Cycling Club
8. Kazushige Kuboki (Jpn) Nippo – Vini Fantini
9. Juan Pablo Villegas (Col) Manzana Postobon
10. Ulises Alfredo Castillo (Mex) Jelly Belly p/b Maxxis
17. Travis Samuel (Can) H&R Block Pro Cycling
39. Chris Prendergast (Can) H&R Block Pro Cycling 0:33
87. Marc-Antoine Nadon (Can) H&R Block Pro Cycling 11:44
92. Alexis Cartier (Can) H&R Block Pro Cycling 12:50
Final GC
1. Jakub Mareczko (Ita) Wilier Triestina – Selle Italia 19:10:46
2. Guillaume Boivin (Can) Israel Cycling Academy 0:30
3. Carlos Eduardo Alzate (Col) UnitedHealthcare Pro Cycling Team 0:36
4. Vitaliy Buts (Ukr) Kolss Cycling Team
5. Andriy Vasylyuk (Ukr) Kolss Cycling Team 0:40
6. Morgan Smith (Nzl) St. George Continental Cycling Team
7. Serghei Tvetcov (Rom) Jelly Belly p/b Maxxis
8. Magno Nazaret (Bra) Funvic/Brasil Pro Cycling 0:43
9. Matthew Zenovich (Nzl) St. George Continental Cycling Team
10. Travis Samuel (Can) H&R Block Pro Cycling 0:45
38. Chris Prendergast (Can) H&R Block Pro Cycling 1:41
79. Marc-Antoine Nadon (Can) H&R Block Pro Cycling 11:44 12:30
104. Alexis Cartier (Can) H&R Block Pro Cycling 18:24