January 11, 2014 (Adelaide, Australia) – Guillaume Boivin (Cannondale Pro Cycling) is the lone Canadian heading to the Tour Down Under, Jan. 19-26, according to the race website. He is part of a seven-man team Cannondale is sending to the first WorldTour race on the 2014 calendar. This team includes: George Bennet (NZL); BETTIOL Bettiol (ITA); Guillaume Boivin(CAN); KRIZEK Matthias (AUT); Matejv Mohoric (SLO); Elia Viviani (ITA) and Cameron Wurf (AUS). No other Canadians are listed in the start list of 126 riders.
It appears that a change occurred following Cannondale's press release about their Tour Down Under team as it does not include Boivin, but the start list and Boivin's own blog say that he is headed Down Under.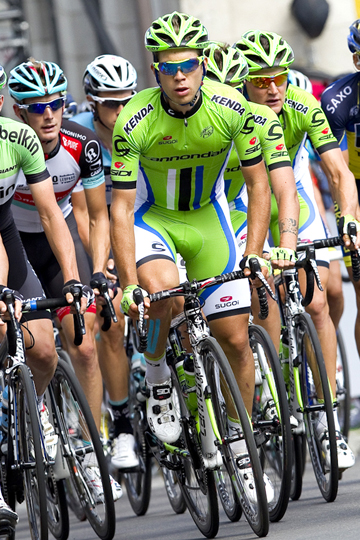 "Climatic conditions in Australia this time of the year are somewhat different from Montreal. This is summer [there] with temperatures of [over] 40C. [But] there is no perfect world… All teams will be at the World Tour visit. I cannot wait to compete after several months of training and preparation."
"I will remain in Australia for the month of February before returning to Europe for the spring classics. I prefer to continue my training at European warm winter cold. Last year, I had the opportunity to take part in the Vuelta a Espana. I had to bow [out on] the 10th stage of the Tour, victim of a fall. This year, selections on the major tours will be announced in due course as usual: We will see…"
Boivin also details his current training regimen: "A (1) hour stationary bike in the morning on an empty stomach exercise; Breakfast; A (1) time flexibility exercises; Five (5) hours of road cycling; Massage; Meal; Dodo; and again the next day, all under the guidance and supervision of our new fitness trainer, German sports scientist, Sebastian Weber, one of the best coach of his generation: T-Mobile; HTC Columbia; Katusha. Weber has worked with André Greipel, Tony Martin, Tejay Van Garderen and Joaquim Rodriquez."
Boivin, 24, was the 2009 Canadian road champ. He also tied for bronze at the UCI U23 men's road race with American Taylor Phinney in Melbourne, Australia in 2010. A former member of the Canadian-based SpiderTech p/b C10 team from 2010-2012, Boivin joined Cannondale for the 2013 season.
Launched in 2007, the Tour Down Under was the first race outside of Europe to obtain ProTour (now WorldTour) status reports Wikipedia. The same source states that, after the Tour de France, The Tour Down Under attracts the biggest crowds in the world. In 2013 some 760,400 people came to Adelaide and area in 2013 to see the race.  The 2014 edition includes six-stages over 758km.
Tour Down Under start list here.
Boivin's blog here.
Cannondale release here.