February 03, 2015 – Quebec road rider Jean-Simon d'Anjou, 19, has confirmed he will be riding for French-based Team U Anjou 49 in 2015. Previously, Pedal understood that he had signed with Quebec City-based team Garneau-Quebecor.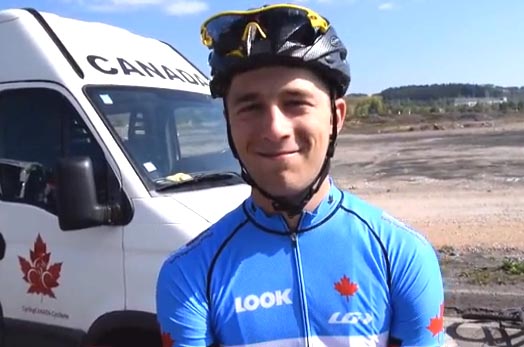 "After my good 2014 season, my coaches, Pierre Hutsebaut and Pascal Hervé, thought it was a good idea for me to go in Europe to train and race. Pascal, an ex-pro talked to his good friend, Nicolas Fritsch, an ex-pro and a cyclist manager. They found for me the best team. I'll have access to a good racing level, but I will race for myself and learn more. I will race with a DN3 club in a category 2. I will have access to the best level of amateur races in France, a pretty good set up."
"For Garneau-Quebecor, I have an oral agreement, but nothing more. I have to do well in some races at my comeback. This is the reason why I came to France, to be sure to have the level (of challenge). I will race a couple of big races like les Plages Vendéennes, Nantes-Segré. I'm confident and my shape is good. I'm in a beautiful village named Soulaire et Bourg, a perfect for bike riding."
D'Anjou began racing in 2013 under coach Jean-Yves Labonté. He competed in some Belgian races in September, 2014, finishing 26th at the Steragaz Vlaams Brabant Classic. He also finished 82nd at the 2014 UCI U19 Worlds in Ponferrada, Spain.
Pedal wishes d'Anjou the best with his cycling career.