November 28, 2017 (Switzerland) – Team Race Clean Canada riders, Aidan Caves and Evan Burtnik, finished 4th overall this past weekend at the 4 Jours de Geneve in Switzerland from Nov. 23-26 with Caves taking home three victories at the 16-race event held at the Geneva Velodrome. Fellow Canuck Thierry Kirouac-Marcassa was 7th overall racing with Joffrey Deguerce (France).
Caves took the 48-lap Supersprint on Day One followed by the 51-lap Elimination on Day Three. On the final day he and Burtnik claimed the 166km Team Flying Lap. The duo were on the podium in second at five of the 16 events over the power-packed weekend.
The 4 Jours de Geneve was a warm up for Caves who is headed to Milton for the upcoming Track World Cup at the Mattamy National Cycling Centre from Dec. 1-3 as part of Team Canada. B.C. Coach Richard Wooles accompanied the three Canucks in Switzerland and was very pleased with the results there.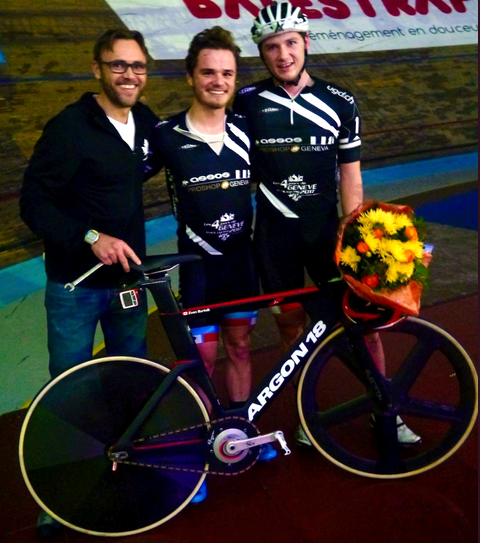 "Well done to all @TeamRaceClean guys – TEAM #cavenik @Aidancaves / @eburtnik and Thierry Kirouac great racing and learning lots," tweeted Wooles. "Had a blast at The 4 Days of Geneva. Came away with 4th overall, a few wins, and a ton of experience! Thanks @RichardWooles for helping out," tweeted Burtnik – full results
here
.