May 02, 2013 (Tybee Island, GA) – Pedal caught up with Canadian Laura Brown post-race for her take on her first road win as a pro and it was also Colavita-Fine Cooking's first victory of the 2013 season. Brown, 26, originally from Alberta, now resides in Vancouver, B.C. She is back racing on the road after focusing on track cycling leading up to the 2012 London Olympics, where she represented Canada as the bronze-medal-winning squad's alternate.
"We [Colavita-Fine Cooking] raced aggressively right from the start. Our team had been feeling strong in the previous races so we went on the offensive and it was working as we were tiring out the bunch. Within 10 laps to go, Whitney Schultz (SkiNourishment p/b Paceline Pro) attacked and I followed her and we established a pretty good size gap on the group.
"Erin Silliman (Fearless Femme p/b Pure Energy) bridged up and I got the nod from our director (Iona Wynter Parks) to work the breakaway hard. Once the gap got over 20 seconds I knew it was going to hold to the end. I jumped the other two riders on the head wind section going into the final, tight left-hand turn and sprinted for the win. It was really exciting as this is the first win for Colavita-Fine Cooking for the 2013 season.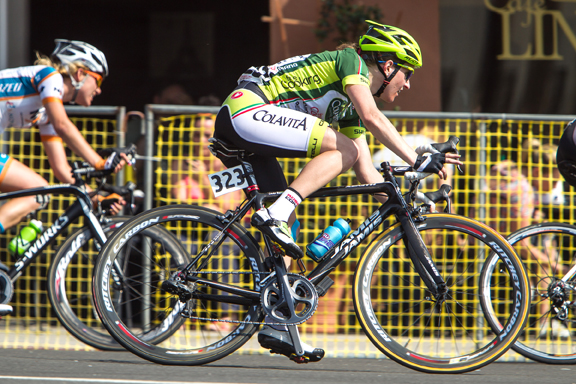 "This is my first year racing professionally on the road, my first Speed Week/USA Criterium win, and also my first professional road win of my career; so needless to say, I was pretty happy crossing that finish line in 1st place and it was my made possible by a great team effort by all," said Brown.
Full results HERE.