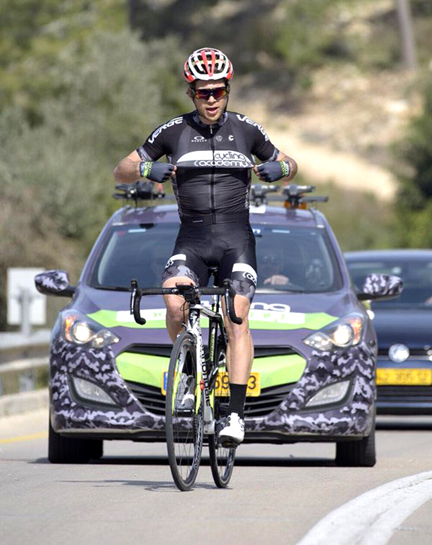 February 15, 2016 (Jerusalem, Israel) – Canada's reigning road champion, Guillaume Boivin (Cycling Academy) won his first race of 2016 on Saturday. Boivin took the 125km Beit Guvrin race near Jerusalem in 3:10:19 with a 2:55 lead over second place Aviv Yechezkel.
"Our Guillaume Boivin just won the Beit Guvrin race in Israel with a remarkable 30 km ( !!!) solo finish," posted his team on Facebook. "Our Canadian Champ was in the front of the 125km race from the first few km, blowing the field away in a climb attack 30 km to the finish…The first rider chasing him was 3 min behind. The peloton? Ages. The victory assured, but our Canadian we all call 'G' never thought to let go, ease the pain a bit, sail home to the finish line. For him, this would be disrespectful, against all he believes as athlete: Give it all. And rewarded he was: Not only won, but smashed the time record in the course on the Israeli Beit Guvrin race. Many who witnessed the race were convinced, they have just witnessed the best racing performance ever seen in Israel but Guillaume Boivin looked at it differently:"
"I am just happy that I could show Israeli riders what is needed to be pro cyclists and help cycling in Israel," said Boivin. "Racing for a Israeli Cycling academy you learn this is a big part of our mission…Man, I am so happy that we delivered."
Boivin, 26, was pondering retirement in 2016 before signing with Israeli-based Cycling Academy – read more here.
Results (brief)
1. Guillaume Boivin (Can) Cycling Academy 3:10:19
2. Aviv Yechezkel (Isr) 2:55
3. Roy Goldstein (Isr) 5:31