December 15, 2015 (San José, Costa Rica) – Canada's Anton Varabei (Ride for the Planet) won his first Pro race taking Stage 2 today from Liberia to Nicoya, 153km, at the Vuelta a Costa Rica which runs from Dec. 14-25.  Varabei, who races domestically for Garneau-Quebecor, tweeted, "I have been chasing this one for a while. First career Pro win at stage 2."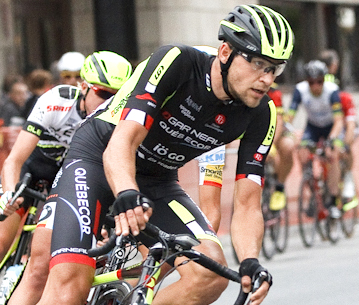 Sitting 3rd overall, the 30-year-old rider finished 11th in Stage 1, Alajuela to Liberia 196km, which suffered a huge pile up just after the start when a taxi crashed into the peloton. Two German riders suffered minor injuries but will both continue. The taxi driver suddenly veered left into the peloton, but claimed not to have done anything dangerous.
The driver was quoted by Costa Rican newspaper La Nacion as saying that he was only trying to make an honourable salary and the cyclists were the ones who acted with vandalism, crashing into him. "Jesus…cyclists aren't safe from taxi drivers anywhere!" tweeted one onlooker.
A video of the crash can be viewed here.
Results (brief)
Stage 1 – Alajuela to Liberia – 196km
1. Nieves Carrasco (Crc) Reitt-Zumco-Mincho 4:59:39
2. Minor Rojas (Crc) Reitt-Zumco-Mincho
3. Pablo Mudarra (Crc) BCR-Pizza Hut-Powerade 7:58
11. Anton Varabei (Can) Ride for the Planet 12:07
24. David Drouin (Can) Ride for the Planet
57. Cory Wallace (Can) Ride for the Planet 12:17
73. Emile de Rosnay (Can) Ride for the Planet 19:55
82. Stephen Keeping (Can) Ride for the Planet 26:49
Stage 2 – Liberia to Nicoya – 153km
1. Anton Varabei (Can) Ride for the Planet
2. Emilio Molina (Crc) Corella
3. Mauro Abel Richeze (Arg) San Luis Somos Todos 4:28
GC after Stage 2
1. Nieves Carrasco (Crc) Reitt-Zumco-Mincho
2. Minor Rojas (Crc) Reitt-Zumco-Mincho
3. Anton Varabei (Can) Ride for the Planet