February 13, 2015 (Ottawa, ON) – Canada is ready to compete and win some medals at the 2015 UCI Track Cycling World Championships. Canada's women team pursuit is in Saint-Quentin-en-Yvelines, France, with only one objective: bring back home some medals. The team will depart Canada on Wednesday, competing from February 18 to 22 in the five-day competition featuring the world's top track cyclists.
"Canada is ready to leave a mark at this World Championship. Our women's team pursuit program has shown that it can unequivocally stand on the podium while our team sprinters continue to gain some critical international experience while improving their rankings. We feel that we can and will be strong competitors at this event," said Jacques Landry, High Performance Director at Cycling Canada.
The Canadian women's squad has had plenty of success in the team pursuit event in previous editions of this cycling sport, winning medals the last three years. Canada's team will be represented by Jasmin Glaesser, Stephanie Roorda, Kirsty Lay, Alison Beveridge and Annie Foreman-MacKey. Of the team, only Glaesser was part of the team that won the Olympic bronze medal in London. The final composition of the team will be announced at a later date.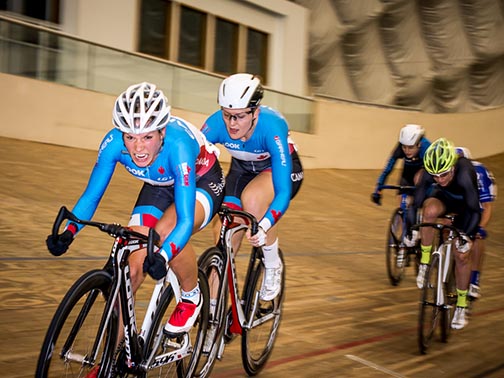 Glaesser is also expected to perform well in the individual pursuit, where a medal is within her reach.
In the sprint events, the rising duo of Monique Sullivan and Kate O'Brien continue to improve in the women's team sprint international rankings. With Sullivan enjoying the best season of her career and O'Brien off to a roaring start in her rookie season on a bike, the duo could score some important Olympic-qualification points for Canada. The team will look to finish in the Top 8.
Joseph Veloce, Hugo Barrette, and Evan Carey will represent Canada in the men's team sprint race.  The threesome excelled this season in World Cup action, showing consistent progress on a regular basis as the season unfolded. The three-man team is also looking to rack up some important points on their Olympic qualification journey, hoping to end the current season with a Top 12 performance.
Team Canada – 2015 UCI Track Cycling World Championships
– Jasmin Glaesser (22, Coquitlam, BC) [Team Pursuit, Individual Pursuit]
– Stephanie Roorda (28, Vancouver, BC) [Team Pursuit]
– Allison Beveridge (21, Calgary, AB) [Team Pursuit, Scratch]
– Annie Foreman-MacKay (23, Kingston, ON) [Team Pursuit]
– Kirsti Lay (26, Montreal, QC) [Team Pursuit]
– Monique Sullivan (25, Calgary, AB) [Sprint, Keirin, Team Sprint]
– Kate O'Brien (26, Calgary, AB) [Team Sprint, Time Trial]
– Evan Carey (20, Victoria, BC) [Team Sprint]
– Joseph Veloce (25, Fonthill, ON) [Sprint, Team Sprint]
– Hugo Barrette (23, Cap-aux-Meules, QC) [Sprint, Keirin, Team Sprint]