March 06, 2016 (London, GBR) – Canada's Allison Beveridge came within one spot of adding a fifth medal to Canada's total at the Track World Championships in London, Great Britain, on Sunday, the final day of competition.  Beveridge finished fourth overall in the two-day, six event Women's Omnium, surging back after struggling on Saturday.
Beveridge finished 16th, 8th and 10th in the first three competitions, making it difficult to mount a comeback.  However, in the 500 metre Time Trial she was fifth, and then won the Flying Lap competition, setting a new track record of 13.924 seconds in the process.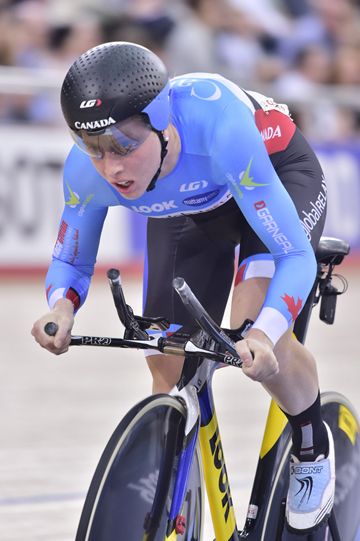 "I had a pretty disastrous first day," admitted Beveridge. "I made some big tactical errors and that really cost me quite a few points.  It was pretty disappointing.  I was frustrated with myself because I felt I had decent legs and I just didn't execute well.  So coming into the second day I tried to make it up in the timed events, and then just do what I could in the Points Race."
"I take some confidence away from that [setting a track record in the flying lap].  It's one of my better events and I know I can win it, and that's 40 points in the Omnium."
Interview with Allison Beveridge

Going into the final event, the Points Race, a medal was unlikely, but a top-5 result was still possible.  Beveridge was battling riders from Belgium, Australia and the Netherlands for the highest placing possible, and took points in three intermediate sprints, as well as lapping the field.  It was enough to boost her into fourth place, just off the podium.
"I'm disappointed that I couldn't add to the medal tally; a medal in every event [endurance women] would have been pretty fantastic.  I think it shows as a program that we are pretty successful and the girls are amazing.  It's just a testament to the seven girls that we have here, and that anyone can perform when they go to the line."
In other Canadian performances, Kate O'Brien had a career-high sixth place overall in the Women's Sprint, making it to the quarter final round before losing to the eventual world champion, Zhong Tianshi of China.
"It was unexpected," said O'Brien. "It's funny…you get sixth in the world and it doesn't really occur to you that it's 'sixth in the world', it's more like 'oh well, I didn't win, I should have done better, I should have done this or that'.  But in the end I have the utmost respect for the other riders.  It was so amazing to be able to compete at that level and I'm just grateful I was able to get in as far as I did."
Hugo Barrette competed in the Men's Keirin, but did not make it past the first round repechage; a disappointing result for a rider that won a silver medal at the World Cup a month ago.
"A big disappointment.  I knew I had the legs to run and I just made some bad choices, and my head was not in it.  All in all, I'm proud of what I accomplished in coming back for Worlds [from a major crash].  But a big disappointment because I knew I could do a lot more today.  I got caught in some bad situations, but that was all on me."
Overall, Canada finished with two bronze medals (Women's Individual Pursuit and Scratch Race) and two silver medals (Women's Team Pursuit and Points Race). This puts Canada fourth in the medal standings among nations. This is almost certainly a modern era record for the Canadian track program.