April 28, 2015 (Ottawa, ON) – Mountain bikers hailing from all regions of Canada will sweat it out elbow-to-elbow in the country's most rugged regions facing stiff competitors, weather and challenging dirt trails, with the hopes to be crowned Canada Cup Champions as the series comes to an epic end in Whistler, BC during the coveted Crankworx World Tour.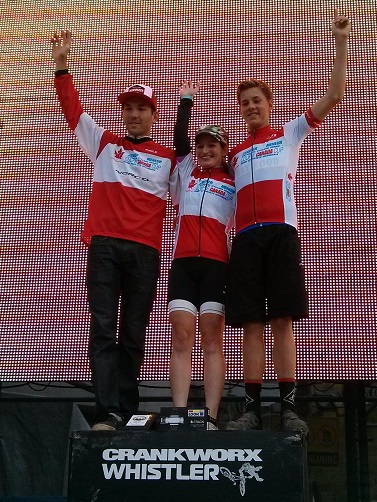 The long-lasting series has been the foundation of Canada's mountain bike development system throughout its quarter-century history. Countless Olympic and World Championship team members have advanced through its ranks.
Mont-Tremblant (QC)
will kick off the series with both cross-country and downhill races. Riders will face new course designs in both disciplines, making the most of the spectator-friendly village at the base of the mountain. The event, to take place May 17-18, is renowned for its tenacity has been presented for the last 21 years, the oldest nationally-sanctioned mountain bike race in the country. A revised Sunday-Monday race schedule will benefit riders with increased practice time in both cross-country and downhill.
Horseshoe Valley (ON), located just minutes from the renowned Hardwood Hills where the 2015 Pan-Am Games will take place, will welcome the cross-country riders for the series' second stop. Alongside Hardwood Ski and Bike, aspiring Olympic champions will have access to back-to-back weekend racing, with week-long cycling activities following the big day of racing. Those in attendance will get a sneak peak at some of the same single-track to be used for the 2015 Canadian Mountain Bike Marathon Championships to take place this fall.
Cross-country specialists won't travel far for the third leg of the series, with Hardwood Ski and Bike (ON) hosting week-long cycling activities leading into the Trek Store Canada Cup #3. The event minutes away from Horseshoe Valley features a Tuesday Fun Ride and Social, a Wednesday Midweek race and an Eliminator race on Thursday. A large international crowd is expected with a last chance for riders to preview the official course to be used at the Pan-Am Games later in the summer.
Baie-St-Paul (QC) remains on the Canada Cup calendar for 2015, allowing the organizer to fine-tune any last details prior to hosting the 2016 Canadian Mountain Bike XCO Championships. The course in the beautiful Charlevoix region boasts a proven track record of nationally and provincially-sanctioned events. This race will also be a fantastic opportunity for riders to warm-up for the Canadian Championships, taking place the following weekend.
Downhillers will get another crack at the gnarly Panorama Mountain (BC) Bike Park this year. Many big names are already confirmed for the event, with Troy Brosnan (Specialized), Chris Kovarik (Intense) and Claire Buchar (Intense) already confirmed. The equal prize purse for both men and women winners will be $500. The Canada Cup event will be a part of the Dunbar Cycles Summer Series, also incorporating an exciting Dual Slalom event on Saturday dubbed the "Dunbar Grass Stains Dual Slalom".
Finally, Whistler Mountain (BC) will welcome Canada's best riders for both cross-country and downhill in the big finale. The Canadian Open DH is excited to welcomes iXS as its new presenting sponsor. As a part of the Crankworx World Tour, Whistler will welcome some of the world's top mountain bikers from all disciplines, promising stiff competition across the board. Canada Cup Series Champions will be crowned in Whistler, ending a quarter-century of the Canada Cup Mountain Bike Series.
SUMMARY OF 2015 CANADA CUP MOUNTAIN BIKE SERIES
Tremblant (DH/XCO):
May 17: Cross-country
May 18: Downhill
Organizer: Les Enterprises Cykel
Registration XC
   |  
Registration DH
Horseshoe Valley (XCO)
June 7: Cross-country
Organizer: Superfly Racing
Hardwood Hills (XCO)
June 14: Cross-country
Organizer: Pulse Racing
Registration XC
Baie St. Paul (XCO)
July 11: Cross-country
Organizer: Club Cycliste Charlevoix
Registration XC
Panorama Mountain (DH):
July 18: Downhill
Organizer: SE Racing & Promotions
Registration DH
Whistler (DH/XCO):
August 14: Cross-country
August 16: Downhill
Organizer: Whistler-Blackcomb
Registration XC/DH: Registration will open on June 1, 2015.