March 16, 2016 (Canary Islands) – In early March Pedal was stoked to attend a worldwide Campagnolo Media Camp/Product Launch in the Canary Islands where the legendary Italian cycling component manufacturer unveiled their new mid-range Potenza groupset and new disc brakes, along with upgrades to their MY CAMPY app and legendary Shamal Ultra wheelset.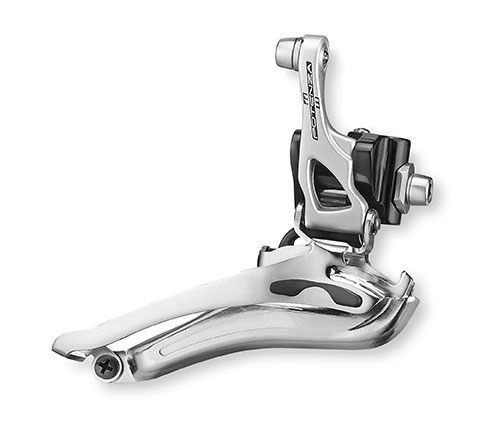 Potenza
The Potenza (noun; power, force, strength, authority) is Campy's brand new mid-range 11-speed groupset behind their Super Record, Record and Chorus lines. Taking aim at Shimano's Ultegra, the fourth little brother in the Campagnolo line, is available in silver and black finishes and carries the same DNA as the Super Record.
here
– plus our test report further below – in-depth analysis to follow soon.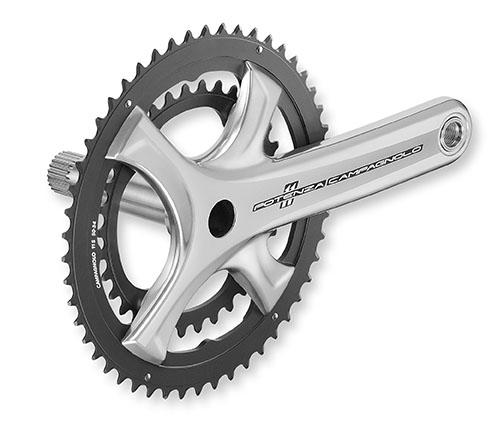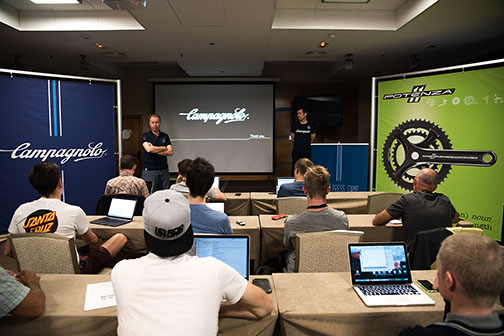 Campy's claimed weights:
– Front derailleur – 94g
– Rear derailleur – 211g
– Shifters – 370g
– Crankset – 754g
– Chain – 235g
– Bottom bracket cups – 69g
– Brake calipers – 321g
– Cassette – 249g
– Total – 2,303g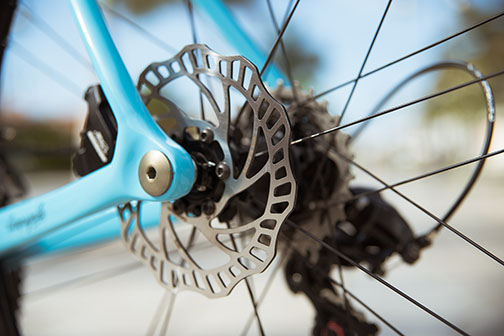 Disc Brakes
Campagnolo unveiled their new disc brake project as well. Fully aware that 2016 is the first official season for disc brakes sanctioned by the UCI, Campagnolo has taken their time in perfecting their version and is now delivering them to their three UCI teams. Safety and perfection has been their main goal and they admittedly wanted to ensure the reliability of this innovative product before launching it to the public. We did not get to test the new disc brakes during the launch but hope to get our hands on a system very soon.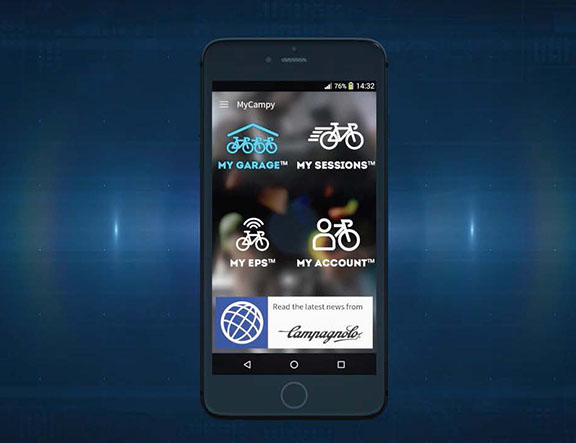 MY CAMPY app
The MY CAMPY app that was launched at Eurobike in August is now available on IOS and Android versions as of March 18th, and Windows mobile as well – and it's "free". This App essentially helps to control and group the componentry of Campy's customer. It will keep a running tally of the kilometers on each bike in your garage, and will also log shift changes.  Able to interface with Garmin hardware it provides a complete and comprehensive analysis of each ride. – read more here.
Shamal Ultra Wheelset
The Shamal Ultra wheelset has enjoyed a twenty-year run under the bicycles of many professional cyclists, and it now gets a facelift.  The first ever complete wheelset will now encompass a differentiated rim height, a G3 spoke pattern, Mo Mag Technology, oversized drieveside flange, USB Ceramic bearings, two-way fit profile (tubulars/clinchers), oversized spokes and RDB (rim dynamic balance) technology all in at 1,495 gram per wheelset. – read more here.
Potenza Test Ride
With the initial presentation of the brand new Potenza groupset wrapped up, a flock of like-minded (like to ride their bikes) journalists were ushered to an adjoining room. Inside each visiting journalist received a Sarto frame made specifically for Campagnolo and dialed to their size with the brand new 11-speed Potenza gruppo shining amidst.
After some fine-tuning with seat heights and positions the group rolled out and within three minutes were treated to spectacular views of the North Atlantic shore. Kitted out if full Campangolo and matching helmets the group of twelve looked very much the part as the guides dictated a moderate pace.
Undulation describes the road network on this picturesque island as it seemed tough to find any flat bit of road. The new gruppo comes with an option of 11-32 and that's what we had the chance to ride, and we were glad to have it. Within an hour we were treated to 16% gradients where shifting can go sideways quickly.
The Potenza levers and derailleurs worked extremely well under these adverse conditions.  The shift is crisp and clean and the possibility of multiple shifts is present on the way up the cogset, and one at a time on the way back down. The levers have a great feel as Campagnolo has paid attention to the obvious feedback on this most important detail. The rounded tops let you relax in a number of different hand positions.  The feel is sleek and the levers and shift mechanism are exactly where they should be.
Braking had been vastly improved over the old Athena groupset, thanks in part to a new braking compound in their brake pads. One of the highlights of the ride was bombing down a descent with numerous swithbacks where we enjoyed pushing the brakes to their extreme.
The drivetrain worked flawlessly with the chain gliding effortlessly through the wide range of cogs and under extreme pressure with these gradients. There wasn't a gearing combination that gave us trouble, even with such a wide variance in selections.
Much of the design of the Potenza groupset is derived from their top-of-the-line components. The difference mainly lies in the materials used, and aluminum will have a different feel than carbon, and present a touch heavier and bulkier. Campagnolo has done their research and believes in the initial design to such an extent that they have only slightly modified it for this gruppo.
With this price-point we will once again see mid-line frames equipped with the legend that is Campagnolo.
For more information visit here.