November 19, 2013 (Burnaby, BC) – Spectators around the facility and in a packed beer garden cheered as racing concluded Friday at the second Feature Friday Night Race Series event presented by Livestock and Incase. Amidst the sounds of applause and music, three racers emerged victorious as overall series leaders in their respective categories. Kyle Buckosky of Team H&R Block and Claire Cameron of Team Escape Velocity were able to defend their respective leads while Michael Wegner of Power2Max was able to best Devan McClleland for the right to wear the Vie 13 Leader's jersey in the "B" field.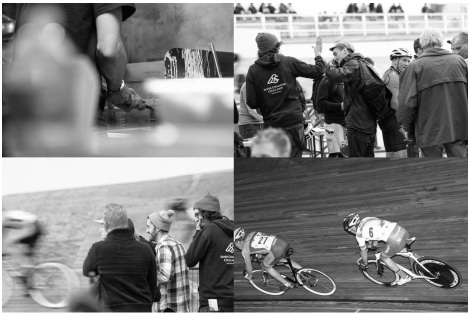 The night's stand out performances were from Steph Roorda, silver medalist in the women's team pursuit at the Track World Cup in Manchester, and Zak Kovalcik of Sizzle Pie Cycling. Roorda showed her strength as she pulled out a solid three wins over the night to shut out Claire Cameron in the women's field. Meanwhile Zak dazzled crowds with an explosive attack from the pack that saw him bring back half a lap in just one lap to win the "A" Win and Out in addition to winning the Mac-Talla Wheelrace.
While the Feature Friday Night Race series continues on February 14th, the next event on the calendar is the Burnaby 4 Day, December 27th-30th. As the flagship event for the Burnaby Velodrome, the 4 Day promises to impress crowds with international racers coming from every corner of the continent to compete. Event highlights will include an invitational sprint Omnium, Madisons, and top tier women's races. As always spectators can expect great local beer and wine, excellent food provided by a local food truck, music, and a running commentary on the races to keep everyone on the same page. In addition we will continue to run a free shuttle from the Velodrome to our additional parking in the Mountain Air Bike Skills Park 1.2km east on Barnet Highway.
For more information visit our website here.