February 27, 2015 (Vancouver, BC) – Since its launch in 2013, Global Relay's Bridge the Gap Fund has played an integral role in the development Canadian road cyclists by assisting over a dozen riders in obtaining professional trade team contracts. However, in their ongoing search for up and coming talent, the board members of the fund determined that while Canada produces some exceptional young riders, there is no systematic development pathway of getting large numbers of kids involved in the sport of cycling. In response, the Fund has launched the National Youth Cycling Club Development Initiative, a pilot program to seed and develop youth cycling clubs in Canada.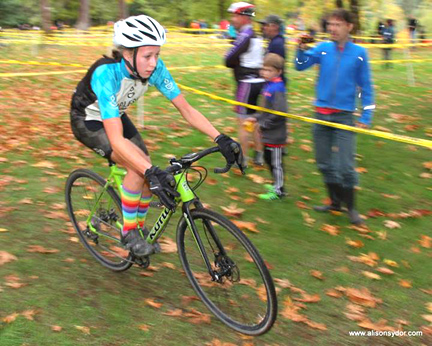 As Managing Director Andrew Pinfold states, "In Canada we have a long history of achieving exceptional international results from a small pool of athletes. Systematically growing the number of youth exposed to cycling through high quality development programs will ensure even better results. Seeding youth development by supporting youth clubs to hire trained coaches will get more kids involved in racing and will expose them to coaching earlier on in their development."
The seeding model works by contributing small grants along with program guidance and mentorship to fledgling junior cycling programs in Canada. It is designed to solve the "chicken and egg" problem of needing to hire coaching staff to run programs that attract kids before sustainable revenues exist to pay coaches during the growth phase. Clubs would be supported with grants for two years during which time they would work towards financial sustainability.
For 2015, the Tripleshot Cycling Club in Victoria was chosen as the pilot club for the program. Lister Farrar, the program's head coach, says the seeding grant will make a significant difference in his program.
"The Tripleshot Cycling Club youth program has enjoyed significant growth in the last two years, expanding to include more than 25 riders at the end of 2014. While this is what we want in many ways, it has created challenges for just one coach to suitably challenge a very diverse group of cyclists in terms of age and experience. The grant will allow our club to add a coach thereby increasing our capacity to grow and to provide our members with the best possible coaching."
Co-coordinating the BTG's youth seeding project is Brian Storey. Brian holds a PhD in education, Chairs the Sport Science Department at Douglas College and is president of Escape Velocity cycling club, which oversees Western Canada's largest youth cycling program -Team DEVO pb Catalyst Kinetics.
"It takes the long view to develop game changing infrastructure," says Storey. "True to their name, the BTG board has identified a significant gap in our current development infrastructure. Youth-focused clubs with clear program plans, recruitment strategies, and coaching development plans are the long-term solution to sustainably widening the base of our cycling development pyramid in Canada."
BTG's club-seeding model has already garnered the support of the Canadian Velo Event Management Society (CEVS), which organizes the Prospera Valley Gran Fondo and is a proponent of cycling development among youth. BTG is proud to announce that CEVS, has signed on to support stage two of the pilot that aims to support three additional clubs in 2016.
To find out more about the program or how to contribute to this initiative, please contact Bridge the Gap's managing director Andrew Pinfold at 778-839-5275, andrew.pinfold@grbridgethegap.com