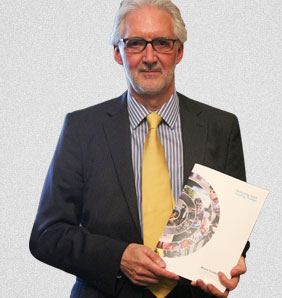 September 27, 2013 (Florence, Italy) – Brian Cookson has defeated incumbent Pat McQuaid and has been elected as the new president of the International Cycling Union (UCI). Cookson won by 24 vs 18 votes for McQuaid from the 42 authorized delegates. McQuaid, who has been the UCI president since 2006, and Cookson, the President of British Cycling (now resigned), had an ascerbic battle at times for the UCI presidency.
UCI Press Release – Brian Cookson elected UCI President
The President of British Cycling Brian Cookson has been elected UCI President at the cycling governing body's annual Congress taking place alongside the Road World Championships in Florence, Italy. Mr. Cookson won with 24 votes out of a total of 42 voting delegates, versus 18 for Pat McQuaid, the outgoing UCI President.
Speaking after the result had been announced, Mr. Cookson said: "I would like to thank-you for all of the trust that you have placed in me today. The real work starts now. I would call on the global cycling community to unite."
Mr. Cookson also paid tribute to Mr. McQuaid, saying: "I would like to thank Pat sincerely for the contribution he has made both to cycling and to the UCI in his long career."
Pat McQuaid, speaking after the vote, said: "I would like to extend my congratulations to Brian on his success in being elected UCI President. Being elected UCI President was one of the proudest moments in my life and I know that it is also a proud occasion for Brian, his family and his supporters.
"It has been a huge privilege to serve the sport that I love as UCI President for eight years and I enjoyed every day that I spent working with all of our federations to improve and develop cycling worldwide.
"Brian has set out what he intends to achieve over the next four years and I would encourage all cycling federations to support his efforts to work for the good of the sport."
The Congress also elected members of the UCI Management Committee:
– Belmahi Mohamed (MAR)
– Plant Mike (USA)
– Di Rocco Renato (ITA)
– Lopes Artur (POR)
– Makarov Igor (RUS)
– Müftüoglu Emin (TUR)
– Pedersen Peder (DEN)
– Stetina Marian (CZE)
– Van Damme Tom (BEL)
The five Continental Confederation Presidents:
– Lappartient David (Europe)
– Gaudrey Tracy (Oceania)
– Cho Hee Wook (Asia)
– Azzam Mohamed Wagih (Africa)
– Pelaez Jose Manuel (America)
The Congress ended with the presentation of the UCI Merit Awards:
– Sheikh Faisal Bin Humaid Al-Qassimi,
– Sir Gerrit Does,
– Mr Tadashi Inoue,
– Mr George Esser
Cookson Press Release from his website
Brian Cookson OBE was elected as President of the International Cycling Union (UCI) on Sept. 27, 2013 after campaigning on a manifesto centred on restoring trust and credibility in the UCI and growing cycling worldwide.
Speaking after the announcement, which was made following the UCI's Annual Congress meeting in Florence, Italy, Brian Cookson said:
"It is a huge honour to have been elected President of the UCI by my peers and I would like to thank them for the trust they have placed in me today.
"I have said throughout my campaign that we must embrace a new style of governance and a collegiate way of working so that a new era of growth and commercial success for the UCI and our sport can begin.
"My first priorities as President will be to make anti-doping procedures in cycling fully independent, sit together with key stakeholders in the sport and work with WADA to ensure a swift investigation into cycling's doping culture.
"It is by doing these things that we will build a firm platform to restore the reputation of our International Federation with sponsors, broadcasters, funding partners, host cities and the International Olympic Committee. Ultimately this is how we grow our sport worldwide and get more riders and fans drawn into cycling."
Brian announced his intention to run for Presidency in May and published his manifesto with key recommendations to tackle the challenges faced by the sport.