June 17, 2013 (Laval, France) – Two weeks to the day after winning the first stage of the Critérium du Dauphiné, which allowed him to wear the leader's jersey for three days, Quebec rider, David Veilleux (Europcar) finished first overall at Boucles de la Mayenne, a 2.2 UCI-sanctioned race.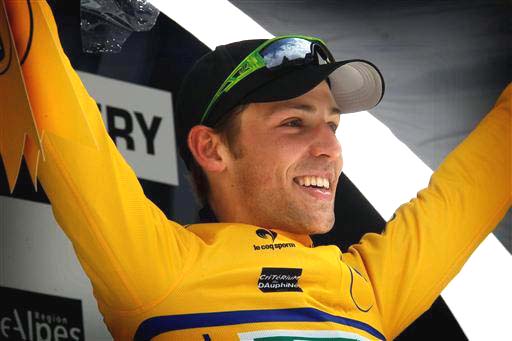 "I'm really glad and did not really expect it," said the Cap-Rouge native who made Europcar's official selection at the beginning of the week for the 100th Tour de France. "It was my last race before the Tour de France and I was racing quietly and calmly. I especially wanted to work intensity. "
Things changed on Saturday when Veilleux placed third on the second stage, a 180km race between Laval and Evron. He joined  a breakaway with Roman Guillemois (Fra) Vendée U and Marc Fournier (Fra) CC Nogent-sur-Oise and the three crossed the finish line with a 44-second lead over the peloton. His third place finish behind Guillemois and Fournier, put the 25-year-old Veilleux in the yellow jersey with nine seconds over his nearest rival.
"I took a chance to get ahead. If it worked it would be fine, but if it didn't work that was also ok. I had good legs and our group of three made it to the finish and I took the lead in the overall standings."
Veilleux prevailed and kept the yellow jersey through the final stage, a 160km race starting in Saint-Mars-sur-Colmont and finishing in Laval. He finished 28th safely in the pack at four seconds behing the winner, Germany's Marcel Meisen (BKCP Powerplus).
This gave Veilleux a 9-second advantage over Fournier who finished second overall and 28 seconds over Florian Vachon (Fra) Bretagne – Dried Environment) in third.
"My team did a great job all day to protect me. They supported the pack early on," said Veilleux. "In the end it's been a little more complicated, because there were a lot of attacks, but I've never really been in danger and stuck it out."
Veilleux was pleased with how he felt only three days off between the end of the Critérium du Dauphiné and the beginning of Boucles de la Mayenne. "It was a good week and allowed me to have good performances. Unlike the World Tour races where it is more controlled, there were many attacks and raises. The first two days were difficult, but I realized that I had recovered from the Dauphiné and it makes me confident about the future. "
Veilleux's next race is the Tour de France starting on June 29 in Corsica so over the next two weeks he will take a little rest and complete his preparation for this prestigious race.
Results
Prologue – June 13 – Laval – 4.5km

Stage 1 – June 14 – Saint-Berthevin to The Bourgneuf-la-Foret – 180km

Stage 2 – June 15 – Laval to Evron – 180km
Stage 3 – June 16 – Saint-Mars-sur-Colmont to Laval – 160 km
1. David Veilleux (Can) Team Europcar 13:04.45
2. Marc Fournier (Fra)  CC Nogent/Oise 0:09
3. Florian Vachon (Fra) Britain – Dried Environment 0:28
4. Borgersen Reidar Bohlin (Nor) Joker Merida 0:31
5. Rings Aritz (Esp) Euskadi 0:32