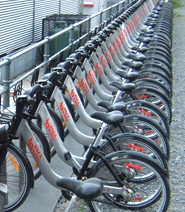 January 20, 2014 (Montreal, QC) – Bixi's parent company, Société de vélo en libre-service (also called the Public Bike System Company or PBSC), filed for bankruptcy protection but according to Mayor Denis Coderre, the Montreal operations of the Bixi public bike share program will continue in 2014. PBSC made the move on January 20, five days after Montreal asked PBSC to repay a loan.
The company is currently facing a liquidity problem because Chicago and New York City are not making payments on $5.6 million owed to PBSC; this is related to delays with the software used to operate Bixi in those U.S. cities. On January 15, Montreal asked for repayment of $31 million from PBSC, but the company filed for bankruptcy protection instead.
"This decision has been carefully considered. We represent the taxpayers, and injecting additional funds to maintain the Société de vélo en libre-service was out of the question. If Bixi can be saved, it is through the Bankruptcy and Insolvency Act. Waiting any longer would only increase the financial risk for the city, which would be unacceptable," declared Coderre.
The very popular Bixi program was launched under former Mayor Gerard Tremblay in 2009, winning praise and awards. But there was strong criticism about the nebulous business plan and murky financing behind Bixi. In 2011, opposition parties in Montreal unsuccessfully tried to block a $37 million loan to PBSC. In September 2013, Montreal's auditor general Jacques Bergeron expressed "serious doubts about Bixi's ability to continue operations."
No job losses are foreseen at Bixi's Montreal operations in the immediate future states a press release on the Bixi site. The Bixi season normally runs from May through November and annual passes are still available for $82.50. Montreal's 5,120 Bixi bicycles are stored in a warehouse in Lachine during the winter months.
In Toronto, the city took over Bixi operations from PBSC in December, fearing that the company was near financial collapse. The Toronto system has 1,000 rental Bixi bikes operating out of 80 docking stations in the downtown area. "We don't mention Bixi anymore," said Toronto councillor Denzil Minnan-Wong, indicating that a name change is in the works, but the service is likely to continue for 2014. Toronto has 1,000 aluminum Bixi bikes and the city is seeking a private sponsor. There is speculation that Oregon-based Alta Bicycle Share will assume management of the Toronto Bixi program.
PBSC has also sold Bixi systems to such cities as Boston (MA), Chattanooga (TN), London (UK), Melbourne (Aus), and Minneapolis (MN). It is unclear if the program will continue in all of these cities. PBSC reported net income of $1.5 million on revenues of $51 million in 2011 according to Wikipedia.