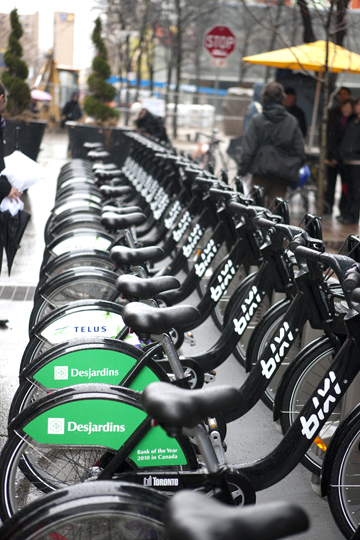 February 06, 2014 (Montreal, QC) – Public Bike Share Company (PBSC), also known as Bixi, will go up for sale in the next few days reports Canoe. PBSC, which developed the Bixi public bike share service first used in Montreal and then spread to many other cities worldwide, declared bankruptcy last month.
Quoting anonymous, but "sure" sources, Canoe claims that there will soon be a "virtual sales room" where potential buyers can view PBSC's financial data. This website will have secured access and purchase offers must be received by February 28. Many foreign companies are apparently interested in purchasing all or part of PBSC.
As reported, this week Oregon-based Alta Bike Share, announced it was working together with Montreal-based software developer 8D Technologies (a former PBSC supplier) to "to launch and operate the next generation of bike share in 2014."
Read the release at pedalmag.com
here
.
Alta has worked with PBSC to manage public bike share systems using Bixi bikes in such U.S. centres as New York City, Chicago, Boston, and Chattanooga as well as in Melbourne, Australia. It is speculated that Alta will soon take over management of Toronto's Bixi system.
This follows on the heels of news that PBSC paid bonuses of $223,000 to 38 employees in December, weeks prior to filing for bankruptcy protection in January. Of this, former CEO Michel Philibert received $14,913. It is not known if the company is also now making severance payments. On Friday, PBSC laid off about a dozen employees, including Philibert. Pedal believes that approximately 65 people were working for Montreal-based PBSC before this layoff.
All of this was precipitated when Montreal mayor Denis Coderre demanded in mid-January that PBSC repay a $31.2 million loan; the company instead filed for bankruptcy protection on January 20. PBSC owes about $50 million to creditors, including $843,878 to Canadian bike manufacturer, Cycles Devinci, according to court documents.
The very popular Bixi program was first launched in Montreal in 2009, winning praise and awards. The program was rapidly extended to other cities across Canada and worldwide; sales eventually totalled some 38,000 Bixi bikes worldwide. But there was strong criticism about the management, lack of transparency and murky financing behind Bixi. In September 2013, Montreal's auditor general Jacques Bergeron expressed "serious doubts about Bixi's ability to continue operations."
Mayor Coderre continues to promise that Bixi will operate in Montreal this year. The normal season for the 5,120 Bixi bikes is from April to November in Montreal.
Read the canoe.ca article
here
. (in French)