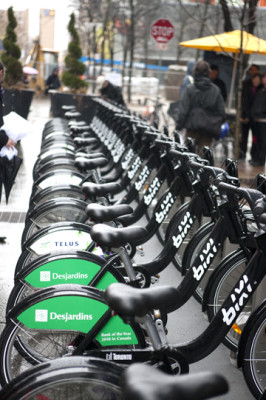 April 11, 2014 (Montreal, QC) – Montreal businessman Bruno Rodi has offered to buy all international operations of Bixi's parent company reports La Presse. The deal, worth $4 million, has been accepted and should be finalized in coming days. Included in this deal are the concept, patents, software, and certain contracts inked with the company known in English as "Public Bike System Company (PBSC)."
Rodi, 59, recently made the news when La Presse designated him as "Quebec's greatest traveler." Rodi has visited more than 200 countries and territories. He has pedalled in the Tour de France claims La Presse, reached both the North and South Pole by skis and crossed the biggest deserts. Of course, he was away travelling during the negotiations.
There are currently some 60 employees working for PBSC and most of them will be let go in coming days, but 22 of them are expected to be transferred to Bixi-Montréal, a non-profit group set up recently to manage Bixi operations in this city. Bixi's Montreal operations were specifically excluded from this sale. Meanwhile, Mayor Denis Coderre is promising a "business as usual" 2014 season for Bixi in Montreal which starts Tuesday, April 15.
Apparently, there were three other serious contenders for the purchase including Oregon-based Alta Bicycle Share. Pedal understands that all of PBSC's assets – except those linked to running Bixi operations in Montreal – were on the table.
As reported previously, the Public Bike System Company filed for bankruptcy protection in January of this year.  The public bike share program has won much praise and is highly popular, but owed some $50 million, most of that to Montreal, in January.
More info: