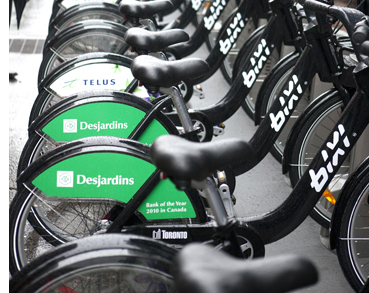 June 16, 2015 (Montreal, QC) – Bixi, the public bike share service launched in Montreal with great fanfare in 2009, has finally posted a surplus reports
The Gazette
. Bixi announced a surplus of $818,275 on revenues of $4.4 million that year. Some $3.9 million of these revenues consisted of subscription fees collected by the city and returned to Bixi.
These financial reports are only from eight months of operation; Montreal bought Bixi out of bankruptcy in April of that year. Bixi in Montreal was operated by Public Bike System Company from 2009-2014.
Elaine Farley, the president of Bixi's administrative board, told media that she was pleased with these results in a "transitional year." Many statistics on Bixi utilization are showing increased use of the bike share service.
The Gazette report also mentions a $2.9 million annual contribution made by Montreal toward Bixi and promised until 2019. Based on projections on $4 million in subscriptions on top of the $2.9 million from the city, Bixi expects to break even in 2015.
Read the Gazette article here.