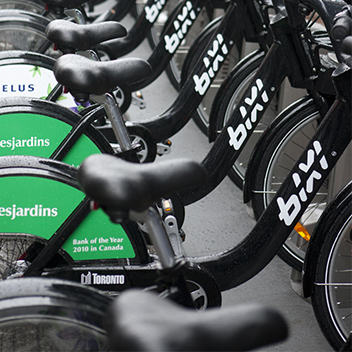 January 28, 2014 (Saguenay, QC) – When Bixi's parent company, the Société de vélo en libre-service (also called the Public Bike System Company or PBSC), filed for bankruptcy protection on January 20, many small and medium-sized Canadian businesses were among those owed money reports Les Affaires.
The Quebec-based business magazine has published PBSC's preliminary list of creditors (see below). While it is the City of Montreal which is the major creditor at $31.2 million owed, a Canadian bike manufacturer, Cycles Devinci, is prominent on this list, being owed $843,878.
According to Les Affaires the consequences for Devinci could be difficult and the company's financial director, Patrice Lavoie, was in Montreal this past week negotiating details of this situation. Devinci used the fame generated by its Bixi involvement to help sales of its other categories. As a privately-held company it's not clear what percentage the amount owed represents of Devinci's annual revenues.
While Bixi bikes won lavish praise and awards, management of PBSC's public bike share systems drew sharp criticism. It is still too early to say if PBSC can successfully restructure, or if its operations might be taken over by another company. In terms of the impact on employment in Quebec, Bixi operations generated some 420 jobs just in the town of Thetford Mines.
The latest breaking news has Montreal Mayor Denis Coderre now saying the city will investigate whether PBSC paid its top executives big bonuses a few weeks before declaring bankruptcy reports CBC.
Devinci, a manufacturer of aluminum bike frames and bicycles based in Saguenay, QC, made the news in 2008 when it secured the contract to make thousands of Bixi bikes. Orders for PBSC's programs first in Montreal (QC), and then in London (UK), Boston (MA), Melbourne (Aus), and New York (NY) eventually totaled some 38,000 worldwide.
Devinci also sponsors teams such as the Devinci Global Racing downhill MTB team that saw Canadian star Steve Smith make history as he captured the World Cup series overall crown this year. It also sponsors the US-based continental road team Devinci 5-hour ENERGY® presented by Kenda, and the Canadian-based continental road team Ekoï/Devinci.
PBSC's preliminary list of creditors as of January 20:
–  City of Montreal: $31.2 million
–  Banque Nationale: $5.3 million
–  JFG Logistique (Montréal): $1 million
–  Devinci Cycles (Saguenay): $843,878
–  8D Technologies (Montréal): $565,993
–  CIF Metal (Thetford Mines): $307,700
–  Industries Fournier (Thetford Mines): $306,407
–  Fasken Martineau (Montréal): $230,972
–  Groupe Poitras (Québec): $175,621
–  Serie Act Peinture (Thetford Mines): $163,806
–  Publicité Effix (Montréal): $142,651
–  Atelier Cyclochrome (Montréal): $107,452
Read the Les Affaires article here (in French).
More Pedal coverage on the Bixi story here.