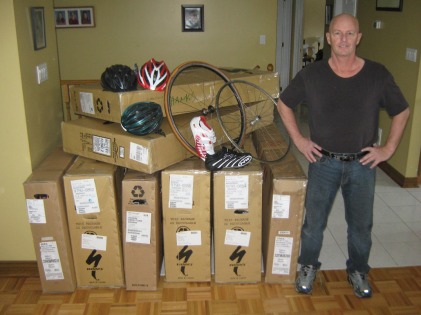 October 19, 2011 – Another shipment of donated bikes and gear was just sent down to Cuba through the Bikes for Cuba program this past weekend, including a nice Marinoni and a Pinarello, plus a lot of other gear including 14 pairs of Pearl Izumi shoes. The program has expanded and we now are supplying four different school racing programs with donated bikes and gear.
To date, we have shipped 85 good bikes and hope to reach 100+ by Christmas.
As usual, we always can use more donated bikes and gear… PLUS it's holiday time soon, so anyone planning a Cuban holiday this winter can help out by taking a bike or two down there for us.
Thanks for all the support from Bikes for Cuba!
www.bikesforcuba.com
www.bikesforcuba.wordpress.com
phone: 416-937-0095