August 14, 2012 (Montreal, QC) – A local blogger in Montreal recently wrote about renting a Bixi bicycle for one complete day and being surprised to find the bill came to a whopping $101.50. Mark Berger wrote his blog "Beware of all day Bixi rentals" which is posted at Sustainable Montreal. A call to the Bixi service centre confirmed that $101 was "a reasonable charge for one day."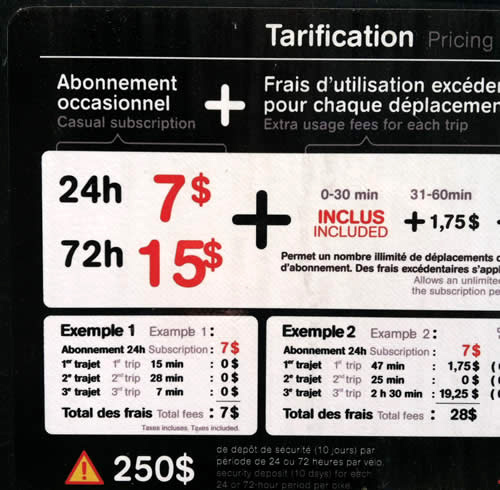 Rental rates vary between the different cities where Bixis are offered for rent, but signs on the rental stands in Montreal suggest that the maximum daily rate is about $7 for non-members. But this $7 fee apparently applies only if the user keeps renewing his rental at different stations every 30 minutes or so.
Berger wonders why a bicycle rental should be twice as costly as a typical car rental. He also suggests that, for those looking at two day rentals or more, it can be less expensive to purchase a bicycle instead.
In other Bixi news, Chicago is now delaying its planned launch of 3,000 Bixis until 2013 for reasons that are not clear according to the Montreal Gazette. This follows on the heels of delays with the New York City and Chattanooga, Tennessee launches.
Read the Sustainable Montreal blog HERE.
Read the Montreal Gazette article HERE.