January 25, 2017 (Berlin, Germany) – Racing concluded yesterday at the Berlin 6 Day, where Canadians Stephanie Roorda and Laura Brown were mixing it up in the international field. The Berlin 6 Day began on January 19th and concluded on January 24th with days four through six including women's racing in the schedule.
Day 1 of competition for the women kicked off with a Scratch Race in which Roorda (Canada) finished third behind Katie Archibald (Great Britain) and Amalie Dideriksen (Denmark) who took the win. Laura Brown (Canada) placed 6th. In the Elimination Race, Archibald finishing first ahead of Dideriksen in second and Anna Knauer (Germany) in third. Roorda finished 10th while Brown finished 16th. The final race of Day 1 for the women was a Points race which Knauer won, beating out two time Road Worlds champion Giorgia Bronzini (Italy) and Archibald in third. Roorda crossed finished 12th in the event while Brown was 15th. On the conclusion of Day 1 Archibald led the overall standings with 6 points, while Roorda sat in 8th with 25 points with Brown ranked 14th with 37 points.
The second day of competition for the women saw the Canuck pair of Brown and Roorda storm to a 1-2 finish in the 10km Scratch Race. Brown took the win with Roorda finishing second ahead of Maria Confalonieri (Italy) in third. Roorda continued the momentum into the Elimination Race, finishing third behind Knauer in second with Dideriksen in first. Brown finished 11
th
.
Roorda capped off an excellent day of racing earning a second-place finish in the 10km Points Race with 8 points. Archibald took the win with 11 points, Dideriksen finished third with 6 points while Brown was 13th. After a strong day on the boards, Roorda now at 32 points moved up to 3rd in the overall standings behind Archibald in second with 23 points and Dideriksen now leading with 21 points. Brown sat in 12th up from 14th with 62 points.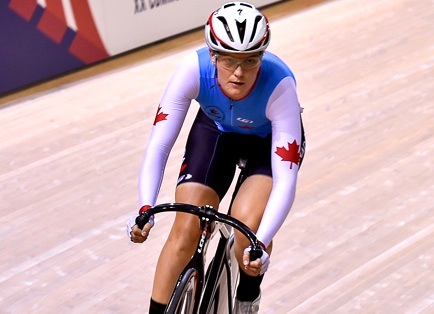 On the final day of the Berlin 6 Day and third day of competition for the women, Roorda and Brown finished 8
th
and 9
th
, respectively, in the 10km Points Race. Archibald took the win with 18 points over Bronzini with 9 points and Dideriksen with 8 points. In the Elimination Race, Roorda again finished 8
th
as Archibald triumphed. Knauer was second while Dideriksen was third. Brown finished the day in 14
th
. Roorda raced the Derney Final, finishing just shy of the podium in 4
th
. Dideriken won the race while Stephanie Pohl (Germany) was second and Laura Kenny (Great Britain) was third.
In the final Standings, Roorda finished a strong 4th overall at 52 points. Dideriksen showed her consistency, taking the win with 28 points over Archibald in second with 31 points and Knauer in third with 47 points. Brown continued her three-day ascent of the standings, finishing 11th overall with 92 points.
Full results here.