September 11, 2013 – Zach Bell, the reigning Canadian Road Champion, will race the 2013 Pro Sprint Challenge, for the Canadian National Team. Bell won the Sprint event in 2012 while he was racing for Team SpiderTech powered by C10, against some of the top sprinters in the world. But Bell, who has focussed his training and racing on long distances since the Olympic Games, is unsure of what the outcome may be on Thursday.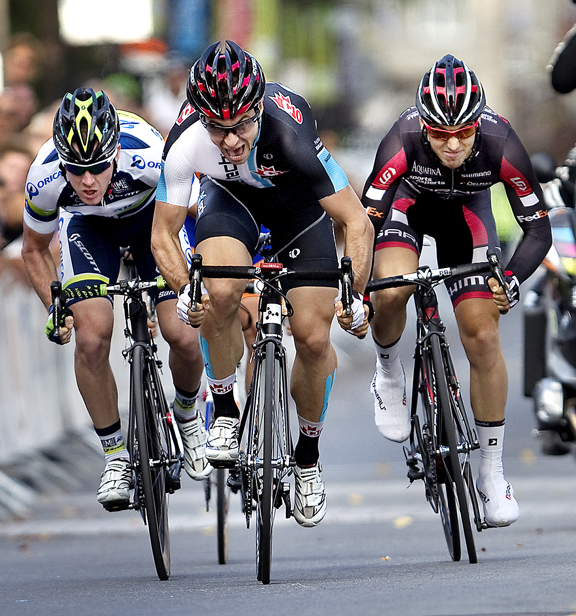 "I can't go into this race with too much expectations. I am a different athlete than I was last year. I am not sure how that will materialize in a short event like that. Last year, heading into this event, I was riding and training for track. This year, the shortest race I've won is 189km. I made the transition to old-man strength pretty quick. That being said, I think I still have some speed. Having the experience and knowing how to win that drag is gonna be useful. Hopefully I'll be able to replicate results from last year."
Sprinters from each UCI WorldTour team will tackle a one-kilometer course, starting and finishing on La Grande Allée at the Parc de la Francophonie. The event is a single elimination format, with the top two winners of each heat moving on to the next round until the big final, when a winner will be declared.
Seven additional Canadians will be part of the spectator-friendly event: Guillaume Boivin for Cannondale Pro Cycling, Dominique Rollin of FDJ.fr, Hugo Houle with AG2R La Mondiale, David Veilleux of Team Europcar, as well as three members from the Garneau-Quebecor cycling team: Remi Pelletier-Roy,  Canadian Criterium Champion Pierrick Naud, as well as Geoffroy Dusseault as the Canadian Sprint Challenge winner.
Bell Launches Paxton's Lights for Hope
While racing this weekend, Bell will have further motivation beyond purely results: the memory of his late son, Paxton. And to honour his life, he and his wife Rebecca are launching a special fundraising campaign.
Bell launched this week the "Paxton Lights for Hope" campaign. As a legacy to honor the memory of Paxton and all families who have experienced hope and loss of loved ones, Rebecca and Zach are launching the Paxton's Lights of Hope campaign. An annual campaign to support BC Women's Hospital's Newborn ICU and to engage families who have been through a Newborn ICU or other challenging experience around the health of a loved one.
"I hope I can make this campaign a lasting legacy and success in honor of my son and to improve the outcomes for others in the future. After a fight that seemed to last an eternity, it was obvious he could not survive. Paxton passed quietly cradled in his mother's arms. The perfect picture of an infant that never had the chance to show his true colours," said Zach. "Even though our lives together were so short, Rebecca and I loved him and will continue to love him with all our hearts."
Funds will be raised through the sale of Limited Edition Paxton's Lights of Hope Candles from these websites: www.paxtonslights.com or www.bcwomensfoundation.org. Candles will be delivered to your family in time for your Thanksgiving gathering. These pure soy candles are made by Granville Island Candle Company just for the Campaign and each candle will burn for 50+ hours. Please order your candles by October 5th, 2013 in order to receive them by Thanksgiving.
As a united cycling community, let's help Zach and Rebbeca by purchasing a candle and light in memory of all those newborns and babies who received assistance from BC Women's Hospital — and especially those who passed from this world without the opportunity to grow old, make friends, and enjoy life.