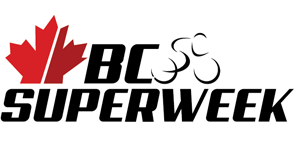 June 30, 2015 (Vancouver, BC) – BC Superweek organizers would like to remind all teams and riders that this year's deadline for registration is this Friday, July 3, 2015 at 11:59 pm PST.
If teams are registering six entries or more for all eight BC Superweek events, they'll pay only $1800 and receive a team entry coupon code for three additional riders to use for registration at no extra cost.
Registration is available online here.
BC Superweek features six criteriums and two road races, one of which is UCI-sanctioned for both men and women.
BC Superweek is Canada's biggest professional road cycling series and features more than $120,000 in prize money available during eight races over nine days. BC Superweek runs from July 10 – 18, and is made up of the following races:
• Tour de Delta (July 10, 11, 12)
• UBC Grand Prix p/b Mahony & Sons (July 14)
• Global Relay Gastown Grand Prix (July 15)
• Giro di Burnaby p/b Appia Development (July 16)
• Beverley by Cressey presents Tour de White Rock (July 17, 18)