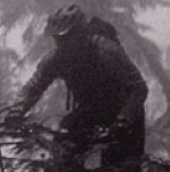 December 07, 2013 (North Vancouver, BC) – Sombrio International, a clothing company based in North Vancouver that dates back to the late 1990s, faces an uncertain future as company president and founder, Dave Watson, recently announced their financial woes. Their grand vision which included a network of their own retail stores started to unravel when expenditures exceeded their estimates and they lost an investor. Watson, a Freeride legend on the North Shore, is hopeful the company can regroup but having to pause or halt business until it finds a way forward – or a buyer – means an uncertain future. See the company statement below – no longer on their web site.
Sombrio International Statement:
Dear friends, fans, and people of the global Sombrio circle,
We have some very difficult news to share with you, but first a little history.
Our customers and fans, love the innovations and products that Sombrio bring to market each year, and we thank you for this. This brand is the result of the dedicated riders past and present, so hats off to all of you. Back in 2011 and in an effort to grow with market demand, and share our vision with a broader audience, we sought out consultants to help us flourish.
The consultants had a grand vision of making Sombrio into a big company very fast with a network of our own retail stores. It seemed almost too good to be true but they were convinced it would work. In 2012 we raised funds from an investor, added staff to a great team, invested in systems, products, and began to execute on this growth strategy.
Sadly, it went sideways, as the retail expansion plan was way more expensive to execute than we were led to believe, barred with issues, and stores never opened. In an attempt to bridge the void, and re-kindle stability our family and primary investor stepped up. Our team re-aligned on our core channels, and worked tirelessly to good result.
However, even with all the positives achieved this year from our team, and a great season mapped for next – the perils of failed expansion has left the company with a significant gap – and one the investors have just weeks ago bowed out.
With these challenges we're in an incredibly painful position in that we have to pause or halt business until we find a way forward, or a buyer. Granted, our door is still open, and were operational, our future is quite uncertain.
We want to thank everyone that has supported us and we apologize to anyone that may be disrupted in the process. We do remain optimistic Sombrio will land on its feet. We hope you understand that we did, and are doing everything during these tumultuous times to see Sombrio continue to live and breathe the two wheel culture.
Sombrio's future will need someone with the resources, expertise and vision to continue bringing Sombrio's innovative, high performance riding apparel to a huge market looking for an alternative to the status quo. We look forward to finding that white knight, rebuilding our team and making a charge for the peak.
Sincerely Dave Watson, Founder & President
If you're a dealer, and are concerned with your 2014 pre-season order, or have press related inquires please email us, and keep in the loop at hello@sombriocartel.com