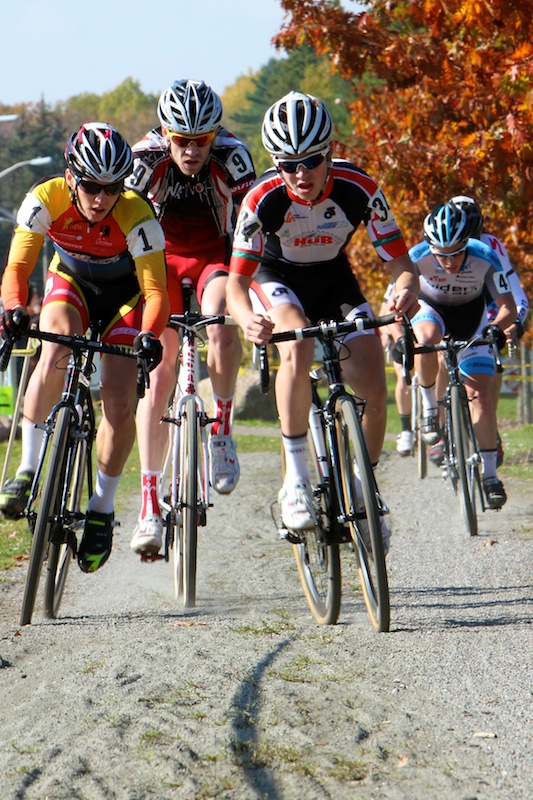 October 24, 2011 (Midhurst Station, ON) – On a beautiful Indian Summer day, Laura Bietola (3 Rox Racing) and Jared Stafford (Ride With Rendall) won their respective divisions at the 5th annual Barrie Cyclocross race. The eighth stop of the Southern Cup 'cross series featured a flat but tacky three-kilometer course that  allowed for high-speed racing under sunny skies.
Julie Marceau (Lapdogs) got the holeshot in the senior women's race, but had Bietola, Leigh Hobson (The Hub) and Briana Illingworth (True North) for company.  Riding her brand new Scott CX for only the second time, Bietola quickly set about establishing herself at the head of affairs.  "I was behind Leigh Hobson for part of the first lap and I attacked her halfway through and led the race from there" she recounted.
Bietola knew that going alone early was a risk but was philosophical about her strategy: "In the back of my mind I'm scared that they're going to catch up to me 'cause they're working together and I'm by myself in the wind but you just gotta keep looking forward and keep going hard and whatever happens.. happens."
Despite her pursuers keeping the gap to within 30 seconds, the 19-year old Greenwood resident rode to a satisfying victory.  "I'm really happy with it" said Bietola.  "Last week I flatted so I was really focused on trying to win this weekend."
After Marceau was unhitched from the chase pack, it became a two versus one battle, with Hobson and Illingworth keeping Bietola in their sights while battling each other at the same time.
"We were very close the whole time" said Hobson of the battle for second.  "Sometimes she'd be ahead of me in certain areas, sometimes I'd be ahead of her in certain areas so it keeps you going until the very last second.  Briana was really strong through the gravel section.  She was able to accelerate really well so I knew that I probably wasn't going to get away from her then but I knew that coming into the last corner you had to be the first one through the corner in order to get the sprint."
The struggle continued for the duration of the race, with numerous position changes.  On the final approach Hobson nipped ahead and held off Illingworth in the sprint.
"My battle with Leigh was good" recounted Illingworth.  "I think we had different strengths on this course.  I was certainly trying to exploit mine as best I could to get ahead of her for the long power sections but I was never quite able to make anything stick and couldn't get ahead of her at the end when it really counted.  I think Leigh's a little bit stronger than I am in some of the twisty stuff.  When I did get ahead of her she was pretty good at not letting me open up a gap. So when we hit a section that she was a bit stronger on she could pull away a little more easily."
The senior men's race also featured a two-horse battle, but this one was for the win.  Nathan Chown (Team CF) blasted off the line but was quickly caught and passed by Stafford, Zach Hughes (Norco Factory) and Erik Box (Nativo/Devinci).  Mark Batty (Spidertech) reeled off the fastest lap of the race in order to join the leaders on lap two, but the effort proved costly as he faded the next time around.
Box too lost contact and it was Stafford and Hughes in front and pressing their advantage.  "Zach and I were feeling strong today, so with us being teammates on the mountain bike we were willing to work together and get a bit of a gap" explained Stafford.
Hughes concurred with his co-conspirator:  "Jared and I just kept the same pace, maybe ramped it up a bit.  I looked back and Mark was gone.  We were talking to each other a bit and said let's just work for each other for a couple more laps and then see what happens."
What happened was the gradual emergence of Andrew Watson (Norco Factory).   The home-town favourite admitted to a slow start:  "I kind of self-seeded myself based on my results from last weekend.  I thought I was going to be a little bit tired so I didn't want to go too hard off the start.  I wanted to build into the race a little bit."
By the race's midpoint Watson was in third, but was unable to close the gap to the leaders.  "For a while there it looked like Andrew was going to bridge back up so me and Zach started taking harder pulls and keep that gap open" revealed Stafford.
"There was about a 30-second gap" said Watson, "and I just couldn't close it.  In the last few laps I had to put it in cruise control."
At the front Stafford began applying the pressure and his breakaway companion began suffering the consequences.  "He just slowly went away" said Hughes, "and I had a bit of a knee issue and then he had me maxed out.  He had me pretty good at the end there."   Hughes admitted to having "weak knees" and said he would skip the next race in order to rest.
"That was definitely the most tactical Ontario series race I've ever done" said Stafford. "I was able to rest up a bit on Zach's wheel and put in a dig and see what happened and it ended up separating a bit but Zach was on my tail the whole race so I never could let up."
Race Notes:
–    Adam Jamieson of Barrie rode through the entire Master 2 Men's field on his way to winning the Junior Men's race.
–    This was the fifth consecutive year the Barrie CC has organized a 'cross race, and the second "Baseball" edition held at the Barrie Sports Complex. According to race director Robb Meier, the facility is perfect for 'cross.
–    The Southern Cup returns to the Barrie area next weekend with a race at Hardwood Ski & Bike.
Results
Beginner Male
1. Francesco D'Elia (Ind) 36:37.00
2. Mike Patte (The Hub Race Team) 0:02
3. Nathan Poulton (Ind) 0:49
4. Chris Kozanczyn (Barrie Cycling Club) 1:03
5. Marc Cascella (Ind) 1:03
6. Robin Watt (Ind) 1:14
7. Alex Keen (Velocity Cycle And Ski) 1:33
8. Niles Vaivars (Ind) 1:45
9. Nicholas Di Cristofaro (RideAllDay.ca CC p/b Real Deal Racing) 2:23
10. Steve Jepma (Ind) 2:41
11. Michael Clark 4:17
12. David Wasserman (Morning Glory Cycling Club) 8:41
13. Blair Coughtrey (Ind) 9:04
DNS Jody Brown (Ind)
DNS Steve Jepma (Ind)Under 17
U17 Male
1. Tyler Lee (St. Catharines Cycling Club) 36:03.00
2. Connor Nevin (Ind) 0:46
3. Stefan Milosevic (Chain Reaction/Molson 67) 1:40
4. Jaxon Brennan (Team Spoke O`Motion) 2:22
5. Cole Pugsley (Barrie Cycling Club) 9:30
6. Siobhan Kelly (CoachChris.ca/Multisport-Zone) -1 lap
7. Roland Stimpfig (EsteemTraining.Com) -1 lap
8. Charlotte Creswicke (Ind) -1 lap
9. Skye Follas (EsteemTraining.Com) -1 lap
10. Joseph Bacci (EsteemTraining.Com) -1 lap
DSQ William Elliott (Black Tooth Grin Bike Club)
DSQ Tommy Waldeck (ShortHills Cycling Club Race Team)
Junior Men
1. Adam Jamieson (Team Hardwood/Trek) 48:24.00
2. William Elliott (Black Tooth Grin Bike Club) 2:03
3. Conner Rapus (Ind) 6:19
DNF Tommy Waldeck (ShortHills Cycling Club Race Team)
Master Women
1. Lori Kofman (Chain Reaction/Molson 67) 45:46.00
2. Rachael Mirvish (Wild Bettys) 0:11
3. Lesley Chown (Team CF) 2:37
4. Keli Marshall (Ind) 2:42
5. Sandra Deegan (NovoFit Cycling Solutions) 3:51
6. Leslie Greene (Chain Reaction/Molson 67) 5:50
7. Laurie Ross (Ind) -1 lap
8. Korina Besednik (Darkhorse Flyers) -1 lap
9. Prisca Natterer (True North Cycles) -1 lap
Master 3 Men
1. Brian Lee (St. Catharines Cycling Club) 36:31.00
2. Scott Morrow (Morning Glory Cycling Club) 0:12
3. Rob MacEwen (Lapdogs Cycling Club) 0:33
4. Steve Smith (Norco Evolution) 0:39
5. Martin Grimes (Rail City Race Team) 0:39
6. Stephen Gregory (Ind) 0:41
7. David Moore (Darkhorse Flyers) 1:04
8. Stephen Chester (Darkhorse Flyers) 1:13
9. Trevor Rickwood (Sudbury Cycling Club) 1:13
10. Fred Zottl (Arrow Racing) 1:22
11. Chris White (EsteemTraining.Com) 1:26
12. Matthew Pioro (Lapdogs Cycling Club) 1:27
13. Chris Spalding (Team Silent Sports) 1:43
14. Brian Rogers (Ind) 1:46
15. Peter de Mos (Ind) 1:54
16. Murray Wood (Velocity Cycle And Ski) 1:59
17. James Cook (Canadian Cycling Magazine) 2:24
18. Pary Bell (Darkhorse Flyers) 2:24
19. Robert Massicotte (CyclepathMarkham.com) 2:48
20. Orrin Bowser (Barrie Cycling Club) 2:56
21. Martin Mueller (Ind) 2:57
22. Dave Swindells (Team Silent Sports) 3:23
23. Mark Francis (Lapdogs Cycling Club) 3:38
24. Philip L. Robinson (The Hub Race Team) 3:51
25. Bill Packham (Lapdogs Cycling Club) 4:51
26. Tony Whetham (Impala Bicycles) 5:10
27. Chris Raynor (Newmarket Eagles Cycling Club) 5:17
28. Don Perry (Newmarket Eagles Cycling Club) 5:17
29. Warren Blatt (Ind) 5:39
30. Dan Marshall (CyclepathMarkham.com) 5:53
31. Dave Knights (Team Spoke O`Motion) 6:08
32. Timothy Hatch (Barrie Cycling Club) 7:11
33. Don Gilroy (Beaches Cycling Club (BCC)) 7:28
34. Martin Franchi (CxOntario.com) 8:00
35. Stephen Corriveau 8:30
Master 2 Men
1. Jim Laird (First Capital Cycling) 49:03.00
2. Bob Tomsic (CanHear Uganda) 0:22
3. Edmond Mellina (Lapdogs Cycling Club) 0:50
4. Jeff Ker (Kurzawinskicoach/ Six S ERP Consulting) 1:01
5. Peter Kofman (Chain Reaction/Molson 67) 1:18
6. Jeff Buchan (Velocity Cycle And Ski) 1:18
7. Kevin Tearle (Team CHCH) 1:30
8. Joel Rose (The Hub Race Team) 1:30
9. Andrew Rucklidge (Wheels of Bloor) 1:30
10. Gabe Faraone (ZM Cycle & Fitness Cycling Club) 2:04
11. Mark MacDonald (Total Sports the Bike Shop) 2:08
12. Ron Spencer (Velocity Cycle And Ski) 2:08
13. Hugh Hill (EsteemTraining.Com) 2:21
14. Shawn Conlon (CyclocrossRacing.Com) 2:52
15. Brien Ross (Total Sports the Bike Shop) 3:06
16. Don Macphail (Cycles London Racing Team) 3:25
17. Mark Herbst (Racer Sportif/Mattamy Homes CC) 3:26
18. Rob Cheskey (Cyclepath Oakville Race Team) 3:46
19. Chris Firek (MBRC.org – Gears) 5:29
DNF Pierre Perrin (Shut Up Legs Cycling Team)
DNF Paul Dean (Cycles London Racing Team)
DNF Elgar Vaivars
DNS Garnett Abbey (Cyclepath Oakville Race Team)
Master 1 Men
1. Andrew Croutch (The Hub Race Team) 58:36.00
2. Tristan Smit (Evolution Cycles) 0:01
3. Edgars Apse (Darkhorse Flyers) s.t.
4. Paul Greene (Chain Reaction/Molson 67) 0:02
5. Demetre Kalkounis (Cycle Solutions/Angry Johnny's CC) 1:49
6. Mark Pagell (Ind) 1:58
7. Robert Sule (Chain Reaction/Molson 67) 2:04
8. Michael Dennis (speedriver.com) 2:20
9. Chris Wood (Sound Solutions) 2:27
10. Graham Jones (Sweet Pete`s) 2:58
11. Brian Kelly (speedriver.com : nacsworld.com) 3:00
12. Stephane Marcotte (Darkhorse Flyers) 3:15
13. Graham Tutti (Ind) 3:29
14. William Fu (Pedal Performance Cycling Club) 5:41
DNF Curtis Donnahee (speedriver.com)
Senior Women
1. Laura Bietola (3 Rox Racing) 44:05.00
2. Leigh Hobson (Juvederm – Specialized/The Hub Race Team) 0:21
3. Briana Illingworth (True North Cycles) 0:22
4. Julie Marceau (Lapdogs Cycling Club) 1:22
5. Christiane Knobbe (Lapdogs Cycling Club) 1:52
Senior Men
1. Jared Stafford (Ride With Rendall) 1:01.12
2. Zachary Hughes (Norco Factory Team) 0:21
3. Andrew Watson (Norco Factory Team) 1:27
4. Adam Morka (Trek Canada MTB Team) 2:01
5. Nathan Chown (Team CF) 2:12
6. Erik Box (Nativo) 2:13
7. Benjamin Perry (Team CHCH) 2:28
8. Peter Mogg (Stevens Racing p/b The Cyclery) 2:35
9. Peter Glassford (Trek Canada MTB Team) 2:41
10. Peter Morse (Jet Fuel Coffee' La Bicicletta) 4:09
11. Marco Li (Garneau- Club Chaussures- Norton Rose) 4:21
12. Bretton Matthews (Total Sports the Bike Shop) 4:55
13. Mark Batty (Spidertech Powered By C10) 5:06
14. Anton Varabei (Cycle Solutions/Angry Johnny's CC) 5:13
15. Jeff Moote (CyclocrossRacing.Com) 5:18
16. Timothy Carleton (RideAllDay.ca CC p/b Real Deal Racing) 6:11
17. Mark Brusso (Lapdogs Cycling Club) 6:50
18. Kevin Massicotte (Nativo) 7:29
19. Colin Busby (Chain Reaction/Molson 67) -1 lap
20. Peter Mancini (EsteemTraining.Com) -1 lap
21. Chris Barson (CoachChris.ca/Multisport-Zone) -1 lap
22. Bret Waghorne (ZM Cycle & Fitness Cycling Club) -1 lap
23. Guy Vankrimpen (Reactivated Racing) -1 lap
DNF Justin Zottl (Team CHCH)