June 13, 2013 (Banff National Park, Alberta) – Something special happens in the Rockies this time of year, and it has been an annual affair for the past five years. With the bulk of the winter weather behind us, and the mass tourist migration yet to come, the historic town of Banff hosts its yearly Banff Bike Fest Festival. From pros, to amateurs, to weekend warriors, racers from near and far make the annual pilgrimage to this fabled Albertan town for one of North America's most scenic and challenging stage races.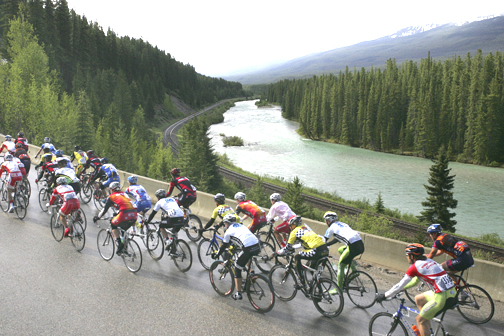 The Contenders
 In the Cat 1-2 men's category, local Albertan and 2012 overall winner Aaron Schooler H&R Block and his strong team will be ones to watch. Schooler excels at cyclocross, which gives him an advantage in the Prologue and Criterium. Yet he also proved last year that he can also race on the road laying down an impressive ride on the final Tunnel Mountain stage road race which launched him to claim the overall victory.
Trek Red Truck is bringing a strong team and has had an impressive start to the 2013 season. Jesse Reames took the overall at the Tour of Enumclaw back in May, while Adam De Vos won the BC Provincial Road Championships two weeks ago in Victoria. Not to be outdone, we expect a strong challenge from the Rundell Mountain Cycling club out of neighboring Canmore to try to improve on their third place overall finish last year from Gord Jewitt.
With the absence of last year's women's winner, Edmonton-native Pepper Harlton, this year's edition will see a new GC winner crowned in the Open Women's category. On paper, it looks like there will be a strong challenge from teams from the west, including Trek Red Truck p/b Mosaic homes. This squad is deep with talent, and as long as they can work together as a cohesive unit, it will be a challenge for anyone to stop them. With Megan Rathwell taking the BC Provincial Road Championships and teammate and veteran racer Kristine Brynjolfson, last year's runner-up here, having another strong season of racing, this will be the team to beat.
Some notable challenges may come from some strong locals such as Kinley Gibson (Juventus) who placed fourth overall at last year's Banff BikeFest race. Gibson is coming off a strong year on the track, should be more confident and hungrier this year, while last year's fifth place finisher, Kristin Baker (Pedalhead) will also be looking to move up to the podium.
Prologue
The short but challenging 1.5-km Cascade Prologue shouldn't prove to decide the overall winner, yet will give the contenders a chance to get their legs moving and the lungs used to the thinner mountain air. Look for strong rides from Schooler and last year's runner-up in the Prologue, Mark McConnell (Synergy).
With the absence of Harlton, last year's Bike Fest rookie sensation, Kirsti Lay (Bicisport), and Brynjolfson, should be battling it out for the Prologue and the leader's jersey. Watch for Shoshana Laxson, also with Trek Red Truck as she has just returned from training and racing in Europe to re-join her team for the event. Laxson placed 4th in the prologue in 2012.
Lake Louise Road Race
This scenic, rolling 81-km out and back along the Bow Valley Parkway will be the first real test to see which teams are working well together. The past two years saw breakaways brought back and it came down to a final uphill push ending in a sprint finish. Last year's race was delayed with bears sighted on the course, and the year before it got shortened due to a wolf and cub in the area. This is one of the unique aspects of holding a race in a national park.
Individual Time Trial
Saturday morning will see the riders set out on a 21-km time trial around the breathtaking shores of Lake Minnewanka. The strong riders on this stage could see them take the GC lead and put time in on their opponents. The only thing possibly slowing these riders down will be a big horn sheep on the course.
Criterium
Downtown Banff turns into a 1-km criterium circuit for some high-speed, action-packed entertainment. With cash primes and time bonuses on the line, one can be sure racers will be giving it all. The only obstacle that might come into play is inclement weather and if rain decides to fall it will make the course slick for the riders.
Tunnel Mountain Road Race
The final stage of the Banff Bike Festival will be a road race consisting of loops with a start/finish in downtown Banff. The Elite Men will race 130-km while the women will contest a 78-km circuit. This is a race where breakaways can stick, so one can be sure there will be fireworks going off as riders will be attacking hard to get away. No lead is safe with a course like this, so teams will be on the watch to protect their GC position.
The 6th annual Banff National Park Bike Fest is set to take the Rockies by storm with plenty of hot race action and spectacular scenery to inspire new champions that will be crowned on Sunday.
For more information click HERE.